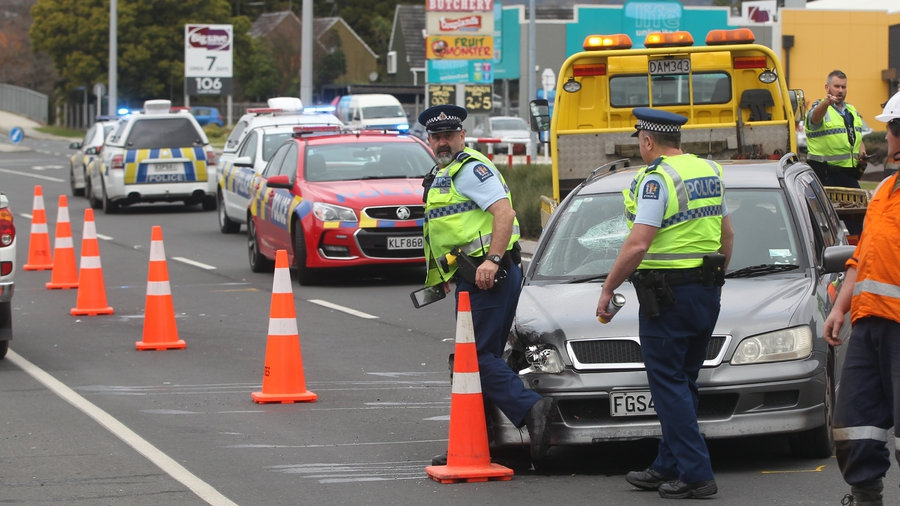 A Rotorua man has described horrifying scenes of gang members fighting - including cars ramming each other, attempts to run a man down and a man smashing a car with a baseball bat.
The fighting unfolded about 1.30pm today on Lake Rd in front of stunned onlookers.
A witness, who was just metres from where it happened, said people couldn't believe what they were seeing.
The witness, who wished to remain anonymous, said three vehicles looked to be ramming each other near the Gull service station. He said it was possible one of the vehicles was an innocent member of the public who got caught up in the fight.
He said a man jumped out of one of the cars and started smashing the other car with a baseball bat. He said while this happened, another vehicle appeared and tried to run down another man.
"He got hit, but got up and ran off.
"I had to pull over because cars were all smashed up on the side of the road ahead of me. They even smashed through the bus stop signs and the arrow signs they have on the roundabouts."
The witness said it looked gang-related because he could see gang colours.
"It's just classic gang stuff. It's just so stupid."
The witness said he would normally be the type of person who would jump out and offer to help but he was in a hurry because of a family emergency.
He said he couldn't believe he was seeing such a thing in the middle of the day in Rotorua and admitted it felt like his heart was in his throat.
"I was just like holy s***, I can't believe it."
Police are still at the scene and haven't been able to confirm anything to the Rotorua Daily Post.
A Rotorua Daily Post reporter at the scene said the front and back windows of one of the vehicles involved was shattered.
She said patched members of the Mongrel Mob were walking around the area.
A Mongrel Mob member, who asked not to be named, described the scene as "utter chaos in the space of about 13 seconds".
"There was a fight between a lot of fellas and it just got out of control. People were crashing into each other, trying to run each other over and stab each other, I enjoyed it," he said.
"This is what we live for, this is what we breathe for."
The man said the incident had been going on over the space of a few hours and had started at a property in Kawaha Point.
"Black Power people entered the house to try and extract and kill the family, we got a call to intervene," he said.
"We the reds stabbed one of their members, then we took the lead car and used ourselves as targets to get them away from the family."
The Mongrel Mob left the property in three seperate vehicles and the member said there were at least 12 of them.
"They hit our car off the road and we spun out, then they smashed us with baseball bats," he said.
The man said he has been a Mongrel Mob supporter since he was 12.
"It's in my blood," he said.
"There's more activity than there's ever been, this is only the beginning of it all, they think they've won, they haven't.
"They try to kill us, we will return the favour tenfold. Without a doubt."
Another local man who witnessed the crash said at first he thought it was just an accident until the Black Power members got out of their car.
"There was about six to seven of them, they had baseball bats," he said.
"They were trying to hit them and run them over."