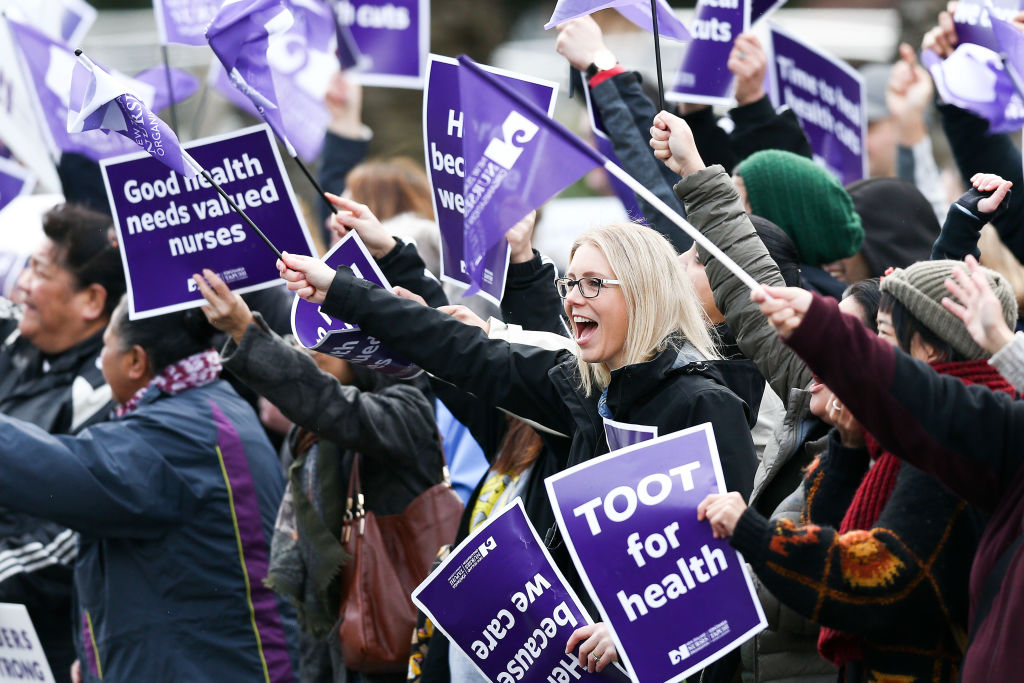 Public hospitals have come to a crawl across the country as 30,000 nurses and midwives strike for the first time in a generation.
The country's hospital workers rejected their union's advice this week and turned down a fourth pay offer, while last-ditch talks with health authorities proved to be of no use.
Hospitals on Thursday were providing only essential, life-preserving and emergency services with up to 8000 surgeries tipped to be postponed by the 24-hour action.
In Auckland, thousands marched through the CBD's main street in the morning, closing traffic and it was a similar story in other centres around the country.
Outside Wellington Hospital, a crowd gathered with placards - among them nurse-of-five-years Hilary Gardner with her two young children.
"It's unsafe ... Patient care gets rationed at the moment," she tells AAP, drowned out by the sound of passing cars, buses, ambulances and fire trucks honking in support.
It was not just a matter of money, but about getting a commitment that staffing levels would improve, she said.
The Government says the latest offer, worth about $500 million in pay rises and extra staff, is the biggest in 14 years and that there's simply nothing left to give.
But unions say the bandaid isn't big enough to address 10 years of "severe underfunding".
"Nurses and midwives do not trust that their work environment or patient care will improve in the short term," New Zealand Nurses Organisation manager Cee Payne said.
The hospital strike isn't the only one being faced by the Government.
Primary school teachers and tax department employees are also taking action and high school staff are about to begin negotiations.
The Opposition says unions have been emboldened by a left-wing government that over-promised during last year's election only to underdeliver once elected.
But Prime Minister Jacinda Ardern and her ministers say the strikes are the product of frustration after a decade of neglect by the previous administration, and that the woes can't be fixed in a single budget.
"It feels like another empty promise," Ms Gardner said.
"If we're going to wait another year, well what happens at the end of that year? ... We need answers now. It's untenable to keep working in the conditions we're working in."
No further talks are currently scheduled.