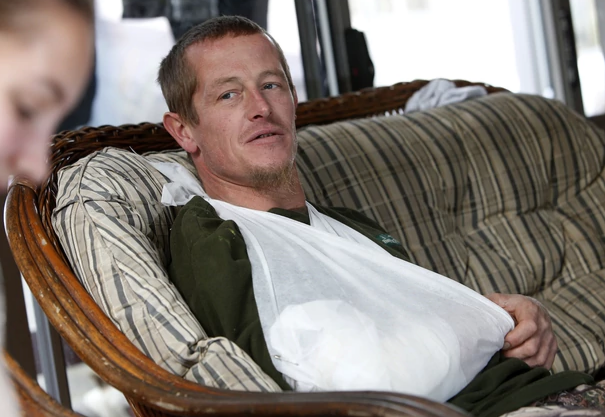 A man who got lanced by a stingray yesterday is thankful he's still alive to tell the tale.
Whangarei man Dan Alders was stabbed by a black stingray as he tried to save its life by flicking it overboard.
The 35-year-old commercial fisherman was lifting it up by its gill when its barb shot through his elbow.


"A lot of swearing words" came to mind as Alders realised what had happened.
As blood poured from the puncture wound, his quick-thinking skipper grabbed some towels to stem the bleeding.
"It's their natural instinct to flick their tail up," Alders said. "I'm always aware of it. I'd already thrown 30 or so over that day.
"It just happened to be that one that got me."
Coastguard was called to the boat that was at the Hen and Chicken Islands, off the coast of Whangarei around 10.20am due to the "severe laceration".
After assessing his wound and giving first aid, the Coastguard team transported Alders back to Marsden Cove, to a waiting ambulance.
Alder's whole arm was numb to touch from the poison and throbbing with pain. He got two stitches to seal up the gaping hole and has to get his dressing changed by a nurse.
He has two weeks before he has to be back on the sea and he's hoping to be healed by then.


But he's got no ill feelings towards the stingray. He called the incident "just part of the job" of being a commercial fisherman.
"If you cast a shadow over their eyes it's their natural instinct to flick their barb up," he said
"I don't blame it for what it did ... They are live animals pulled out of the water, they are not going to be very happy."
Alders was just glad he's still here to tell the tale.
"That's the main thing, I didn't lose a limb or anything."