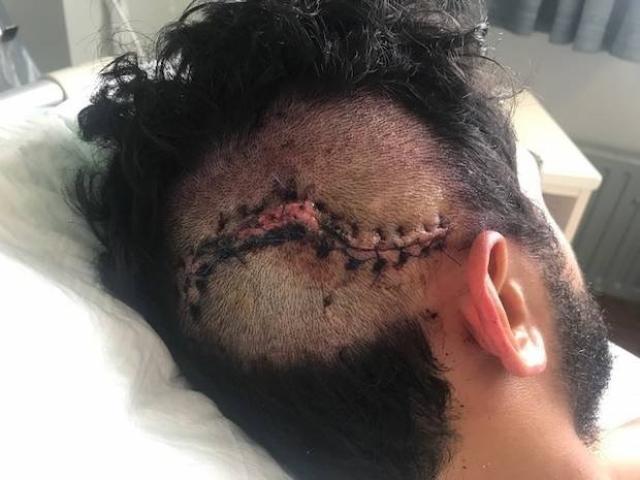 A kick to the face, being run over by a fleeing driver or smacked in the head with a tomahawk are just a few examples of unprovoked attacks on police officers.
A recent report by the New Zealand Police Association has detailed the high price police officers pay for serving the public.
The report, titled "Risk and resilience'', provides a snapshot of the appalling experiences of four police officers and the horrific injuries they sustained.
For Senior Constable Paul Symonds (61), a kick to the face resulting in a smashed eye socket, lacerations and a broken tooth was a terrible way to end his policing career.
The long-serving officer, who received the New Zealand Bravery Star for his actions during the Napier siege, was attacked on December 20 last year in a cell at the Hastings courthouse.
The attack caused a permanent injury requiring regular visits to a surgeon and a titanium plate to be inserted to repair Snr Const Symonds' eye socket.
He also has double vision in his left eye, which will never fully recover, and suffered a concussion and ongoing memory loss.
Snr Const Symonds was unable to return to work, resulting in an unnerving end to his 30-year career.
The man who did the damage was last month sentenced to three and a-half years in prison.
Snr Const Symonds' case is one of several that highlight the risks faced by police officers as they serve their communities.
In the same month Snr Const Symonds was attacked, Senior Constable Scott Woodsford (57) was hit by a fleeing driver as he attempted to lay road spikes at Te Teko in Bay of Plenty.
The car was travelling at about 100kmh when it hit him.
Snr Const Woodsford suffered a brain bleed, concussion, a wrist fracture, a dislocated shoulder and broke multiple bones in both legs.
He spent two months in hospital and another 21 months recovering at home. He has metal rods in both lower legs and one in his right thigh.
He only recently returned to work on light duties at Whakatane Police Station.
Mentally, Snr Const Woodsford said he was feeling good, especially about the fact he had learnt to walk again.
"The surgeons have told me that I will never be 100 per cent again, but say it's likely I will be back up to fitness for work eventually, although it could take six to 12 months,'' he said.
He was well aware his life as a cop could be over, but he remained
optimistic.
After 20 years of policing, he knew what to expect at work and that there was always a risk to the job, he said.
Last month, his attacker was sentenced to more than five years in prison.
Another Bay of Plenty police officer, Constable Ardon Hayward (31), is also on light duties after being hit on the back of the head with the blunt end of a tomahawk on July 17 last year.
He suffered a serious concussion and brain injury and part of his skull was replaced with a titanium plate.
Const Ardon, who joined the police in 2014 and worked with the public safety team, said he had "moved on'' from the incident, which occurred during an arrest at a family harm callout, but it took a while and had not been easy.
The man who attacked Const Ardon was sentenced to seven years in prison.
Constable Hannah Templeman (26) also knows what it is like to take an unexpected blow to the head.
In November last year, she was part of a Counties-Manukau team policing unit trying to contain rowdy, drunken behaviour in Atahuhu after Tonga's Rugby League World Cup win.
As a man was being led to a patrol car, Const Templeman and her colleagues formed a line around the arresting officer to deter partying fans who were taking exception to the arrest.
The threat came from behind, and Const Templeman was king hit on the side of her head, causing her to crash to the concrete below.
"I didn't see it coming and I don't remember it too well, but apparently I was unconscious for about 10 seconds,'' she said.
Her attacker was unable to be identified.
Const Templeman knows she was lucky to have sustained only a mild concussion and despite some headaches and bruising to her face and arm, she was back at work a week later.
"I was very lucky because of where I was hit. It could have been a lot worse, even though it was very painful because I had my ear piece in on that side,'' she said.
Police Association president Chris Cahill said police officers were well trained and resilient, but they were not super-human.
"They know there are risks, but the life-changing effects of being injured are poorly understood.''
Sometimes, the true costs were not revealed until years later and the harm to families was even less appreciated, he said.
"The partners who stay awake at night hoping their loved ones will come home in one piece; the children who see mum or dad battered and bruised - what is the effect on them? Saying it's just part of the job ignores the human costs that shouldn't have to be paid.''
And not all injuries suffered in the line of duty are visible.
Emergency responders around the world are now recognising the inner struggles that result from exposure to trauma, which often do not get as much consideration as broken bones.
Psychological and emotional damage can force cops from their careers, too.
Snr Const Symonds said most people really had no idea of what was involved with policing, of the risks that staff faced as part of their work.
"They try to sympathise, but they don't really get it.''