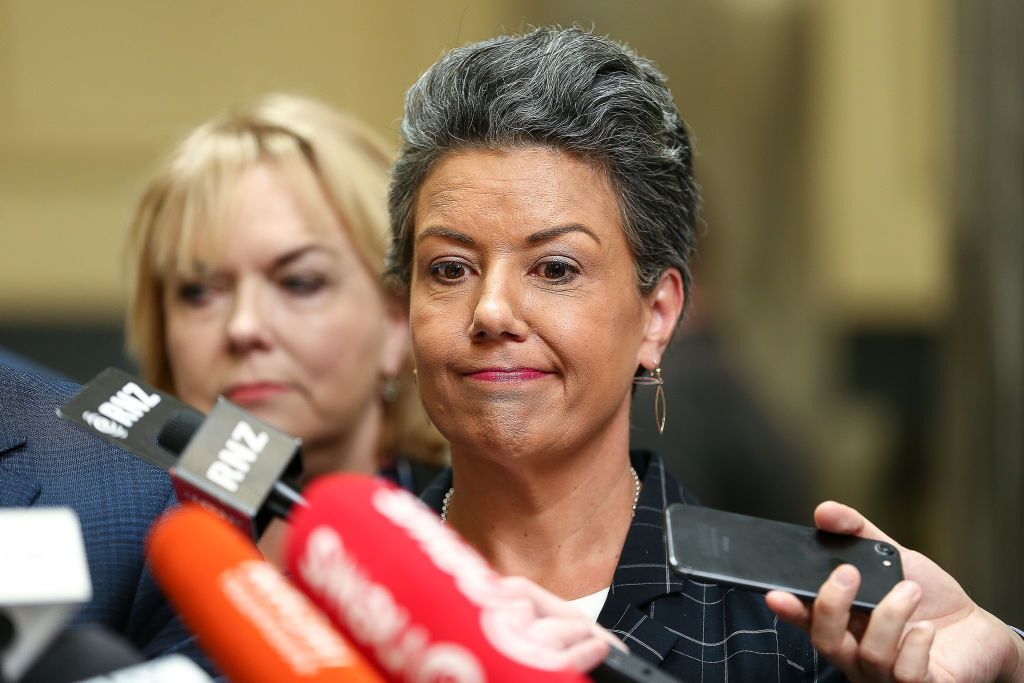 National Party deputy leader Paula Bennett says Simon Bridges did talk with Chinese businessman Yikun Zhang, but is unsure whether they talked about a donation.
Jami-Lee Ross quit the National Party yesterday and will lay a police complaint today over what he says are corrupt practices by the National party's leader.
Mr Ross alleges he has a phone recording suggesting Mr Bridges had asked him to split a $100,000 donation from Mr Zhang into smaller parts, so it was below the threshold where it would have to be made public. Yesterday Mr Bridges responded to those claims saying Mr Ross' law breach claims were "baseless, false but serious allegations".
Mrs Bennett told Morning Report that Mr Bridges told her he did in fact meet with the businessman and the subject of supporting the party may have come up.
"[Mr Bridges] said he certainly had conversations with [Mr Zhang] and with others that have wanted to support the National Party."
However, she said she was hesitant to comment, because she didn't want to misrepresent anyone as this was based off another conversation and she was telling it third-hand.
"He certainly had dinner with him, he's trying to recall that dinner and all of the conversations, and then I think he's seen him at other functions, which Jami-Lee Ross has put photos out. He certainly thinks that it may have come up that he had said I want to support the National Party, Simon knowing I think that Jami-Lee knows him probably did put him on to it," she said.
"We're trying to dig our way through all of this, it is very complex, we're not sure what Jami-Lee Ross has done, he's kind of woven this through, It's not straightforward. I am hesitant and now I don't want to misrepresent.
"I'm pretty sure that through all of that ... I'm pretty sure that [Yikun Zhang] has wanted to support the National Party, I'm trying to remember whether or not it was from Simon or whether or not via Jami-Lee [that she heard it]."
On the other hand, she said the party members were all fund-raising in different ways all the time.
"It's not unusual for people to want to support us and give us money and then it's not unusual for us to then file it with the party and do it that way.
"We get donations all the time... It wouldn't be unusual for me not to know."
She said amid all of this she was still confident that Mr Bridges had not done anything illegal and encouraged Mr Ross to go to the police if he had information stating otherwise.
"I'm not exactly sure what [Mr Ross] was alleging. From the sounds of it, he has gone and picked up the donation and then he has gone and split it up. We're trying to go through all of our records.
"But what I do know is Simon has not done anything illegal, he has not filed anything he shouldn't have or in a way that shouldn't have been done, if Jami-Lee Ross wants to go to police and thinks he has information then he should do that."
Mrs Bennett said Mr Ross phoned Mr Bridges with the intent of entrapping him and may have doctored the recording to try to incriminate him.
"I mean Jami-Lee Ross himself has said that he phoned Simon with the explicit purpose of entrapping him so I don't know what sort of tape he's going to give out, whether it's doctored, whether or not he's tried to set him up. I'm not sure."
Yesterday, Mrs Bennett told media that Mr Ross was not accused of sexual harassment by the party, as he claimed, but was accused of inappropriate behaviour as a "married Member of Parliament".
She said she was not trying to bring in his family in the situation but merely tried to clarify the allegations.
"He had gone out there and said we had been accusing him of sexual harassment of women and that's not true, and we haven't done that and he likened himself to Brett Kavanaugh, which was quite extraordinary in his hour-long stand-up, so I continued to be asked about sexual harassment and we hadn't put sexual harassment to him, but we had put inappropriate behaviour to him."
Bombshell
In an extraordinary day at Parliament yesterday Mr Ross dropped a bombshell on his former party and its leadership.
In his 53-minute press conference, Jami-Lee Ross levelled a string of serious allegations about Simon Bridges' conduct as leader and outlining what he said was a breach of electoral law.
Mr Ross said in May this year he and Mr Bridges attended a dinner at home of Mr Zhang who the following week offered a $100,000 donation.
Mr Ross claimed Mr Bridges asked him to get the donation, but also split it into smaller parts so it was below the threshold where it would have to be made public.
Mr Ross said he did so, splitting it into smaller donations below the $15,000 threshold - and rang Mr Bridges back and recorded that call.
"I reminded him that he had dinner at the individual's home, he acknowledged this by saying yes, I reminded him that he was offered a $100,000 donations, he also agreed with this point by saying 'yes', I then told him the $100,000 donation had been received, he expressed his excitement by saying 'fantastic'.
"I then asked him what he wanted done with the donation and we discussed how to tell party president Peter Goodfellow."
Mr Ross claimed a month ago National's general manager Greg Hamilton asked him about the split donation and who gave him the money.
"I advised Greg that Simon Bridges arranged the donation and I was tasked with collecting it, I further advised Greg that if he felt the law hadn't been complied with then the donation would have to be returned. He thought that would be a shame."
Mr Bridges has flatly rejected all Mr Ross' allegations.
"They are baseless, in relation to the Electoral Act they are entirely false, and I invite Jami-Lee Ross to take those matters to the police and I invite the police to investigate them fully and promptly, because they have zero chance of success given that they are false."
Mr Ross said he would publicly release the recording after he had been to the police, along with his text messages with Greg Hamilton.