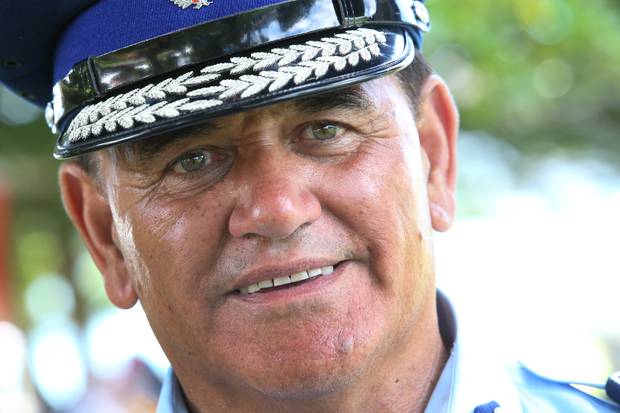 An inquiry into the government's appointment of the deputy police commissioner has found the process was "adequate and fit for purpose''.
The report released today also revealed survivors advocate Louise Nicholas, who raised concerns in the wake of Wally Haumaha's appointment, subsequently met with him and was clear her intention wasn't to end his appointment and she was open to a working relationship with him.
Mr Haumaha was appointed in the role in May by the Governor-General on the recommendations of both the Prime Minister Jacinda Ardern and the Police Minister Stuart Nash.
His rise to the top ranks has been under a cloud ever since Ms Nicholas went public with her reservations about Mr Haumaha's appointment given comments he had made defending police officers accused of rape in 2004.
In the middle of the government inquiry police confirmed they had received an allegation of bullying on a joint project with the Justice Ministry headed by Mr Haumaha in 2016.
Mary Scholtens QC, who headed the inquiry, said the process was sound and no relevant information was omitted given there was no official complaint made to police about Mr Haumaha's conduct as part of the project.
"Without a complaint there was nothing to take into account,'' Ms Scholtens wrote.
The Independent Police Conduct Authority is carrying out its own investigation into the bullying allegations.
In the case of Ms Nicholas' concerns, which she raised some weeks after Mr Haumaha's appointment, Ms Scholtens said "allegations and rumours relating to Mr Haumaha's time working in Rotorua some 30 years ago and his relationship with police officers subsequently prosecuted for sexual assault were carefully investigated''.
"Unsubstantiated concerns and innuendo should not impede an appointment,'' she wrote.
An email from Ms Nicholas to Police Commissioner Mike Bush on June 1, after Mr Haumaha's appointment, was included as part of the report and detailed a meeting between the pair along with deputy commissioner Mike Clement and Mr Haumaha.
The email from Ms Nicholas said the "conversation was never about having any expectations of NZ Police to end the appointment, but it is about putting the NZ Police on notice to say I am concerned, I have doubts and I wish this not to be hidden from people who have the power to intervene or protect the most vulnerable''.
Ms Nicholas also said in the email it was her intention to "move forward and be open to developing a working relationship" with Mr Haumaha.
The bullying allegations and Ms Nicholas' concerns relating to Mr Haumaha weren't available to the SSC as part of their appointment process and Ms Scholtens said they're best described as "unknown unknowns''.
"I do not know how the process could be improved to ensure such facts are known,'' she wrote.
Inquiry hits an early snag
The inquiry, which was set up to look at whether the appointment process was carried out properly, hit a speed bump early on when the original inquiry head Pauline Kingi stood aside after questions were raised by the National Party about whether she had a personal conflict of interest.
Ms Kingi was found to have endorsed Mr Haumaha's skills on the professional networking platform LinkedIn.
Ms Scholtens took over the role from Ms Kingi and after asking for an extension of five weeks, delivered her report this morning.
She said the State Services Commission's (SSC) role was to identify candidates for the deputy commissioner vacancy and carry out the necessary character checks before providing two candidates to Ms Ardern and Mr Nash to choose from.
Ms Scholtens said all the necessary checks were carried out and nothing arose that raised concerns about Mr Haumaha's suitability for the job.
The only exception was the SSC didn't identify what Ms Scholtens describes as "perception risks", which she acknowledges are "only relevant because of the impact publicity might have on the appointment''.
Ms Scholtens has made recommendations, which she said are offered more as "suggestions to the SSC with the objective of increasing the likelihood of identifying these unknown risks''.
The recommendations are as follows:
The SSC be explicit when seeking information from candidates and referees that they should think widely, pointing out the risk of matters that might get traction if the candidate were appointed.
The SSC ensure references are sought from a significant number and diverse mix of referees.
The SSC approach people other than nominated referees where appropriate to seek anonymous, confidential views.
A focus on identifying and managing the risks around unexpected publicity when the commissioner undertakes a review of international best practice.
NZ First connections
NZ First's role in the inquiry was also called into question after National MP Chris Bishop used Parliamentary privilege to reveal the party leader and deputy prime minister Winston Peters called Mr Haumaha after the inquiry was launched to reassure him.
Mr Peters said there was no basis for the claim and denied calling Mr Haumaha.
Mr Bishop had previously questioned NZ First deputy leader Fletcher Tabuteau's family connections with Mr Haumaha and whether Internal Affairs Minister Tracey Martin, a NZ First MP, should have been put in charge of the inquiry into the appointment process.