Key points
The fire broke out in the roof of the SkyCity Convention Centre at 1.15pm today
Buildings were evacuated in the immediate vicinity, one person in hospital
The cause of the fire is thought to have been a worker leaving a blowtorch unattended
Roads in the CBD closed, major traffic disruption
Health warning due to 'toxic smoke'
A massive SkyCity fire continued to burn on Tuesday night, but crews have sacrificed the Convention Centre's roof to try to save the $700 million central Auckland building.
The fire - believed to have been started about 1.15pm by a worker's blowtorch after they went on a smoko break  - was expected to keep crews at the scene overnight.
One firefighter has been hospitalised as thick, toxic smoke billowed across the CBD.
Fire and Emergency Auckland Regional Manager Ron Devlin said it was one of the "largest and most difficult structure fires in recent times".
"It is a complex fire. In the roof... bitumen, straw and plywood is compact and so we are having real difficulty getting into it.
"The roof is not safe to go on to, and the floors below are quite a distance below, so actually fighting and putting out the roof fire is very difficult.
"The plan was to cool and protect the area from surrounding parts of the building, but let the roof itself burn. It is the only safe way. It will take a while, 12 hours, maybe more.
"The fire is under control now, we are in a managed situation, we are just sacrificing the roof."
The thick, black smoke smelling of chemicals and plastic prompted an alert from Auckland Regional Public Health Services for people who live and work in Auckland CBD to stay away from the smoke and to close windows. Air conditioning should also be turned off.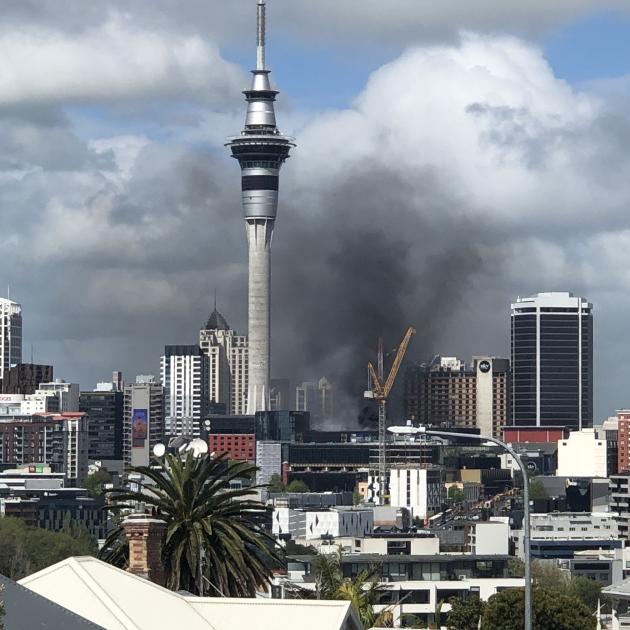 TRANSPORT DISRUPTED
Traffic in Auckland's CBD was gridlocked after main roads and motorway on-ramps were blocked due to the fire.
New Zealand Transport Agency urged motorists to avoid the CBD or expect significant delays. As well as heavily congested and closed roads, bus services were also severely affected on Tuesday.
Parts of Wellesley St, Nelson St and Hobson St were closed so fire engines could get close to the blaze.
Multiple motorway ramps were also closed, including the Cook Street off-ramp, Fanshawe St off-ramp, and the Hobson St on-ramp to State Highway 1 and State Highway 16 before reopening later on Tuesday.
Auckland Transport staff were  deployed across the city to redirect commuters to temporary bus stops. A spokesman said the main bus service affected was the Northern Express service.
In a statement on Tuesday afternoon, SkyCity said the Sky Tower and casino had been evacuated and closed until further notice.
A SkyCity spokeswoman said they were working closely with Fletchers and Fenz to gather as much information as possible.
"We do not know the source of the fire at this stage. We are currently assessing the situation and the damage.''
A spokeswoman for Fletcher Building said staff and contractors were their priority.
Auckland Mayor Phil Goff was earlier reporting what he could see live on his official Twitter page.
"Fire is really building. People can be seen on the roof,'' he wrote.
A worker at the scene said nobody knew what had happened. They suspected the fire had started on the roof of the top floor. 
Fire alarms had started and they assumed it was a drill, he said. "Then people said run, run and we knew we needed to get out." He had not seen any smoke inside the building.
Construction worker Sandeep Patel said he was inside the building and had been evacuated. "We have no idea what is going on, all of a sudden we were told to get out."
Account manager Charli Farman was sitting at her desk when she noticed smoke and told a colleague "I think it's on fire".
"It was a really small amount of thick black smoke."
Farman said a man in an orange construction vest was standing at the top of the building when the fire started.
"He was standing at the back for about four minutes but the he just ran when the flames started to spread".
SkyCity Entertainment Group shares dropped to a seven-week low in a knee-jerk reaction to news of a major fire at the already-delayed building site for the international convention centre.
The stock fell as low as $3.82. Shares of Fletcher Building, which is building the centre, were recently down 1.7% at $4.64.
Grant Davies, an investment adviser at Hamilton Hindin Greene, said the fire was obviously bad news for the project, but that there was a dearth of information for investors on how to judge the impact of the fire.
"A lot of people are operating on rumour and just guessing. Is there is an argument for trading to be halted until there's more certainty? It's a grey area," Davies said.
In February this year, SkyCity confirmed that construction delays had further pushed back the opening date for the Convention Centre. The delays were understood to impact as many as 8000 delegates who had booked events early in 2020.
SkyCity said that the venue was scheduled to open in the latter half of next year. At this stage, it is still unclear whether the inferno will push that date back further.
Any further delay to the centre's opening would be another blow to the convention business in Auckland. Last year, the Auckland convention industry hosted  $45 million worth of business events for the city.
The Auckland Convention Bureau said  last year more than 52,848 international and domestic delegates between 2018 and 2027, who would stay a total of 120,834 visitor nights.
Among the most recently announced events scheduled for the NZICC was the Australasian Tunneling Conference due in October 2022.  It would attract 750 delegates from around the world who would spend an estimated $1.1 million.

The SkyCity Convention Centre
• The $700m project is well under way, and is due to hold its first conference in October next year.
• Site: 1.4ha
• Floor space: 32,500sq m
• Equivalent to 4 rugby fields
• 33 meeting spaces of various sizes
• 5 times larger than existing NZ convention space
• Able to host events for up to 4000-plus people
• NZ's largest theatre, able to seat 2850 people
• NZICC designed by Warren and Mahoney, Woods Bagot, Moller Architects
• 303-room 12-level Horizon Hotel by Warren and Mahoney, Moller Architects