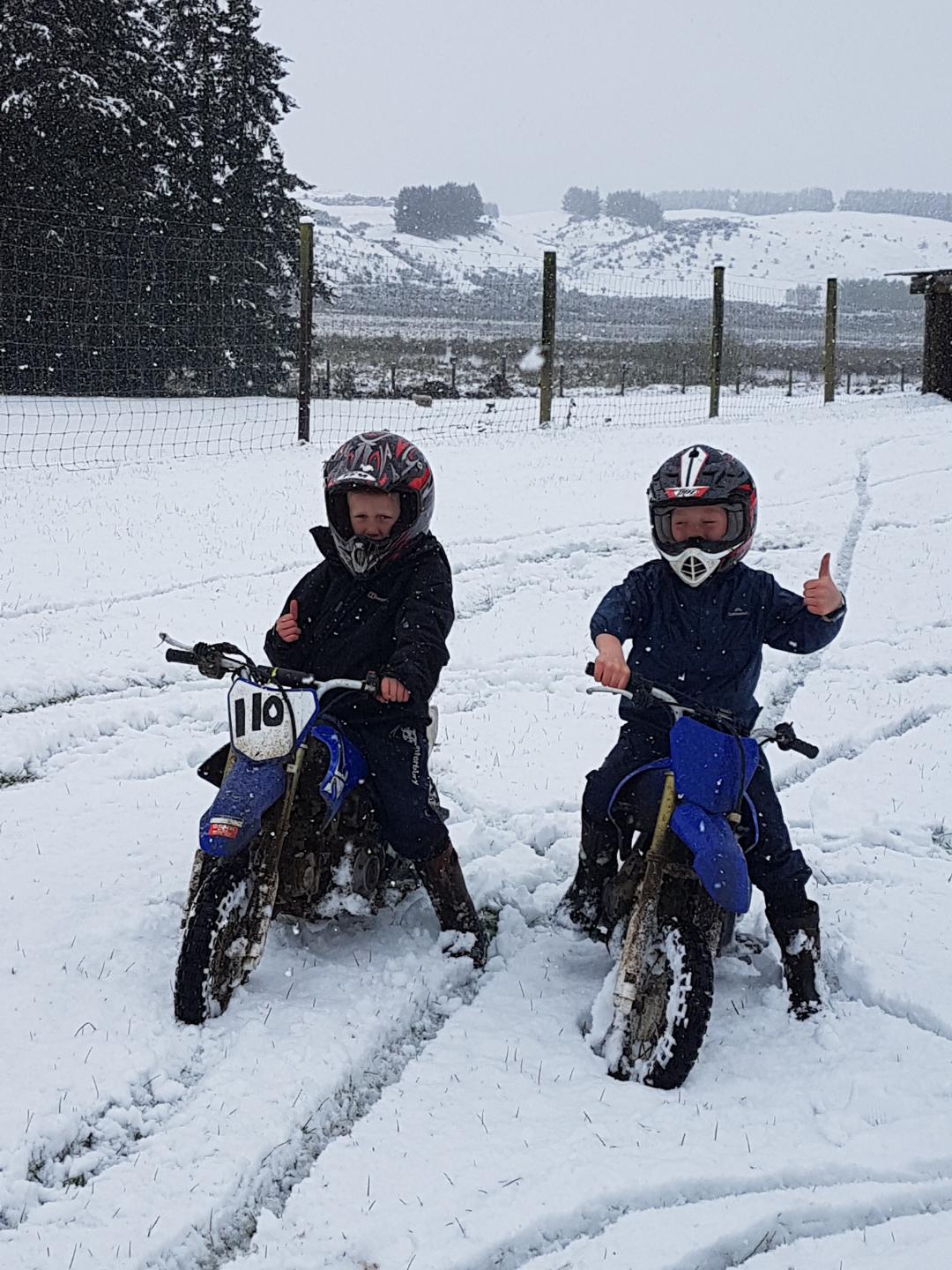 Temperatures have plummeted as an icy southerly storm begins to bite, bringing snow to parts of Southland this afternoon.
The cold front began moving over Stewart Island early this morning and was forecast to move up the South Island, bringing rain and snow to a low as 200 metres in places.
The NZ Transport Agency this afternoon issued snow cautions for SH6 from Kingston to Lumsden and SH94 from Mossburn to Te Anau urging motorists to take extra care.
SH94 was closed between Te Anau and Milford.
A Te Anau resident told the ODT pouring rain turned to snow about 11.30am and it had been snowing since.  Several centimetres of snow was lying on the ground in the township. It was also snowing in Mossburn and around Blackmount and Clifden. 
On its Facebook page the Southland District Council this afternoon said the Blackmount-Redcliff Road had reopened after being closed for a time due to heavy snow.
Few places in the country are expected to come through unscathed as the southerly brings a cold, wet end to the school holidays.
Dunedin was a warm 19degC yesterday,  14degC this morning but would dip to 7degC in the afternoon due to strong cold winds bringing rain and snow developing about the higher hills.
Mosgiel was also in for some snow to 500 metres this afternoon, and down to 300 metres on Friday, MetService said.
Around 5.45pm, most centres in Otago and Southland were shivering in single-digit temperatures. Lumsden was a bitterly cold 0.4degC,  Alexandra was on 5degC and Dunedin city on 6.7degC. 
A heavy snow watch is in force for inland parts of Otago and Canterbury, with potential snow down to 500 metres. In Fiordland and Southland the snow could fall to 200 metres.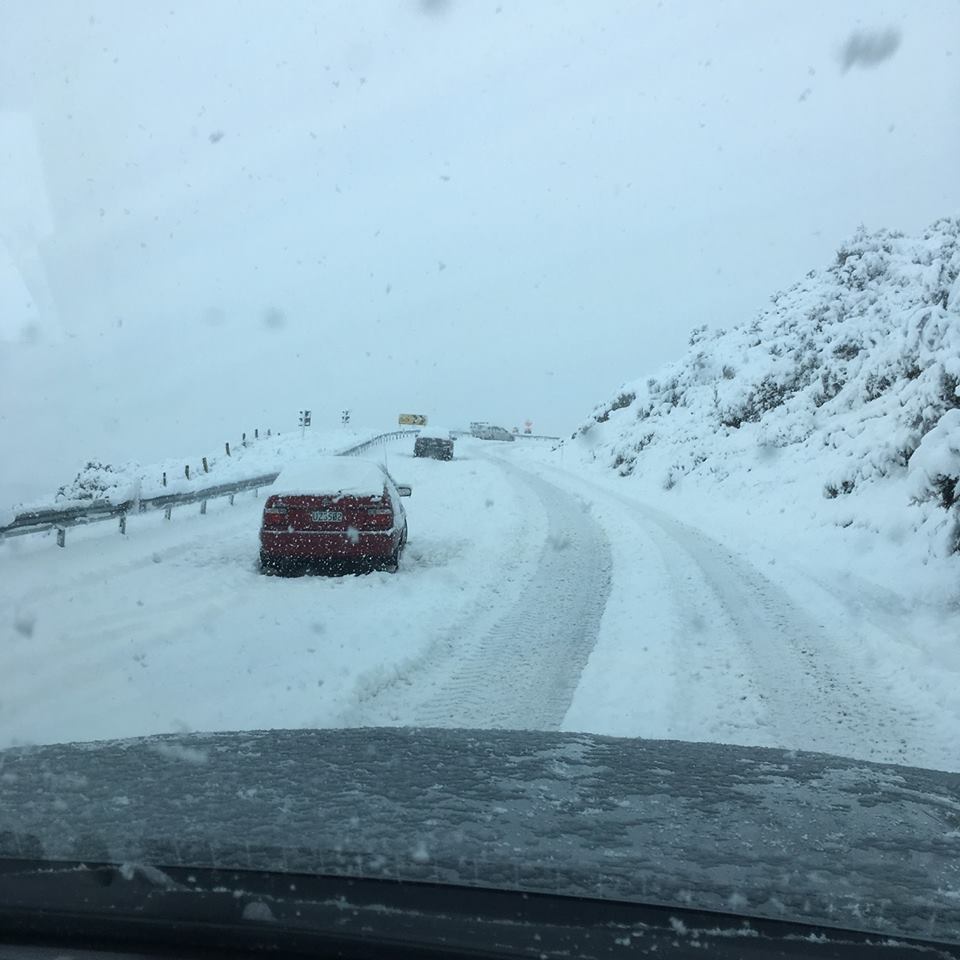 Sleety rain was set to fall in Queenstown and Wanaka from this afternoon, affecting the Crown Range Road. Between 2pm and 10pm, up to 5cm of snow may settle on the road linking the towns above 800 metres, with lesser amounts to 600 metres, MetService said.
Snow warnings were also in place for alpine roads the Lindis Pass (SH8) and Porters Pass (SH73) from 8pm today.  
Between midnight tonight and 5am on Thursday, 2cm to 5cm of snow may settle near the summit of Porters Pass, with lesser amounts to 700 metres, while 1cm was forecast to settle near the top of the Lindis. A warning has been lifted for the Haast Pass (SH6).
Cold temperatures were also forecast for Christchurch.
Avalanche warnings
The Mountain Safety Council warned trampers to steer clear of back-country areas.
The Milford Road remains closed from East Gate (Hollyford) to West Gate (Chasm). Snow was no longer forecast. However, due to heavy rain the avalanche hazard was rising, the Milford Road Alliance advised.
Warnings are also in place for dangerous avalanche conditions in Fiordland, Aoraki/Mt Cook, Arthur's Pass, Queenstown and Wanaka.
The West Coast would see the most of the rain; however most of the country was in for a wet few days.
North Island won't miss out
The front would arrive in the North Island from Thursday morning, spreading rain and cold southerly winds as it moved north.
It should track east across central and northern New Zealand, while a low was forecast to develop along the front and track east across central New Zealand on Friday.
Ahead of the front and low, there could be heavy rain about Buller and Nelson ranges, and the Richmond Range on Thursday.
There was also a chance Mt Taranaki, the Whanganui headwaters, Tongariro National Park, and eastern Bay of Plenty could see some heavy rain later Thursday and into Friday.
Snow was forecast through this period to 400 metres about inland parts of northern Canterbury and Marlborough.
On Friday, the strong and cold south to southeasterly flow was expected to spread further across the North Island.
South to southeasterly gales could become severe in exposed parts of Wellington and coastal Marlborough, with a lower risk from Taranaki to eastern Bay of Plenty, southwards.
On Friday and into early Saturday there was a risk of snow to 600 metres in parts of the central North Island and ranges of Hawkes Bay about the Wairoa District late Friday into Saturday.
Higher roads in this area were likely to be affected, including the Desert Road (SH1) and the Napier to Taupo Road (SH5)
From late Saturday and during Sunday, the southerly flow was forecast to ease as a ridge of high pressure over the Tasman Sea slowly drifted on to the country.