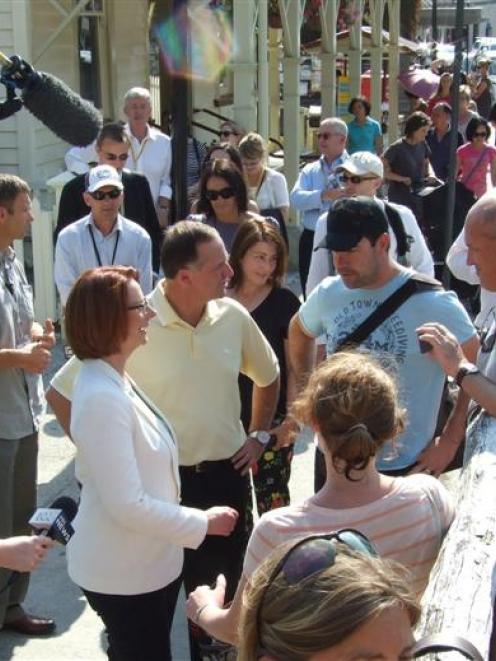 As political summits go, the one between cobbers and mates in Queenstown at the weekend was one of the better ones, and not just because of the beautiful setting and weather.
The outcome of such summits are sometimes turgid communiques with nuanced changes in position on areas of joint concern that no-one but the highly trained diplomat can interpret.
This time, diplomats were put to better use. It was a action time, not just a talkfest.
The outcome was still carefully choreographed in advance of the actual bilateral meeting between Prime Minister John Key and Australian Prime Minister Julia Gillard and their teams, which lasted only two hours on Saturday morning.
There were two significant announcements - moves to lower data roaming rates and New Zealand to take 150 refugees from Australia, and agreements that work will begin on three new projects: collecting each other's student loan debt; the building of an Australian monument at the National War Memorial in Wellington; and closer co-operation on fighting cyber attacks.
Whether the results were good for New Zealand is another matter. No consumer would argue with the move to get data roaming rates down - do it yourself or it will be done to you, telcos in both New Zealand and Australia have been told.
The refugee move, on the other hand, has provoked a backlash on both sides of the Tasman. Officially, the move means New Zealand will take 150 people a year approved as genuine refugees in Australia's offshore processing bases in Nauru and Papua New Guinea.
In reality, New Zealand has agreed to take 150 boat people every year who land in Australia - or are picked up from distressed boats headed towards Australia - and are approved.
Many questions remain unanswered: what's in it for New Zealand? What's in it for Australia? What's in it for boat people? And why now?New Zealand did Australia a favour in 2001 by accepting 131 refugees from Tampa, and since then 250 relatives of theirs have settled in New Zealand.
But the 150 a year is an entrenched policy, not a one-off response to a special event. On the same day that New Zealand agreed to share Australia's boat people problem, Australia agreed to look at ways of collecting $600 million in student debt from Kiwis in Australia.
No-one will come out and say that this was a mutual back-scratching exercise but Australia has been pressing New Zealand for several years to help with boat people and New Zealand has been pressing Australia to help collect debt.
Suddenly, there's action on both prickly problems and that's not likely to be a coincidence.
Mr Key puts his goodwill gesture down to several factors: recognising the intelligence New Zealand gets from Australia on asylum seekers; and a recognition that some boat people picked up in Australian waters were on their way to New Zealand.
Liberals who have sympathy for asylum seekers do not like it because of the offshore processing centres in relatively grotty places, Nauru and Papua New Guinea. United Future leader Peter Dunne tweeted ''We should take the 150 we want, not the 150 Australia will not have.''
Ms Gillard gets a win of sorts, albeit just a symbolic one.
By Audrey Young.