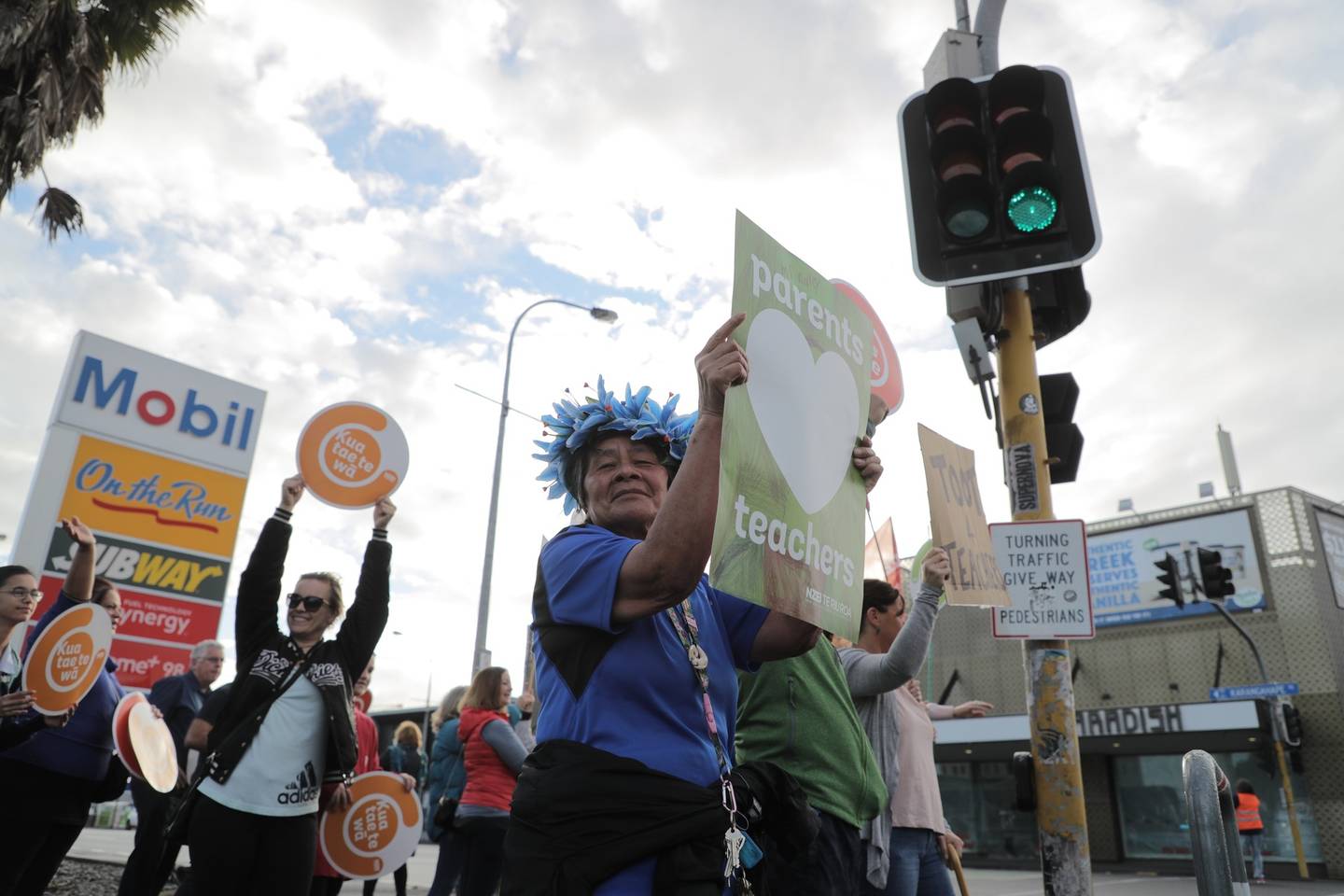 Teachers who are going on strike again from today say they were forced to because a revised Government offer came through too late to rearrange planned meetings.
About 30,000 teachers belonging to the NZ Educational Institute (NZEI) are striking today in Auckland, on Tuesday in the rest of the North Island (except Wellington), on Wednesday in Christchurch, on Thursday in the rest of the South Island and on Friday in Wellington.
About 464,000 students at 1943 primary and intermediate schools will either stay home or, in some cases, will be supervised by after-school programmes that are stepping up to run all day during the strike.
This morning about 50 teachers and supporters are at a street corner in central Auckland demanding better pay and conditions.
Nz Educational Insitute president Lynda Stuart joined teachers from Newton Central School at the corner of Ponsonby Rd and Karangahape Rd.
Dozens of other street corner rallies are taking place around Auckland today. Teachers in other regions will strike later this week.
The Newton Central group has been crossing the streets around the four corners of the intersection waving flags and placards.
All those who spoke to the New Zealand Herald said the Government's latest $700 million offer was still not enough.
Jo McKendrey, a Newton Central deputy principal who turned 50 today, said schools needed more teachers, better pay and more funding for students who need learning support.
"We want to attract more teachers to the profession. We are really desperate for teachers," she said.
"We actually need to make it attractive with a pay increase. It's getting harder and harder to live and work in Auckland."
The teachers are meeting at 10am in venues around Auckland to debate the Government's latest offer.
Stuart said the talks, which began last Monday, dragged on longer than planned.
"The intention for facilitation was for Monday, Tuesday and Wednesday," she said.
"The ministry asked if we would do Thursday, which we did. The offer came late on Thursday."
The institute had already booked venues for meetings around the country at 10am on each strike day, and Stuart said: "We couldn't guarantee we would have teachers back in school by 12pm."
"You can think about the traffic in Auckland, and when you have some rural and isolated areas, you have issues there," she said.
"If you have parents dropping off children at 12pm, we have to be sure we will have teachers there."
The revised ministry offer stuck to its previous offer of a 3 per cent pay rise each year for three years, lifting most teachers' base pay by 9.3 per cent by November 2020.
For the average primary teacher on $72,900, that represents an extra $6780 a year, or $130 a week, by 2020.
The latest offer
Thursday's new offer added three more sweeteners:
• Lifting the maximum salary for teachers who trained before degrees became required for teaching by four steps on the pay scale, lifting pay for long-serving staff like Tauranga teacher Eileen Gilmour by 39 per cent, from $59,621 to $82,992, by 2020.
• Creating an extra step at the top of the salary scale from 2020, lifting the top of the basic scale by 12.6 per cent, from $75,949 to $85,481, by 2020. About a third of teachers are on the top step and would get this increase.
• An immediate one-off $500 payment to all NZEI primary and intermediate teachers.