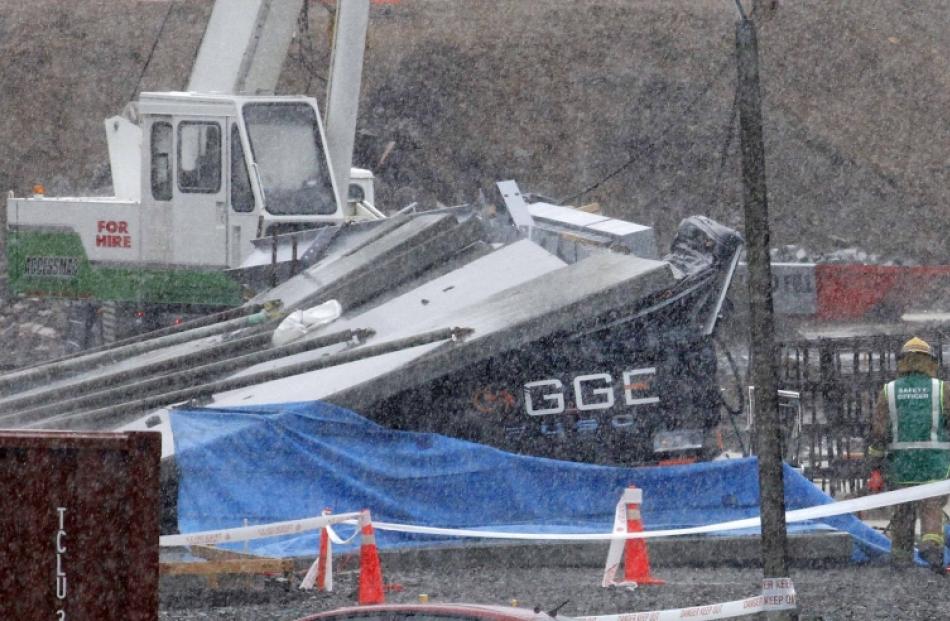 Three people have been killed and seven injured during a storm, including a tornado, that hit Auckland today, with another tornado hitting near Rotorua later this afternoon.
Police have confirmed the deaths and injuries. Two of those affected were believed to be involved in the construction of a school at Hobsonville Point and killed by a falling concrete slab, while another victim was reportedly hit by a tree.
There has also been reports of another tornado touching down near Rotorua late this afternoon, bringing down hundreds of trees in the area.
The Fire Service told The Daily Post a small tornado went through Sunnex Rd at Hamurana at 3.20pm today.
Forty children understood to be from Mokoia Intermediate and 13 adults were at a horse riding class and were evacuated to a property on Sunnex Rd to make sure they were safe.
Some of the properties on Sunnex Rd were also evacuated.
About 150 homes were damaged at Whenuapai and many were deemed uninhabitable or were without power.
About 300 residents had been evacuated to Whenuapai Air Force Base and Auckland Council welfare staff were assisting them.
Electricity was off in numerous parts of Auckland including Henderson, Greenhithe, Hobsonville, Riverhead, Meadowbank and St Johns. There was widespread surface flooding on roads and motorways throughout Auckland and motorists are urged to take care or stay off the roads if possible.
Andy Gummer of St John said at least seven people had been taken to Auckland and North Shore hospitals.
"There might be some critical,'' he said.
A tornado hit Hobsonville during the storm, tearing down trees and ripping panels from the motorway.
Fire, police and ambulance raced to multiple callouts in Hobsonville and Upper Harbour.
Defence Force personnel were going door to door to check on people and emergency services were trying to clear blocked roads.
State Highway 18 - the main link between west Auckland and the North Shore reopened at about 4pm after it was closed for several hours this afternoon.
The storms brought down light poles, disabled motorway cameras and left sections of the motorway littered with debris.
The motorway's Squadron Drive on and off ramps, however, remain closed until further notice.
At 1.52pm MetService weather radar detected thunderstorms near Auckland, Orewa, Albany, the inner Hauraki Gulf, Daily Flat, Whangaparaoa and Silverdale.
Police Superintendent Bill Searle said a series of tornadoes passed through Hobsonville, and one of those touched down on a subdivision, causing damage to trees and buildings.
He told a media conference at Whenuapai Air Base that about 12 uniformed USAR personnel, who happened to be in the area at the time were gathering intelligence to help police but had not been formally deployed.
The Defence Force was on standby, and an emergency centre has been set up at the air base.
Mr Searle said the forecast was for more bad weather and people in the Hobsonville and Greenhithe areas should stay inside.
The Fire Service had received between 80 and 100 calls and more than 12 appliances have been sent to the area.
A Fire Service spokesman said there appeared to be "significant building damage'' and a number of people had been trapped.
Fire Service spokesman Scott Osmond said a roof had caved in at a Mastertrade store and there were reports of chimneys being toppled and roofs blown off buildings in Hobsonville.
Fire Service area manager Murray Binning said appliances were responding to damage more widespread than the 1km zone at a construction site.
"There are houses with roofs off scattered all over west Auckland, so we're dealing with those too,'' he said.
Whenuapai resident Suzanne McFadden said the tornado was like a roaring "juggernaut''.
"We have no power, it honestly looks like a bomb has gone off in the street.
"I saw it coming across the river, the air went very electric and the sky went black. And then the wind started to whistle.''
She said she saw trees coming up the street and then ran to the hallway inside for cover.
"We were in the middle of it. It was a roar. ''
She said century-old pine trees had been uprooted, one even crashing through her neighbour's garage - crushing a van inside.
Because road access was blocked, residents were concerned for the wellbeing of their children at nearby Whenuapai School.
"We can't get out and nobody can get in, there are live power lines on the road. People who are getting home now are walking miles just to get home.
"This was like a juggernaut roaring through here. Everyone is really shaken up.''
Witness Matt Eade said he was in his lounge when the tornado hit.
"The wind picked up real fast and then it rained real hard. The hardest wind you can imagine was swirling around; it would go one way real fast and then back the other way - it kept changing directions. We were standing away from the windows because we were expecting them to crash in. I thought it was one of those situations where we thought we could get swept away.
Power was off at his house and firefighters had asked if he wanted to evacuate.
Local resident Jordan Carter said high winds had hit his house in Whenuapai.
The fence had been blown down, trees uprooted and the lid of the spa pool gone, he said.
Prime Minister John Key extended his condolences to the friends and families of those who had died.
"This must have been an extremely frightening situation for many people in the local community,'' he said.
"This extreme weather event occurred in the heart of my electorate as well as Paula Bennett's electorate. I have been kept informed of the situation throughout the afternoon and am continuing to receive updates.''
Auckland Mayor Len Brown and councillors were briefed by the council's civil defence head and Mr Brown went to the operational base at Whenuapai this afternoon.
Mr Brown said all the residents from the evacuated properties were now homeless.
Most were homes tenanted by Air Force personnel and their families.
The homeless were taken to Whenuapai Air Base.
Air Force group captain Kevin McEvoy said some of the evacuated homes had missing roofs and window smashed.
Mr Brown visited the most damaged areas of Hobsonville this afternoon.
''[It looked] like a knife through butter for some of those trees,'' he said. "Devastating. This was clearly a major weather event. Our hearts are with the families.''
Police asked schools to keep children inside until parents arrived to collect them.