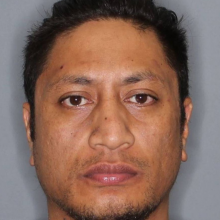 A warrant has been issued for the arrest of New Zealand rapper Scribe after he again failed to show up for court.
The chart-topping hip-hop artist, whose real name is Malo Ioane Luafutu, is facing weapon and drug charges.
He was scheduled to appear at Christchurch District Court this afternoon but didn't turn up.
Defence counsel Elizabeth Bulger said she received a text from Luafutu this morning, saying that he'd missed his flight from Wellington and could not get another one to Christchurch to make court on time.
She asked that if police sought a warrant for his arrest today - which they did - that Judge Tony Couch allow it to lie in court until 10am Friday to let Luafutu make it to court by then.
Judge Couch issued the warrant to arrest but was "not inclined to give this defendant any more leniency".
"This would be the fourth occasion in which he has failed to appear," the judge said.
Canterbury police made a Facebook appeal last month for the public's help in locating Luafutu.
He contacted police himself later that afternoon and agreed to appear at Porirua District Court where he was bailed to appear in Christchurch at a later date. An earlier appearance was adjourned until today.
Father-of-four Luafutu faces three charges relating to April 2 this year.
Police allege that he was found with an offensive weapon, namely a bat, on Ollivers Rd in the Phillipstown area of Christchurch, and had the Class A controlled drug amphetamine and a pipe in his possession.
The rapper's star began to rise when he released his debut album The Crusader - a nod to the Canterbury rugby team - in 2003.