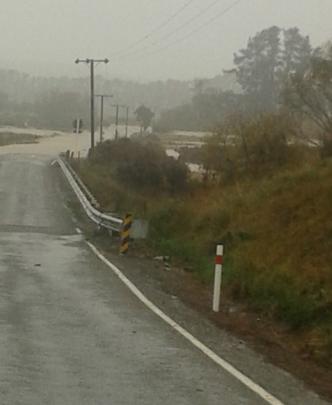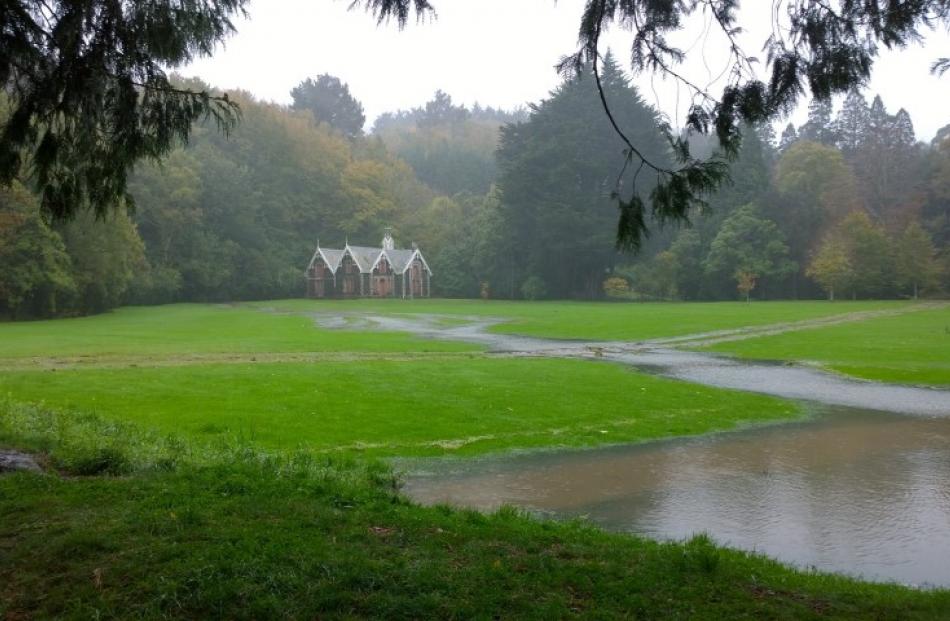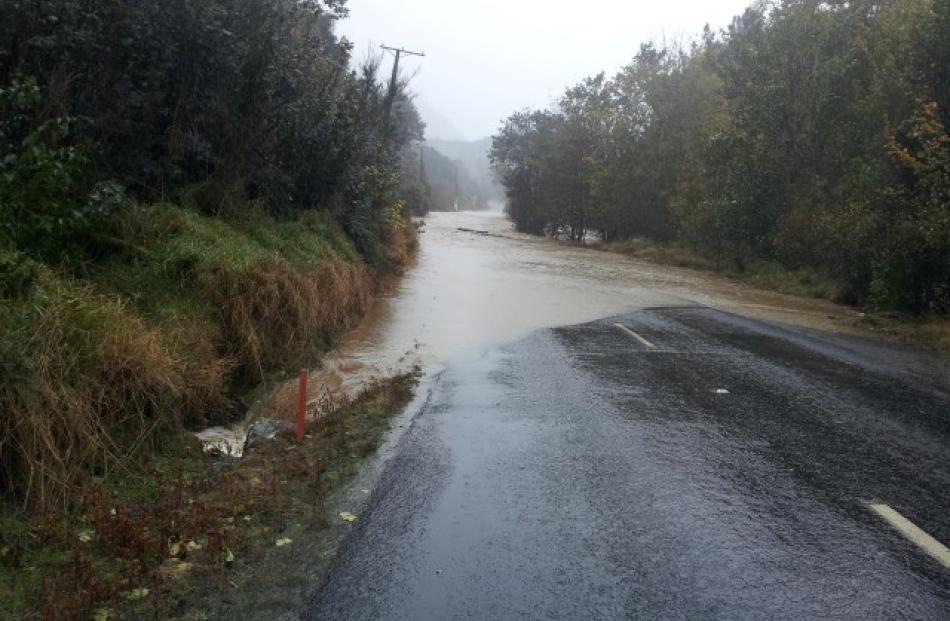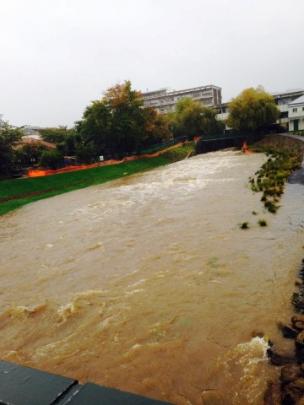 Predicted heavy rain has hit the South today after winds and heavy downpours caused property damage and travel chaos in many areas of the country yesterday and overnight.
Flooding caused the closure of State Highway 1 between Maheno and Oamaru for much of the day. The road has reopened but motorists are urged to take care when using it.
MetService advises that it has lifted the severe weather warning it had in place for Dunedin, North Otago and Canterbury and that rain in these areas is easing.
ORC flood managers say many Otago rivers remain high after persistent heavy rain and are likely to stay high for the next few days. 
ODT reader Stefanie Kalmakoff said her husband, Bob Woodman, was waiting the weather out at Dunback, where he had had 115mm in his rain gauge in the last 24 hours.
MetService duty forecaster Richard Finie said while most residents could look forward to better weather tomorrow, miserable conditions would hang around for most of today.
"Essentially, the heavy rain in the east from Canterbury down to Dunedin is easing from the north, this afternoon through to this evening."
The weather affected some flights at Christchurch Airport, with departures to Dunedin, Hokitika and Blenheim cancelled this morning.
The wild weather left its mark on the West Coast.
Grey District Mayor Tony Kokshoorn said 60 houses had roofs blown off in the wind yesterday and large rainfall was forecast for tomorrow.
"We are in full recovery mode racing against time against the weather. We've got an aircraft hangar with planes in it that has been totally demolished and a hall in Greymouth that has been totally demolished.
"Luckily the CBD area is not badly affected so it's business as usual but the damage to the residential parts of Greymouth is certainly large."
Fire Service southern communications shift manager Andrew Norris said teams were working to secure properties, before the next predicted deluge tomorrow.
Most of our damage was from Greymouth up to Granity, north of Westport, he said.
"We are assisting people to check their roofs and to make everything watertight - damaged roofs and things like that from the wind - because there's more heavy rain expected there tomorrow."
In Nelson, emergency services and workers are in "clean up mode" following damage from the extreme weather, the local Civil Defence said and Emergency Management (CDEM) group said.
Part of the roof from Nelson Hospital has been blown off, and authorities have closed Waimea Rd as they deal with the damage.
"Emergency services and contractors have spent the night, and will spend most of today clearing roads, of fallen trees and assisting in clean up.
"There is still a need to be vigilant as more rain is predicted, with the Golden Bay area already receiving the second round of forecasted rainfall," CDEM said.
River levels in the region, particularly the Anatoki, Waingaro and the Aorere were rising, with road closures predicted at the Waitapu splash and Kotinga bridge around midday with the high tide.
Drivers in the region should take extreme care, with some roads down to one lane in places.
Nelson Hospital duty manager and incident controller, Hilary Exton, said a ''significant of the roof had come away and was hanging down the side of the building'' this morning.
While emergency services were called, patients were removed from any areas at risk and the area below the unsecure roofing had been cleared.
"We moved all patients from ICU through to the recovery area into a safe place.
"The ICU now is closed until we get the all clear to go back in."
"We've also had a couple of areas on one ward that was close to the area that was affected and we closed a couple of those bed areas," Mrs Exton said.
All patients were stable and supported, and hospital services had not been affected.
It was not yet known when the broken part of the roof would be fixed, with work to secure the overhang occurring this afternoon, she said.
Further south, sodden Christchurch residents were also cleaning up.
Sixty five millimetres of rain fell across the city overnight, and 180 millimetres in Akaroa. All river levels were running high this morning, the Christchurch City Council said.
While the Heathcote River has flooded, the Avon River and Styx River had not.
Mr Norris said firefighters had been responding to "normal weather-related jobs", such as flooding and felled trees.
In the North Island, those around the Bay of Plenty were facing rolling thunderstorms and heavy rain.
Easter unplugged: Power outages hit thousands
Around 10,000 people were without power due to the wild weather this morning.
In Christchurch, Orion NZ said 3,181 customers were off the network.
The West Coast had an estimated 1000 customers without power, 500 south of Hari Hari and around the same number in the Greymouth area.
Chief executive for West Power Rob Caldwell said crews were hoping to restore power to most people, however some some customers would probably have to spend tonight in the dark.
In Auckland, Vector lines crews had recently restored power to about 1000 people in Helensville.
However, about1300 customers in Kaipara, Puhoi, Kawau Island and Takatu as well as about 1000 Northlanders were still without power.
A spokesperson for Top Energy said most of its customers were expected to have power by the end of the day.
In Rotorua, Unison Power had about 1500 customers affected. It hoped to have but hoped to 800 customers around Lake Tarawera reconnected this afternoon.
Hawke's Bay had pockets of people without power, most in rural areas due to trees falling on lines.
Some regional flights have been affected by the weather. Holidaymakers concerned about their flights should check with the airline.