Scott Morrison is Australia's next prime minister after defeating Peter Dutton in the race to replace Malcolm Turnbull.
The deputy leader of the Liberal party will be Josh Frydenberg, replacing Julie Bishop.
Mr Turnbull quit the job after he called for a spill of leadership positions in a Liberal partyroom meeting on Friday.
Mr Dutton, Mr Morrison and Ms Bishop contested a three-way contest to replace him, with Ms Bishop eliminated first after getting the lowest vote.
Mr Morrison defeated Mr Dutton in the next round by five votes, 45 to 40.
The original spill motion was carried 45 votes to 40, meaning almost half the partyroom wanted Mr Turnbull to stay in power.
It is understood Mr Turnbull has not yet indicated to the meeting when he will retire from parliament.
An immediate retirement would trigger a by-election in the NSW seat of Wentworth.
The meeting had been expected to start at midday but was delayed while the 43 signatures on a petition calling for the meeting were verified.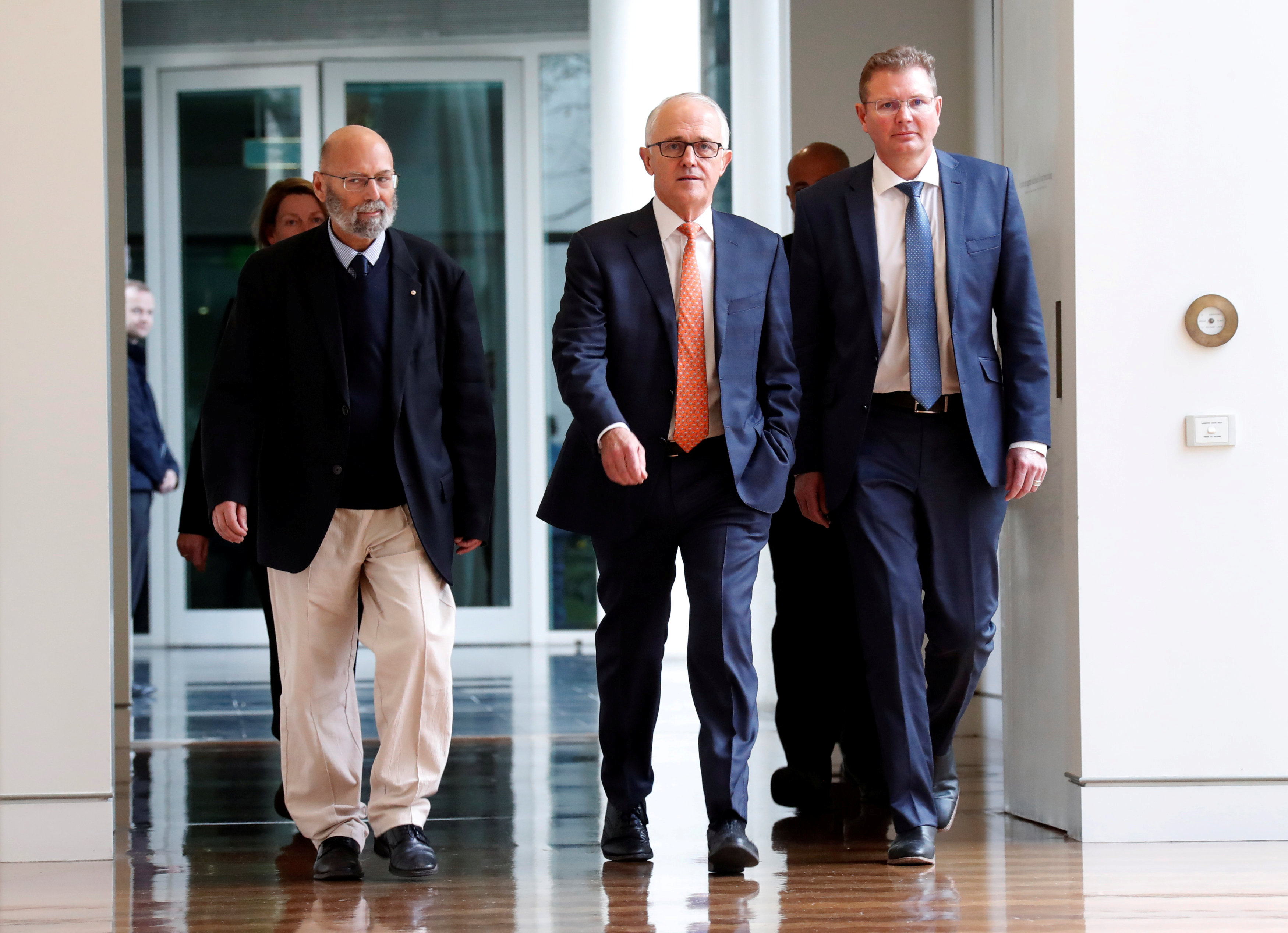 THE REVOLVING LEADERSHIP DOOR IN AUSTRALIAN POLITICS SINCE 2007
--
OPPOSITION LEADER BRENDAN NELSON, 2008
After Peter Costello declined to stand for the Liberal leadership after the 2007 election defeat, Brendan Nelson tried to fill the giant shoes of John Howard and failed. Malcolm Turnbull took over in 2008 for his first iteration as Liberal leader.

OPPOSITION LEADER MALCOLM TURNBULL, 2009
Climate change was to be the undoing of Turnbull the first time around. Kevin Andrews moved a spill on November 26, 2009 and lost. The next day Tony Abbott challenged but then declared he would back Joe Hockey. But when Hockey refused to oppose a carbon emissions trading scheme, Abbott stood at the December 1 ballot and defeated Turnbull by one vote.

PRIME MINISTER KEVIN RUDD, 2010
Labor's Kevin Rudd became one of the few Australian prime ministers to be dumped while in office when Julia Gillard rolled him in 2010 just before an election. She claimed government after 17 days of negotiation to win crossbench support.

PRIME MINISTER JULIA GILLARD, 2013
Three years later, Australia's first woman prime minister was gone when Rudd finally took his revenge after a failed 2012 coup attempt. In March 2013, Gillard called a spill but no-one challenged. Four months later on June 26, Gillard called Rudd's bluff again at 4pm and was gone in a caucus vote a couple of hours later. Rudd and Labor lost the election as expected.

PRIME MINISTER TONY ABBOTT, 2015
Abbott led the Liberal-National coalition to a storming victory over Rudd's Labor in 2013. He called a spill in February 2015, but it wasn't until September that Malcolm Turnbull finally moved after Abbott had lost 32 Newspolls in a row.

PRIME MINISTER MALCOLM TURNBULL, 2018
Turnbull won a vote on his leadership 48-35 against Home Affairs Minister Peter Dutton on August 21. Although he survived, the result wasn't considered strong enough and the Dutton camp muscled its way to a more dramatic showdown at high noon on Friday August 24. Turnbull spilled the leadership and quit. But Dutton's campaign backfired when he lost the second contest to Turnbull's treasurer Scott Morrison by five votes.