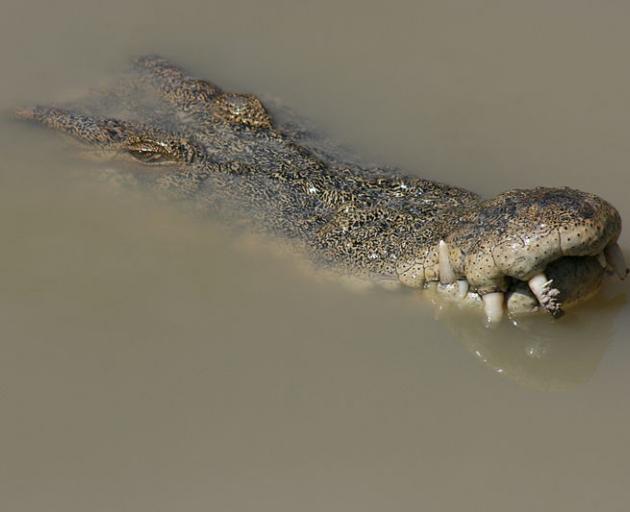 Fifteen foreign nationals have been detained and Australian authorities are searching for others who abandoned a boat which ran aground in crocodile country north of Cairns.
Locals raised the alarm when they spotted the boat and saw those aboard fleeing on foot after making it to a remote beach near the mouth of the Daintree River on Sunday.
It is not known how many people were on the boat, which authorities have described as an illegal fishing vessel.
Border force officers are scouring the crocodile-infested mangroves with the help of Queensland police.
"I understand that 15 people are now detained on behalf of the Australian Border Force," Queensland Police Minister Mark Ryan told reporters today.
"They will be assessed by the Australian Border Force and dealt with in accordance with Australian law."
Authorities have said 11 were arrested yesterday.
But the Department of Home Affairs has refused to confirm reports that others were captured on this morning, near the Daintree River ferry.
The ferry is the only way across the river, with police stopping and checking all vehicles.
Douglas Shire Mayor Julia Leu says the boat's passengers are at risk, with the area around the river and Cape Kimberley, where the vessel ran aground, infested with saltwater crocodiles.
"We have thriving croc spotting operations all up and down the river," she told AAP.
"The unknown thing is did they actually end up going through the mangroves. Hopefully not, but we just don't know."
The home affairs department has refused to comment on reports that some of those detained are Vietnamese.
Former Australian Border Force chief Roman Quaedvlieg used Twitter to say it wasn't unusual "for Vietnamese asylum seekers to target a remote part of the Australian coast".
"It's relatively easy to do; but most don't get far once landed due to the hostility and are soon detained or give themselves up quickly. Their asylum claims fail in the majority."
If those onboard are found to be asylum seekers, it would be the first illegal boat arrival on Australia's shores since 2014.
One Nation leader Pauline Hanson has suggested those on the boat may have headed for Australia as a result of last week's leadership crisis in Canberra.
"Because the eye was off the ball last week, and the news would have happened that Malcolm Turnbull was no longer prime minister, that these people would have got on a boat to come across to Australia," she told the Seven Network today.
She has written to new Prime Minister Scott Morrison, urging him to restore the Government's focus on border security but her comments have amused crossbench Senator Derryn Hinch.
"Pauline, I hate to burst your bubble, but I doubt these people who are now running through the rainforests of Queensland were glued to TV sets last week looking at our leadership problems," he told the Seven Network.