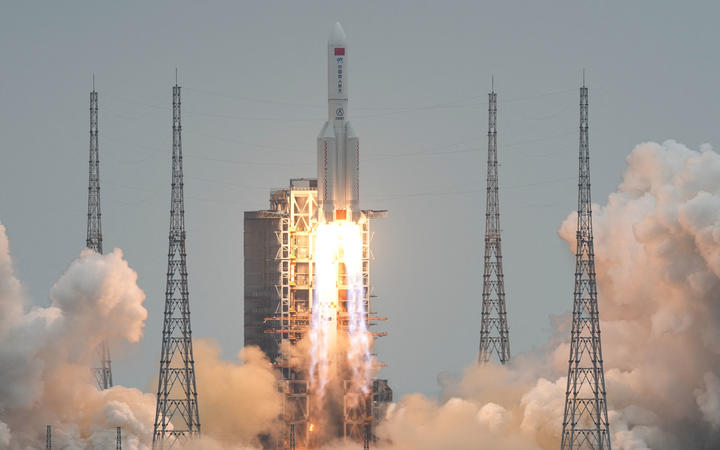 Pieces of a large Chinese rocket have plunged back through the atmosphere on Sunday, although scientists have yet to confirm exactly where they went down.
The descent of the Long March 5B rocket has been labelled an uncontrolled re-entry by the US military, and was being tracked by US Space Command.
It was due to enter the atmosphere between 1pm and 3pm (NZ time).
While those watching the skies say a lack of new information indicates the rocket had fallen out of orbit somewhere in the Indian Ocean, it would take some time to confirm where it went down.
However, Chinese state media cited the China Manned Space Engineering Office as saying parts of the Long March 5B rocket re-entered the atmosphere at 10.24am Beijing time and landed at a location with the coordinates at longitude 72.47 degrees east and latitude 2.65 degrees north.
The coordinates put the point of impact in the ocean somewhere southwest of India and Sri Lanka. Most of the debris was burnt up in the atmosphere, the China Manned Space Engineering Office said.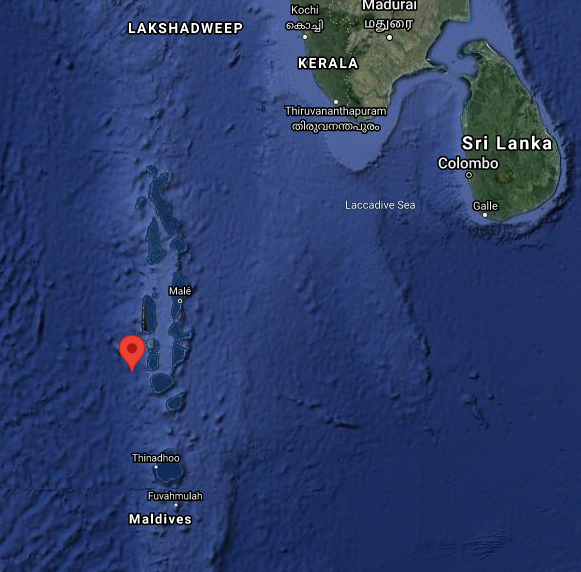 Earlier, it was reported that one tracking centre predicted the debris could splash down in the Tasman Sea between New Zealand and Australia. Re-entry and debris experts at Aerospace Corporation, a US government funded research and development centre had predicted the re-entry for 3.26pm (NZ time) on Sunday.
However, even a tiny variation in the entry time could mean the rocket actually enters over South America or Africa.
The Long March 5B rocket lifted off from China's Hainan island on April 29 with the unmanned Tianhe module, which contains what will become living quarters on a permanent Chinese space station.
There are 10 more missions planned to complete the station.
Long March 5B rockets are key to China's immediate space ambitions, with plans to use them for delivery of the modules and crew of the space station, to launches of exploratory probes to the Moon and even Mars.
The Long March launched last week was the second deployment of the 5B variant since its maiden flight in May last year.
The empty core stage has been losing altitude since last week, but the speed of its orbital decay remains uncertain, due to unpredictable atmospheric variables.
It is one of the largest pieces of space debris to return to Earth, with experts estimating its dry mass to be around 18 to 22 tonnes.
The core stage of the first Long March 5B that returned to Earth last year weighed nearly 20 tonnes, surpassed only by debris from the Columbia space shuttle in 2003, the Soviet Union's Salyut 7 space station in 1991, and NASA's Skylab in 1979.
- Reuters and RNZ