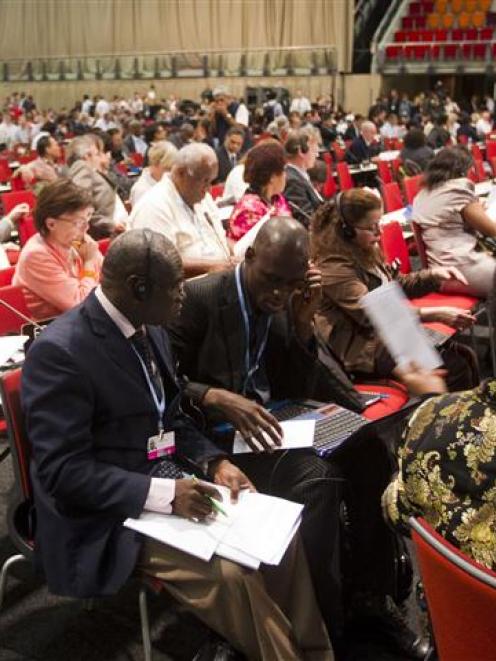 Developing states most at risk from global warming rebelled against a proposed deal at UN climate talks, forcing host South Africa to draw up new draft documents in a bid to prevent the talks collapsing.
South African Foreign Minister Maite Nkoana-Mashabane suspended the talks in Durban after a coalition of island nations, developing states and the European Union complained the current draft lacked ambition, sources said.
"There was a strong appeal from developing countries, saying the commitments in the proposed texts were not enough, both under the Kyoto Protocol and for other countries," said Norway's Climate Change Minister Erik Solheim.
The European Union has been rallying support to its plan to set a 2015 target date for a new climate deal that would impose binding cuts on the world's biggest emitters of heat-trapping gases, a pact that would come into force up to five years later.
Canada's Environment Minister Peter Kent told Reuters there was "serious negotiating to do" if the conference was to wrap up as planned on Friday.
"The (current) draft discusses the legal framework. There are different points of view and this is what this process is all about," he said. "Legal framework works for us at this point."
The crux of the dispute is how binding the legal wording in the final document will be. The initial draft spoke of a "legal framework", which critics said committed parties to nothing.
The new draft being worked on by the hosts could mention a "legal instrument", or even "protocol or other legal instrument", language that implies a more binding commitment.
The EU strategy has been to forge a coalition of the willing designed to heap pressure on the world's top three carbon emitters -- China, the United States and India -- to sign up to binding cuts. None are bound by the Kyoto Protocol.
EU Climate Commissioner Connie Hedegaard said earlier that a "small number of states" had yet to sign up to the EU plan and that time was running out for a deal in Durban.
Washington says it will only pledge binding cuts if all major polluters make comparable commitments. China and India say it would be unfair to demand they make the same level of cuts as the developed world, which caused most of the pollution responsible for global warming.
Many envoys believe two weeks of climate talks in Durban will at best produce a weak political agreement, with states promising to start talks on a new regime of binding cuts in greenhouse gases.
"A crash is still a possibility. It is going to go on all night. That much is clear," said Tim Gore, policy advisor at Oxfam.
UN reports released in the last month show time is running out to achieve change. They show a warming planet will amplify droughts and floods, increase crop failures and raise sea levels to the point where several island states are threatened with extinction.
The dragging talks frustrated delegates from small islands and African states, who joined a protest by green groups outside as they tried to enter the main negotiating room.
"You need to save us, the islands can't sink. We have a right to live, you can't decide our destiny. We will have to be saved," Maldives' climate negotiator Mohamed Aslam said. (