Victorians are bracing for potentially catastrophic fires in parts of the state as strong winds kick up prompting advice for some residents to flee.
The state's highest bushfire warning - code red - has been issued for central and northwestern parts of the state on Thursday. It signals the worst possible conditions and residents are advised to leave their homes.
"Homes are not built to withstand the types of fires we may see on a code red day and you don't want to be caught travelling through areas on fire at the last minute, if you wait and see," Country Fire Authority chief officer Steve Warrington said.
Temperatures are expected to soar above 40 degrees Celsius across northern parts of the state and hit 42degC in Swan Hill, as northwesterly winds sweep in.
"We've got the very hot, dry and quite gusty northerly winds and that's what's driven up the fire danger," the Bureau of Meteorology's Tom Delamotte said.
The fire danger rating is set at severe or very high for the rest of the state, with a severe weather warning for damaging winds also in place. It's also the first time this season a statewide total fire ban has been issued.
Melbourne could mark one of its hottest November days on record with 39degC, while the city fell just short of the hottest November night since 1901 at 26degC - just 0.2degC off.
DANGEROUS CONDITIONS IN TASMANIA
Tasmania is bracing for its most dangerous fire conditions this bushfire season, with dry winds and hot temperatures forecast.
The fire danger over much of the state's south and east on Thursday is considered severe, the third-highest of six ratings.
Temperatures are forecast to peak in the mid-30s in parts, with Hobart expected to reach 33degCelsius on Thursday.
Tasmania Fire Service Deputy Chief Officer Bruce Byatt said crews are on stand-by in what is expected to be the worst conditions of the bushfire season to date.
A 24-hour total fire ban stretching across the island's east, south, north and centre is in place from 2am.
Dry winds of 60-70km/h were forecast, but relief was expected on Thursday afternoon when a cold front crosses the state.
Wildfires in October threatened shack communities in the Central Highlands, prompting authorities to declare the start of the bushfire season.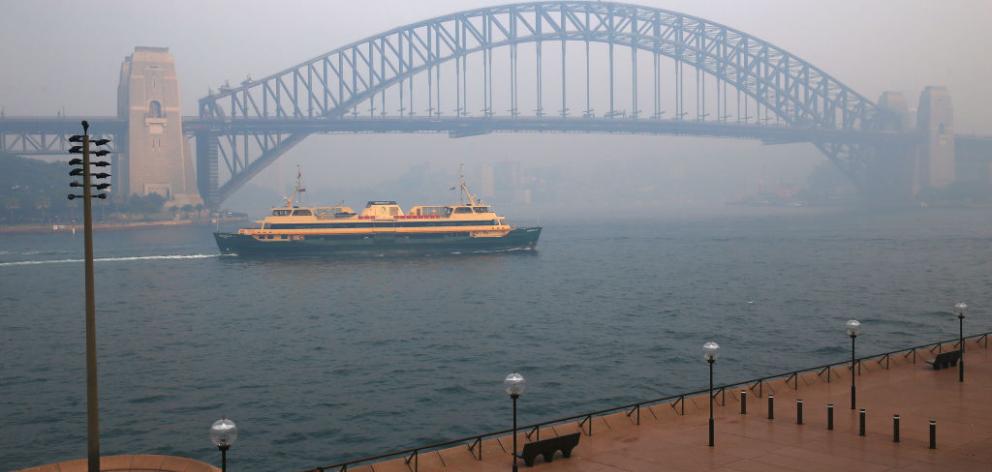 ANOTHER DIFFICULT DAY IN NSW
In New South Wales, fire crews faced another difficult day, with high temperatures and strong winds resulting in severe fire danger across much of the state.
A thick haze has also blanketed Sydney on Thursday morning as a north-easterly breeze dragged smoke down towards the city.
Some 50 bushfires are still burning in NSW, 20 of which are uncontained, and all are at advice level. More than 1000 firefighters remain in the field. There are 12 total fire bans in place across the state.
A severe fire danger rating is in place for 10 areas, including Illawarra-Shoalhaven. The entirety of the state's south is under "very high" or "severe" fire danger as hot winds blow in from South Australia.
"Another difficult day for firefighters, for people in these at-risk areas," Rural Fire Service NSW Commissioner Shane Fitzsimmons told the Seven Network.
But, after a fortnight of serious fires, he's hopeful conditions will improve in coming days.
"Hopefully, once we turn the corner on today there'll be an easing of conditions more broadly across the state," he said.
Winds of up to 60km/h were forecast across the southern border region which could present challenges if there are new fires, Mr Fitzsimmons said.
It's hoped north-easterly winds along the coast will help stop fires spreading and support firefighters in their bid to protect properties through backburning, which will continue on Thursday.
The air quality across much of Sydney was hazardous for visibility on Thursday morning, NSW environment department readings showed.
The haze and poor air quality over the city is likely to last right through the weekend as bushfire smoke from the north of the state is blown south, the Bureau of Meteorology said.
"The smoke will linger around. It will go off and come back again as the wind changes but we will see these smoke/haze conditions for several days," forecaster Abrar Shabren told AAP.
Visibility at Sydney airport was as low as 5000 metres on Thursday morning, Mr Shabren added.
Six lives and 577 homes have been lost to date this fire season, the RFS has declared, with more than 420 homes lost in the past fortnight.
SOUTH AUSTRALIA BUSHFIRE DANGER EASES
More than 30 people have been treated for minor injuries, and homes and sheds have been destroyed as authorities continue to battle a dangerous bushfire on South Australia's Yorke Peninsula.
The blaze is burning uncontrolled in stubble towards the towns of Edithburgh and Coobowie but the Country Fire Service says its rapid spread has been halted on Thursday.
Chief officer Mark Jones says while the worst is over, fire crews still hold concerns for two towns in the fire's path. The blaze has already burnt through about 4500 hectares.
"We've commissioned a large aerial tanker from NSW today to lay a protective fire line, on the fire which is spreading towards Coobowie," Mr Jones said on Thursday.
"Our crews are holding the fire on the outskirts of Edithburgh and doing a great job there.
"Our partner agencies have been fantastic and our combined effort means there's no recorded loss of life yet, which is a remarkable outcome given the unprecedented the conditions faced by the state yesterday."
Police commissioner Grant Stevens says at least 11 properties have been affected by the fire but the full extent of the losses was still to be determined.
He says 33 people had been treated for minor issues, some for minor burns or smoke inhalation and some who required eye washing.
At one stage, authorities held concerns for an elderly man, but he has since been found safe and well.
At the height of the emergency on Wednesday, Yorke Peninsula Council Mayor Darren Braund said many residents had taken shelter in the Edithburgh Town Hall but were later told to leave.
The Yorketown fire was one of 65 which broke out across SA on Wednesday amid catastrophic conditions with soaring temperatures and high winds.
A number of those prompted emergency warnings including two north of Adelaide, one in the Barossa Valley and a second fire at Price on Yorke Peninsula where properties may also have been lost.
Mr Jones said everyone involved in the emergency response was to be congratulated along with residents who heeded the warnings.
A cool change was expected to sweep across the state early on Thursday but the  SA Country Fire Service warned the dangerous conditions would linger.
The Bureau of Meteorology had a severe weather warning in place for potentially damaging winds across a wide area, including most of the York and Eyre peninsulas and the Adelaide Hills. It said wind gusts of up to 90km/h were possible as a cold front moved through.