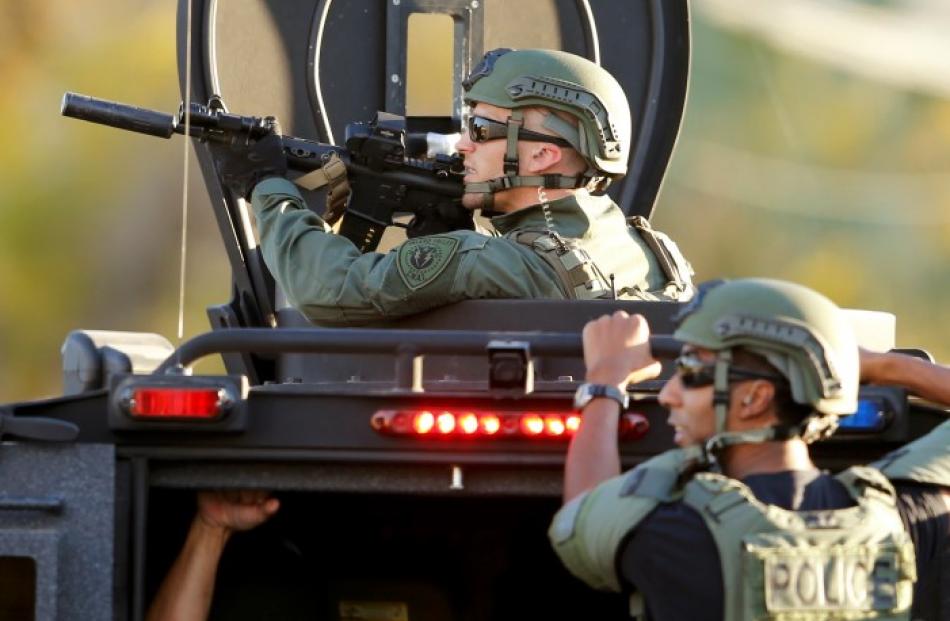 An armed couple suspected of killing 14 people in a mass shooting in California and who later died during a shootout with police have been identified.
They were Syed Rizwan Farook (28) and 27-year-old Tashfeen Malik, described by authorities as possibly married or engaged.
The shooters opened fire during a holiday party on the campus of the Inland Regional Center, a social services agency that serves the developmentally disabled in San Bernadino. They then fled the scene in a black SUV, triggering an intense manhunt and shootout.
Seventeen people were also wounded in the attack which began at 11am on Wednesday (local time). 
San Bernardino Police Chief Jarrod Burguan said Farook was a US-born county employee who had the party and later returned to open fire on the celebration. He said Farook and Malik, dressed in tactical gear, were believed to be the only shooters involved in the rampage.
"These are people that came prepared," he told a news conference."They were dressed and equipped in a way that indicates they were prepared. They were armed with long guns, not handguns."
However, the motive for the shooting remained unclear, he said.
"We have no information at this point that this is terrorist-related, in the traditional sense that people may be thinking. Obviously, at minimum, we have a domestic-type terrorist-type situation that occurred here." 
One suspect was struck by gunfire and one officer injured in the shootout, police confirmed. The second suspect later died. The officer's injuries were not considered to be life-threatening.
A man identifying himself as the brother-in-law of one of the suspects said he had no idea what might have motivated the attack.
Farhan Khan, who said he is married to the sister of one of the people suspected of carrying out the massacre, offered his condolences to the victims.
"Why would he do that? Why would he do something like this? I have absolutely no idea, I am in shock myself," Khan said at a news conference in Anaheim, south of Los Angeles on Wednesday.
A third individual was detained while running from the scene of the shootout, but police said it was not immediately known whether that person was involved. Khan did not make clear which individual he was related to in the case.
The shooting rampage marked the deadliest US gun violence since the massacre at Sandy Hook Elementary School in Newtown, Connecticut, in December 2012, in which 27 people, including the gunman, were killed.
The attack in San Bernardino, a city of about 200,000 about 100km east of Los Angeles, was perplexing, as police struggled to determine a motive and to find the shooters, who had fled in a black SUV.
It did not bear the hallmarks of a lone-wolf killing, yet differed in key ways from attacks like those perpetrated by the group known as Islamic State or other Jihadists, US officials said.
The Los Angeles Times, citing information from a senior federal official monitoring the case, reported that investigators believe one of the shooters left the party after getting into an argument and returned with one or two armed companions.
Burguan said the manhunt initially led police to a home in the neighboring town of Redlands, and that police pursued a suspected getaway vehicle that was seen leaving that address back to San Bernardino, where the shootout ensued.
Bomb disposal technicians were examining a number of suspicious items left by the armed assailants at the Inland Regional Center, including one that was "believed to be a potentially explosive device."
The Inland Regional Center is one of 21 facilities set up by the state and run under contract by non-profit organisations to serve people with developmental disabilities, said Nancy Lungren, spokeswoman for the California Department of Developmental Services.
Lavinia Johnson, executive director of the facility, told CNN the suspects opened fire inside a conference building in the complex where a holiday party was being held for county health department personnel.
The conference building sits adjacent to the two larger three-story buildings that house most of the agency's offices at the complex, Johnson said. Asked whether that meant that the Inland Regional Center staff and clients were safe, she said she understood they were being evacuated.
I'm not even mad anymore, just disappointed and heartbroken that this is the norm in our country #SanBernadino https://t.co/BiOAWZl6nF

— Joaquin Martinez (@951Murrieta) December 2, 2015
President Barack Obama was briefed and Democratic presidential candidate Hillary Clinton said on Twitter: "I refuse to accept this as normal. We must take action to stop gun violence now."
Agents for the FBI and the US Bureau of Alcohol, Tobacco, Firearms and Explosives were dispatched to the scene to assist local law enforcement in the investigation, representatives for the two agencies said.
The regional centers like the one attacked in San Bernardino administer, authorise and pay for assistance to people with disabilities such as autism and mental retardation.
On an average day, doctors at the regional centers would be evaluating toddlers whose parents have concerns and case workers would be meeting with developmentally disabled adults. Lungren said that the San Bernardino facility is one of the state's largest and busiest.
String of shootings 
So far in 2015, there have been more than 350 shootings in which four or more people died, according to the crowd-sourced website shootingtracker.com, which keeps a running tally of mass shootings.
The shooting in California comes less than a week after a gunman killed three people and wounded nine in a shooting rampage at a Planned Parenthood clinic in Colorado Springs, Colorado. In October, a gunman killed nine people at a college in Oregon, and in June, a white gunman killed nine black churchgoers in South Carolina.
Gun control advocates, including Democratic President Barack Obama, say easy access to firearms is a major factor in the shooting epidemic, while the National Rifle Association and other pro-gun advocates say the Second Amendment of the US Constitution guarantees Americans the right to bear arms.