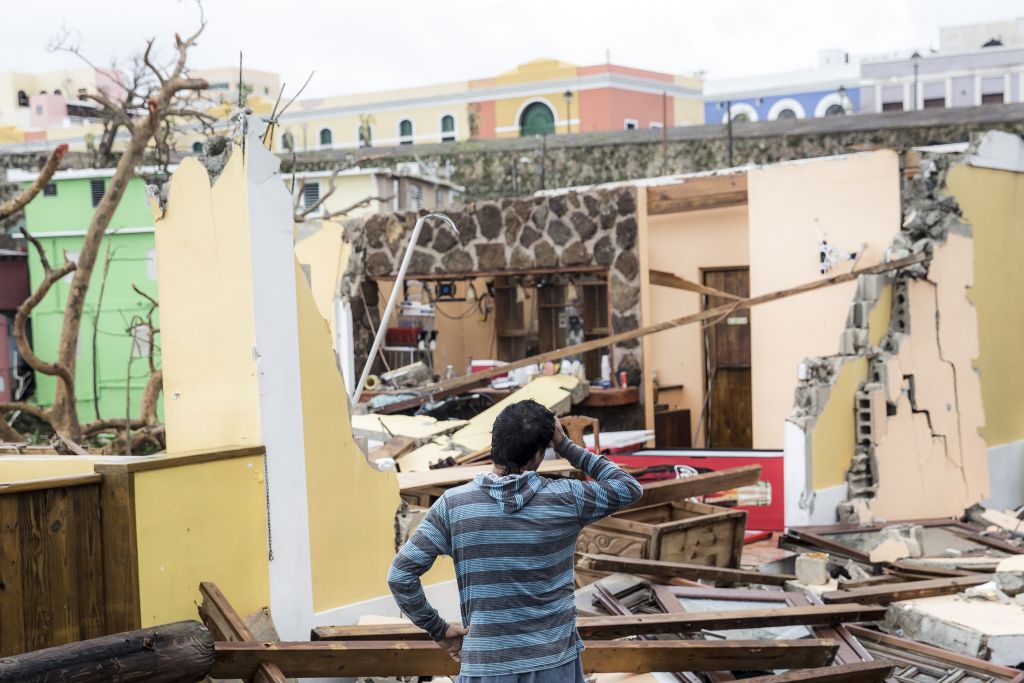 Deadly Hurricane Maria caused flooding in the Dominican Republic as it brushed past the country after destroying buildings and knocking out power across the US territories of Puerto Rico and St. Croix.
The second major hurricane to rage through the Caribbean this month, Maria has killed at least 17 people and devastated several small islands, including St. Croix in the US Virgin Islands and Dominica.
Maria, carrying sustained winds of up to 195kmh,was expected to pass near the Turks and Caicos Islands and the southeastern Bahamas on Thursday night (local time) and Friday, the US National Hurricane Center said in an advisory.
Officials in Puerto Rico were still assessing the damage after Maria slammed the island on Wednesday with winds of up to 250kmh. Ranked a Category 4 storm near the top of the five-step Saffir-Simpson scale when it made landfall, it was the strongest hurricane to hit the island in nearly 90 years.
US President Donald Trump told reporters the storm "totally obliterated" the island, and that he planned to visit.
Puerto Rico Governor Ricardo Rossello said there was one death reported so far, a man struck by a piece of lumber hurled by high winds.
"It's nothing short of a major disaster," he said in a CNN interview, adding it might take months for electricity to be completely restored to the island, which has a population of 3.4 million. He imposed a dusk-to-dawn curfew that runs through Saturday.
Utility crews from the US mainland were headed to Puerto Rico to help try to restore the battered power grid.
The storm hit as Puerto Rico is facing the largest municipal debt crisis in US history. The team of judges overseeing its bankruptcy has advised involved parties to put legal proceedings on hold indefinitely as the island recovers from the damage, according to a source familiar with the legal proceedings.
In the historic heart of the island's capital San Juan, which has a fort and buildings from the Spanish colonial era, the storm left a litter of debris.
San Juan airport reopened for military and relief flights on Thursday, with plans for a limited resumption of commercial flights on Friday.
Susan McNulty, 29, from Pittsburgh, Pennsylvania, rode out the storm in a windowless apartment with her husband Ryan, 28, after making a trip to celebrate their fourth wedding anniversary.
"There was a long internal monologue at around 7 a.m. in the morning on Wednesday that I would go to church if I made it through to the next day," said McNulty, who was raised Lutheran.
Full toll not yet clear
The Puerto Rican government did not yet have an estimate of how many homes and businesses were destroyed by the storm.
Getting a full picture of the toll on Puerto Rico and other islands was complicated by extensive damage to phone services and roads.
"There's a lot left to be done to understand the extent of the damage," Kenneth Merten, US principal deputy assistant secretary for Western Hemisphere affairs, told reporters.
Maria passed close by the US Virgin Island of St. Croix, which has a population of about 55,000 people, early on Wednesday as a rare and ferocious Category 5 storm, knocking out electricity and most mobile phone service.
"The island was affected across the board, but the western end got hammered hard," Governor Kenneth Mapp told WBUR radio. "The amount of debris and roof damage is significant."
He said he did not know of any deaths caused by the storm.
Maria hit about two weeks after Hurricane Irma pounded two other US Virgin Islands - St. Thomas and St. John.
In the Dominican Republic, winds knocked out power to almost all northern areas, said Emergency Operations Center coordinator Ernesto Pérez.
By Thursday afternoon, Maria was about 135 miles (215 km) southeast of Grand Turk island, the NHC said, and it could strengthen somewhat over the coming day or so, the center said.
It currently looked unlikely to hit the continental United States.
Maria struck Dominica as a Category 5 storm on Monday night, damaging about 95 percent of the roofs on the island, the U.N. Office for the Coordination of Humanitarian Affairs said. At least 14 people died, CNN quoted Charles Jong, a spokesman for Dominica prime minister's office, as saying.
Two people were killed in the French territory of Guadeloupe.
Irma, ranked as one of the most powerful Atlantic storms on record, killed at least 84 people in the Caribbean and the United States. It followed Harvey, which killed more than 80 people when it hit Texas in late August, causing historic flooding in Houston. More than two months remain in the Atlantic hurricane season, which runs from June 1 to Nov. 30.