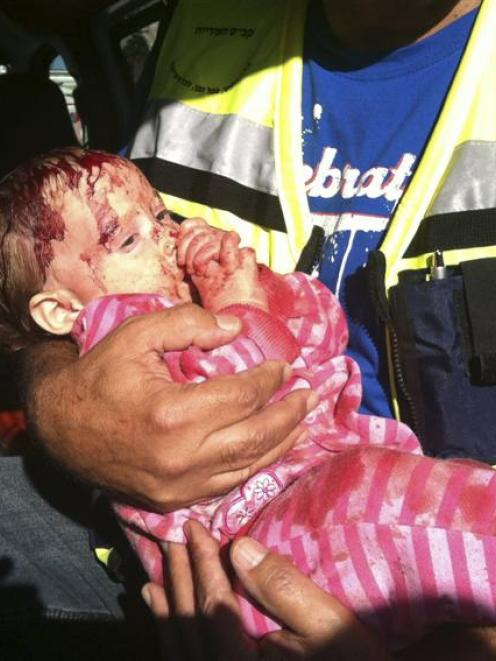 The rapidly escalating conflict between Israel and the Hamas-controlled Gaza Strip has been defined by images of its most helpless victims.
In Israel, a bloodied infant in a pink jumpsuit was gingerly rescued from the rubble of an apartment building where three other residents were killed by a rocket fired from Gaza. The three killed in Kiryat Malachi were the first on the Israel side.
About the same time, bereaved young parents in Gaza City buried their 11-month-old boy, who had just learned to say "Mama". The boy, Omar Misharawi, was killed on Thursday in an Israeli attack. The explosion tore through the family's home, killing him and his pregnant aunt as the family dived for cover.
"He was just a few steps behind," said his stunned mother, Ahlam Misharawi (24).
The conflict appeared to be turning into what neither Israel nor Hamas wanted: a major confrontation.
The death toll rose and Gaza militants for the first time aimed rockets at Tel Aviv. Last night the Palestinian toll stood at 21 and the Israeli at three.
As the United Nations, United States and Egypt scrambled to negotiate a ceasefire, Israel said it was dispatching troops to the Gaza border for a possible ground invasion.
Hamas continued to shower southern Israel with rockets, but it was the stories and widely circulated images of bloodied babies that seemed to grip the public on both sides, strengthening their resolve to continue the confrontation.
The widening level of violence appeared to put Israel forces and Hamas' military wing on the path to another bitter confrontation.
Hamas leaders said they had no intention of backing down.
"Israel started this war, but they won't decide when it ends," Hamas spokesman Fawzi Barhoum said.
"We are in a real war and it will reshape the Palestinian-Israel conflict."
 - Los Angeles Times/MCT