US comedian Louis C.K is the latest high-profile celebrity to be accused of sexual misconduct.
The New York premiere of his intrgenerational film I Love You, Daddy  set for Thursday had been scrapped.
"The premiere is cancelled for this evening," a rep for the film confirmed to The Times, declining to share any additional information.
The event was pulled "due to unexpected circumstances," the film's distribution company, the Orchard, said in an email.
Oscar winning actor Kevin Spacey and movie producer Harvey Weinstein are also facing allegations of sexual misconduct carried out over decades.
The comic also was scheduled to appear on CBS' The Late Show with Stephen Colbert on Thursday, but that appearance was shelved too, CBS said.
The cancellations were announced shortly before the New York Times published an expose of the Emmy-winning comedian regarding allegations of sexual misconduct.
C.K. has repeatedly dismissed such accusations, or declined to discuss them altogether in recent years.
The Louie star's black-and-white film, which he also wrote, directed and shot in secret in June this year, already has generated some controversy given its taboo subject matter. 
The film was acquired by the Orchard following its premiere at the Toronto International Film Festival in September.
In addition to C.K, the film also stars John Malkovich, Chloe Grace Moretz, Rose Byrne, Edie Falco, Charlie Day, Pamela Adlon, Helen Hunt and Ebonee Noel.
I Love You, Daddy is scheduled to open in limited release in the US on November 17.
SEAGAL ACCUSED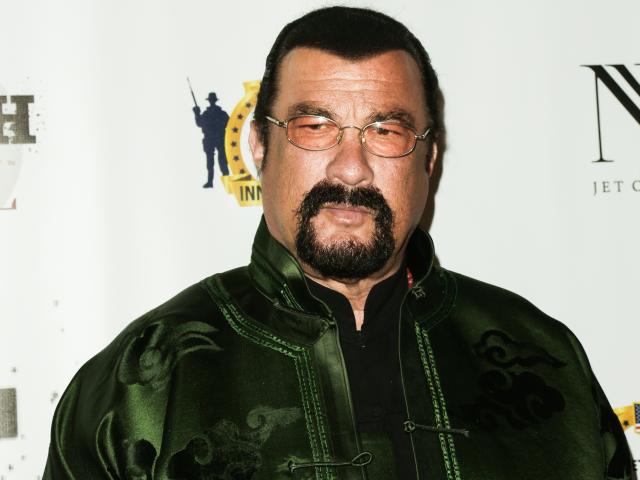 Actress Portia de Rossi has accused actor Steven Seagal of an inappropriate casting couch encounter in a report in the New York Daily News.
"My final audition for a Steven Segal (sic) movie took place in his office," the Scandal actress tweeted on Wednesday.
"He told me how important it was to have chemistry off-screen as he sat me down and unzipped his leather pants."
After the incident, de Rossi said she told her agent, who was "unfazed."
"Well, I didn't know if he was your type," she said her agent responded.
De Rossi's wife, Ellen DeGeneres, tweeted on Wednesday that she was "so proud" after the actress made the allegations.
Last week, Julianna Marguiles also accused the Under Siege actor of inappropriate behavior.
The Good Wife star said a female casting director invited the then 23-year-old actress to Seagal's hotel room at 10pm.
When Margulies showed up, the producer was allegedly armed.
"He made sure that I saw his gun, which I had never seen a gun in real life," Margulies said on SiriusXM.
"I got out of there unscathed. It's a long story ... but I never was raped, and I never was harmed, and I don't know how I got out of that hotel room."
A representative for Seagal did not immediately return a request for comment. 
- Los Angeles Times and New York Daily News