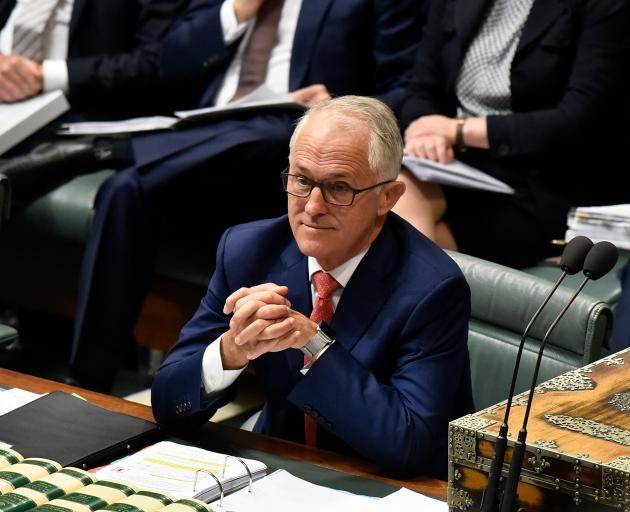 Australian Prime Minister Malcolm Turnbull's personal popularity has slumped to a level seen only once before, a widely watched poll shows, hit by criticism for his handling of an affair between his former deputy and a staffer.
The latest Newspoll, published by The Australian today, found 37% of respondents backed the conservative Turnbull as prime minister, versus 35% for Labor opposition leader Bill Shorten, matching his thinnest lead since becoming leader in 2015.
The poll is Turnbull's slimmest margin since November last year, narrowing a gap of 14 points over Shorten before news of the affair broke, when 45% of respondents preferred Turnbull, to 31% for Shorten.
Turnbull's ruling coalition has trailed Labor in 28 straight Newspolls but he has relied on his personal standing to head off a leadership challenge.
Last month, some members of his own party accused him of overreach, however, when he criticised his deputy, Barnaby Joyce, over the affair, before banning sex between politicians and their staff.
Joyce, who is married and expecting a baby with a former media adviser, quit as leader of the rural National Party amid demands from some party members to end the century-old coalition.
In a twist, Joyce has since told local media he is unsure the child is his.
"Things are going to get worse for the government," said Monash University political scientist Nick Economou.
The Newspoll survey of 1657 voters between March 1 and March 5 was unlikely to have factored in the impact of an attack on Shorten by Turnbull's minister for jobs, Michaelia Cash, on March 1, Economou said.
In a debate about Joyce, Cash used parliamentary protections to voice unsubstantiated rumours about Shorten.
If Turnbull criticises Cash, "that'll just reinforce the sense that there's no real discipline, that there's no real direction in that government", Economou added.
Last year, Turnbull's leadership was undermined by a constitutional crisis that forced members of most parties, including Joyce, to resign and recontest their seats after being found to hold dual citizenship, in breach of Australian law.
During that period, in November, his margin against Shorten shrank to two points.
Australian politicians are tracking the number of Newspolls in which the opposition outscores Turnbull's coalition, after he criticised former prime minister Tony Abbott for leading his party through 30 straight Newspoll losses, during Turnbull's bid to replace Abbott in 2015.