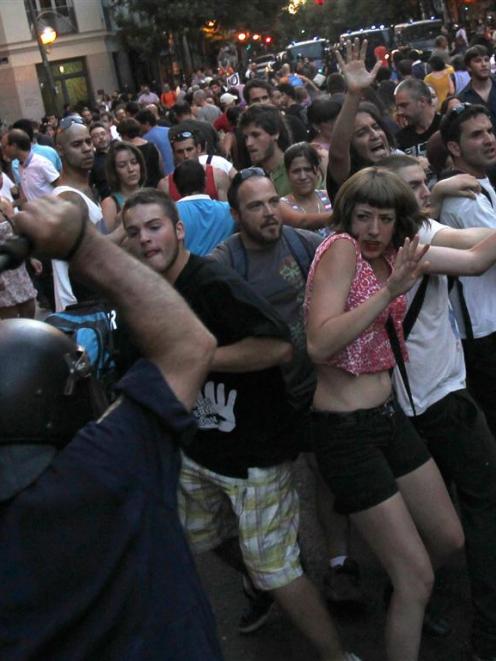 Spain created an emergency fund to protect regional governments from defaulting and warned that pensions will be overhauled as protesters rallied against deep spending cuts needed to dodge an international bailout.
After a weekly cabinet meeting, the government gave details of the €65-billion austerity package Prime Minister Mariano Rajoy announced on Wednesday.
Spain - which enjoyed 30 years of almost uninterrupted economic growth until 2007 - is on the front line of the 2-1/2-year euro zone debt crisis, weighed down by crippled banks, indebted regions and a deep economic downturn.
Ministers approved a reform of city and regional governments, wage cuts for public workers and cuts in unemployment benefits. The government confirmed it would enforce reforms this month of the energy sector, and rail, road and air transport.
Workers blocked streets and railways in Madrid, protesting against cuts which they said hurt ordinary people more than the bankers and politicians blamed for the country's economic crisis. Unions called for a September strike.
In the evening, around 2,000 people gathered in central Madrid, chanting and jeering. Police fired rubber bullets to disperse the crowds, injuring two, emergency services said. Six people were arrested, police said.
Civil servants gathered outside the presidential palace, booing the ministers' convoy of cars as Rajoy's cabinet convened under pressure from euro zone leaders and financial markets to approve the new budget plan.
"Spaniards are living today one of the most difficult and traumatic moments of our history," Deputy Prime Minister Soraya Saenz de Santamaria told a news conference after the meeting.
Spain's borrowing costs have soared in recent months and many investors believe that after seeking up to 100 billion euros for its banks, the government could soon follow Greece, Ireland and Portugal in seeking a state bailout.
As expected, the government approved a new mechanism to help Spain's 17 autonomous regions - now shut out of international financial markets - to fund themselves and repay their debts.
The instrument, which will have a maximum capacity of 18 billion euros, will be funded through a 6-billion-euro loan from the state lottery and by the Treasury.
The regions will however retain full responsibility to repay any loan they obtain from the fund and they will have to meet conditions including more work on cutting their public deficits.
Economy Minister Luis de Guindos said the Treasury, whose credit rating is already on the verge of junk territory and could be affected by this new burden, would not change its debt issuance calendar.
Among other expected measures, the government said increases in value-added tax (VAT) rates would take effect on Sept. 1, after the end of the tourism season.
The general VAT rate will be raised to 21 percent from 18 percent and the reduced rate for the leisure industry to 10 per cent from 8 percent.
Tax breaks on properties will be eliminated.
Saenz de Santamaria said the government would discuss a bill to overhaul the pension system with other political parties. Such a reform - which would break one of the last campaign pledges Rajoy has so far managed to keep - is a longstanding demand of the International Monetary Fund and European Commission.
Rajoy said the discussion would be based on recommendations from the European Union to establish a stronger link between the pension schemes and life expectancy.
Analysts believe this latest austerity package, although it may have won Spain time with markets and praise from Europe, could deepen the country's economic woes rather than solve them.
Spain's government has few cards left to play to avoid a state bailout, analysts say. Falling revenues will make it hard to control spiralling debt and meet deficit targets, even after they were eased this week.