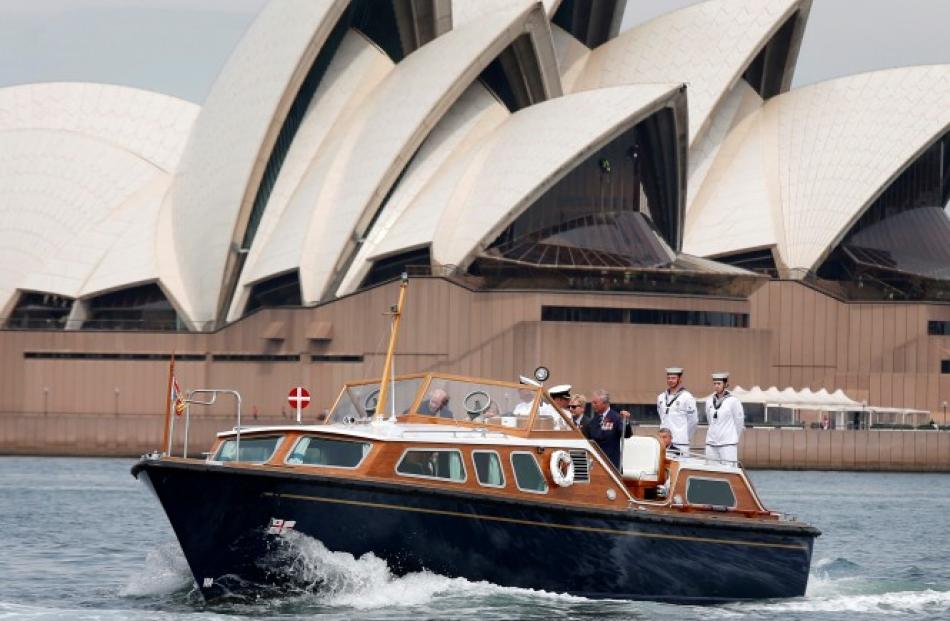 Prince Charles and the Duchess of Cornwall have kicked off their first day in Sydney with a barge ride on the harbour ahead of a morning tea with Australian Defence Force personnel and their families.
The pair soaked up the sight of the sunny city as they travelled to Garden Island in a wooden ceremonial boat, the Admiral's Barge.
Camilla looked fresh in a knee-length cream dress, cream hat, sunglasses, tan shoes and pearls while Charles wore a navy blue suit paired with a light blue shirt and a striped blue and white tie.
They shook hands and chatted with defence families during an informal meet and greet outside the Naval Heritage Centre.
The Royal guests will have morning tea with 140 navy, army and air force personnel who have returned from operations in areas such as PNG and Afghanistan.
"We are delighted to open our doors to the Prince of Wales and Duchess of Cornwall," said commander Todd Wilson.
"It's an opportunity for some of our service personnel to enjoy a moment of recognition for work that often takes them away from family for months at a time."
Yesterday, Prince Charles spent some quality farmer-to-farmer time with a Tasmanian family at their sheep stud near Hobart.
He chatted with sheep farmer Brent Thornbury inspecting a flock at the Leenavale stud at Sorell, before heading to the shearing sheds to demonstrate his prowess in throwing a fleece.
The prince stood in a pen and asked the assembled media to move so the sheep wouldn't get scared, and he didn't flinch as sheepdog Zip bounded on and off their backs.
Charles made the visit in his role as patron of the Campaign For Wool, an initiative aimed at boosting wool prices among the British Commonwealth's producers.
Mr Thornbury, a fourth-generation woolgrower on the property, said the prince's knowledge was impressive.
"He was very laid back and interested in what we do," he said.