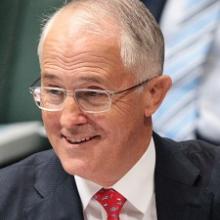 Australia's former prime minister Malcolm Turnbull has told supporters he will quit parliament this week, sparking a by-election in his Sydney seat of Wentworth.
Mr Turnbull told his supporters at an electorate conference last night that he would resign on Friday.
He has held the seat for 14 years and said last week he would not stay on the back bench if he was no longer leader.
Former deputy prime minister Barnaby Joyce today criticised Mr Turnbull's decision, saying it would have been more honourable if he saw out his term on the back bench.
"You leave on the right terms with the electorate and the right terms with your nation," Mr Joyce told the Seven Network.
"To say 'Oh well I'm not the prime minister anymore ho hum, you guys might lose government' - the government that he led - I think people are really disappointed with him about that."
Mr Joyce and Mr Turnbull fell out spectacularly in February this year amid a storm of controversy surrounding the then Nationals leader's affair with a staffer.
Jostling to fill the Wentworth seat has begun, with Liberal backbencher Tony Abbott endorsing his sister for the plum harbourside seat just days after he helped orchestrate Mr Turnbull's demise.
Christine Forster confirmed today she will run for Liberal pre-selection.
"Do two Abbotts make a Bishop? I don't know," Mr Joyce quipped.
Mr Abbott said he believed she would be a "wonderful competitor" in the by-election.
"If she does put her hand up for Wentworth and if she is successful, I know she will be a wonderful, wonderful competitor in any by-election and she'd be a great local member if she were elected," Mr Abbott told reporters in Sydney.
Ms Forster, a City of Sydney councillor, said she had a strong record of championing Liberal Party values at a local government level.
"I think as someone with local credentials and a strong track record of strong liberalism, I feel they are the types of candidates we want in any seat," she told AAP.