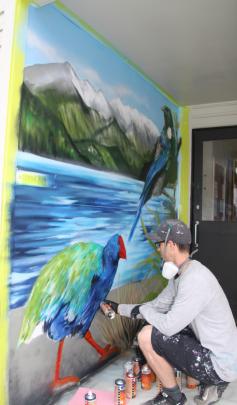 The 15th Annual Manapouri Art Group Labour Weekend Exhibition 2019 would be remembered for not only their exhibits in Painting, photography, sculpture, pottery, mosaics and much more!, but a new mural, Sunday's Show `n' Shine Car Show, judged by Guest judge Kevin Lott plus a burnout exhibition by Chris Daley in his Syco ute.
Chris and his navigator Nicole head off to compete in the Burnout Masters at Summernats, Australia and beer tasting from The Catlins Brewery.
In a relaxed atmosphere where Devonshire Teas were served and in its second year at the Manapouri Hall with 168 exhibits, Guest artist Danny (Deow) Owen known as the Southern Most Graffiti artist, had his paintings showcased, along with the work of Wanaka artist Susie Ruddenklau, Southland artist Christine O'Connor, Tony Bridge, Joanne Deaker, Marijke Schofield ex Manapouri now of Mosgiel, Rebecca Straker-Cunningham Fiordland College HOD Art Teacher.
A highly skilled printmaker and many Fiordland residents have attended Rebecca's highly popular printmaking classes during the winter months in Te Anau, Nina Thoroughgood, Manapouri Art Group members, Mararoa School, local art classes and Fiordland Embroiderers Guild.
This year Wanaka artist Susie Ruddenklau and Southland artist Christine O'Connor ran workshops for Manapouri Art Group members at the Manapouri Hall. They were invited them back to exhibit their amazing paintings and the inspirational results from their workshops! Members exhibited their work from the workshops and some were successful in selling their creations.
The Manapouri Art Group members stole the accolades winning six of the seven awards at the exhibition. A major coup for the group who started out in 2003 by Jan Powell in her home and later showcasing exhibits initially of art and craft at Manapouri Motor Inn until 2017. The group have grown to currently having 33 members. Jan Powell was surprised on the Friday Opening night with a presentation making her a Life Member of the group. Mrs Powell will be stepping down from President next year after 15 years at the helm.
The mural was painted at the entrance to the Manapouri Hall and completed by Guest artist and Guest Judge Danny Owen on the Saturday from 10.00am to 4.00pm. It was funded by Creative Communities, RD 1 and Manapouri Art Group.
Exhibitors Award Winners: *Eagle, Eagle & Redpath Best Overall "Special Spot" by Lynne Brumlik of Te Anau *Fiordland Jet Highly Commended "Rainbow River" by Nina Thoroughgood of Riverton *Te Anau Kepler Lions Club..Best Manapouri Art Group Member Margaret Christie *Northern Southland Vets.. Best Animal or Bird "Big Red" by Margaret Nicol of Te Anau *Te Anau Four Square Open Best Theme Award…Pauline Nicholson of Manapouri *Manapouri Art Group Emerging Artist .. Katie Sweeney of Te Anau * Peoples Choice.. Margaret Christie.
Manapouri Art Group Secretary Ann Whatley said "It was a successful weekend with a large number of visitors and 48 sales over the course of four days".