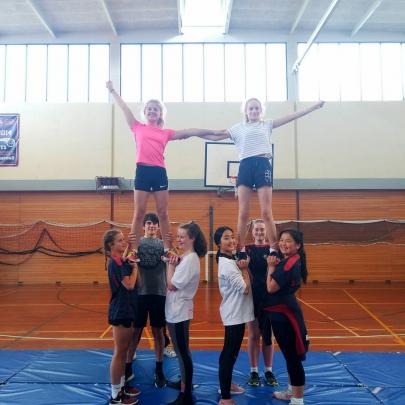 Competitive cheerleading is one of the fastest growing sports worldwide – and for good reason!
A dynamic team sport combining acrobatics, gymnastics, aerobics and dance there is something for everyone in this incredible sport!
Across New Zealand, cheerleading is also rapidly expanding with over 20 gyms scattered from Northland to Christchurch. When I moved to Dunedin and found out there was no cheerleading gym here I knew I had to change that. I created Eclipse Cheerleading because there is so much talent here and I know from experience the impact this awesome sport can have on people's lives.
I approached cheerleading from a gymnastics background. I was training and coaching gymnastics and really wanted to learn how to do a backflip. A cheerleader I knew said she could teach me how to back flip and the rest is history.
I have now been to the world championships 6 times and medalled 4 times, most recently in 2018 when we came home with bronze. I have been involved in competitive cheerleading both as an athlete and a coach for around 12 years.
There are a lot of misconceptions about cheerleading that you have to look a certain way and wave pompoms around, that it's just for girls and that it isn't a real sport. As a community we are on a path to breaking down a lot of these stereotypes, with competitive cheerleading receiving provisional Olympic status in 2016.
Cheerleading is very physical when you are lifting and catching people as well as doing flips and tumbling. Some people really enjoy stunting and other people join for the tumbling but it is such a special experience because it is a team sport. No matter what size shape or experience level you can be a part of cheerleading. As well as being really fun, it is great for fitness, leadership and confidence- all of the values that team sports uphold for young people.
There are also lots of exciting opportunities in cheerleading particularly at the elite level, I have travelled to Italy, Australia and the United States to compete over the years.
You don't need any experience of gymnastics or dancing to do cheerleading as we teach everything from the beginning.
We currently have openings in both our junior (age 5-11) and senior (age 12-18) recreational teams which are low cost, low commitment options for people to come and try cheerleading.
We also run cheerleading programmes in Kavanagh College and Otago Girls High School.
For more advanced athletes and those looking for a challenge, we also have an Eclipse Cheerleading elite team which we hope to take to competitions this season.
If anyone is interested in joining cheerleading or sponsoring our elite team they can email us at office@eclipsecheerleading.co.nz
 - Graham Versfeld