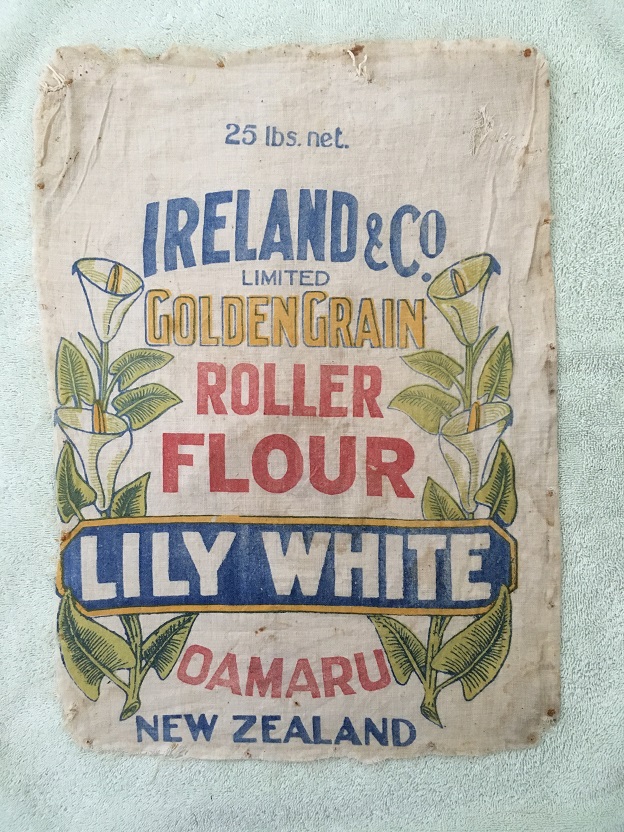 With the lockdown happening (again), I have been completing a few projects.
One includes the restoration of an old foot-stool that was recently bought at a market in Stirling. After stripping layers of paint, I discovered that it had been skilfully crafted from different types of wood. The stool also had a padded, hinged lid which was covered by what I thought was a piece of calico. Carefully removing it, in order to replace the padding, I discovered that the calico was, in fact, an old flour bag.
A check on the internet, provided the following:
IRELAND AND CO., Millers and Grain Merchants. Office and Store, Harbour Street. Mil's, corner of Severn Street and Cross Lane, Oamaru. P.O. Box, 8. Bankers, National Bank of New Zealand. This business, which was established in the early days of settlement in Oamaru, has been conducted by the present firm since 1882. The building used as a store and for offices in Harbour Street is erected in Oamaru stone. It is one storey in height, and has a storage capacity of 24,000 sacks. Messrs Ireland and Co's mill—a building of three stories in Oamaru stone—has a complete roller plant, which produces five sacks per hour. The machinery is driven by a Pelton turbine, which is supplied from the corporation water-works, and may be worked up to fifty-horse power. The flour produced from the mills is known by its brand "Lily White," and finds a ready sale in Auckland, Wellington, and Dunedin. (Source: nzetc.victoria.ac.nz)
The flour bag clearly identifies the bag as one used by the company - I would be interested to know if anyone could date it.
Many thanks
Kathleen Baff
Stirling
Otago