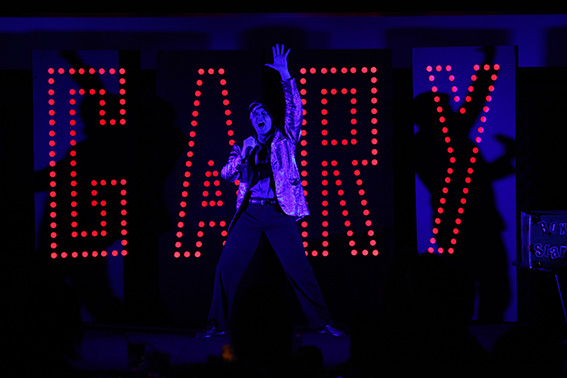 It's the greatest New Zealand showbiz story no-one's heard before - including the star. Veteran improviser Jeff Clark brings his alter-ego "Gary Starlight" to the 2018 Dunedin Fringe, with his one-man musical comedy show, An Evening with Gary Starlight, in the central venue of the Emerson's Fringe Club.
Singer-slash-songwriter-slash-entertainer-slash-massage therapist Gary Starlight (Jeff Clark) has had a tempestuous showbiz career. In a very special interactive "greatest hits" comeback concert, Gary (accompanied by musician Kris Finnerty) recounts the story of the highs and lows of his road to fame. Every song is made up on the spot from audience suggestions. An Evening with Gary Starlight combines lightning-quick wit, storytelling skill and musical ability to create a hilarious show that offers a unique "one-night-only" experience every time.
The show has won praise and awards around the country, now Clark is delighted to be bringing Gary Starlight to Dunedin. "I was putting out feelers for possible venues and was hugely thrilled when Gareth (Festival Director Gareth McMillan) approached me to be in the Festival Club."
"Solo improv is a huge challenge for any performer," says Clark, who has been a member of Christchurch's professional improv troupe The Court Jesters since 1996. "I decided to make it even harder by adding songs and telling Gary's life story at the same time. I'm very lucky that I have Kris' phenomenal musical skills and so many significant people from Gary's past who miraculously just seem to be at every show."
Clark created the character of Gary Starlight - described as "a cross between John Rowles, Elvis, Michael Buble and Pepe Le Pew" - for The Court Theatre in 2012. "He started as a wedding singer who treated the reception like a stadium concert," says Clark. "Gary's mix of ego and obliviousness was so much fun to play, I wanted to do more."
The Gary Starlight Christmas Special followed in 2013. After years "fine-tuning and streamlining", An Evening With Gary Starlight travelled north to the 2016 Nelson Fringe Festival, where the show won the supreme award "Best of Fringe". Gary also featured at the 2017 World Buskers Festival to positive reviews and a new show, Gary Starlight Sings the Blues, was performed at The Cavell Leitch New Zealand International Jazz and Blues Festival 2017 and the 2018 Nelson Jazz Festival.
Clark is looking forward to putting Gary in the centre of the Fringe. "I've been performing as Gary for five years now, and it's still a huge blast every time."
An Evening With Gary Starlight
Starring Jeff Clark, Music by Kris Finnerty
When: 15-17 March 2018. All shows 6pm.
Where: Emerson's Festival Club, 20 Princes St
Cost: Tickets $15 / $20
Bookings: www.dunedinfringe.nz