RNZAF Acting Warrant Officer Samantha Marra, formerly of Te Anau helped to head a first-time physical instructors training course in Fiji in May for military personnel and police from Pacific nations.
Mrs Marra is the second daughter of Russell Baker of Te Anau and Lorraine Baker, of Auckland. She attended Te Anau Primary School and Fiordland College. She has been in the Royal New Zealand Air Force since 2001, where she serves as an advisor for all physical training instructors (PTI's).
Samantha studied Bachelor of Physical Education at Otago University before joining the RNZAF. She continued in the air force using a Special Educational Assistance Programme, studying at Massey University part-time, including the responsibilities of her work and having a family of 3, to complete her Bachelor in Sport and Exercise Science in 2012.
Samantha was awarded Top Recruit and Top Academic and a Physical Training Award in her intake year, and has continued to receive awards throughout her rise in rank for Top student, Top Academic and major study awards.
Samantha became a corporal in 2003 after completing her PTI training.
The Pacific Physical Training Instructors Course, which was held at the Fiji Police Academy in Suva from 7 May to 1 June 2018, taught trainees from the Cook Islands, Fiji, Samoa, Niue, Papua New Guinea and Tonga, how to design and conduct a range of physical training classes, sport and recreational events and fitness tests. The programme included lessons on the principles of physical fitness.
Twenty-two soldiers and police from six South West Pacific countries were eager to put into practise what they learnt at the physical training instructors' course which was designed and led by the New Zealand Defence Force (NZDF).
Flight Sergeant Marra said conducting the course had been a great opportunity to share knowledge and expertise with Pacific partners and to enhance the longstanding relationships with them.
It was common for PTI's from Pacific nations to come to New Zealand to train, but the idea came as a way to engage with Pacific nations, she said
The NZDF team included three physical training instructors, who worked with instructors from the Australian Defence Force, His Majesty's Armed Forces Tonga and Republic of Fiji Military Forces to run the classes and conduct assessments.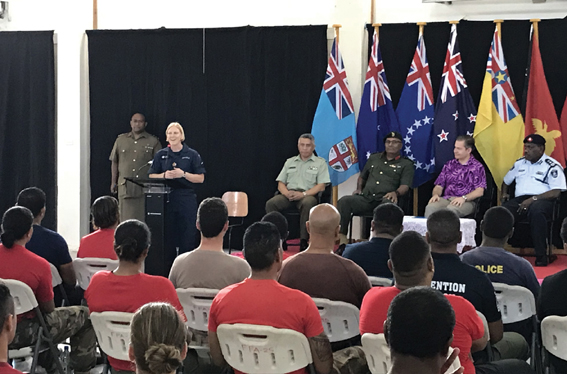 At the conclusion of the four weeks the newly qualified instructors returned to their countries equipped with the skills to instruct their own forces in physical training, improving their fitness and health.
Samantha continues to achieve, heading to RNZAF Base Woodbourne, Blenheim next month for three and a-half months on the Initial Training Course. If a successful graduate she will be an Operational Support Officer, at the rank of Flight Lieutenant.
It will be a complete career change becoming a Commissioned Officer as opposed currently to her status, as a Non-Commissioned Officer. We wish her the best in her endeavour to succeed in a career development opportunity.
 - Julie Walls