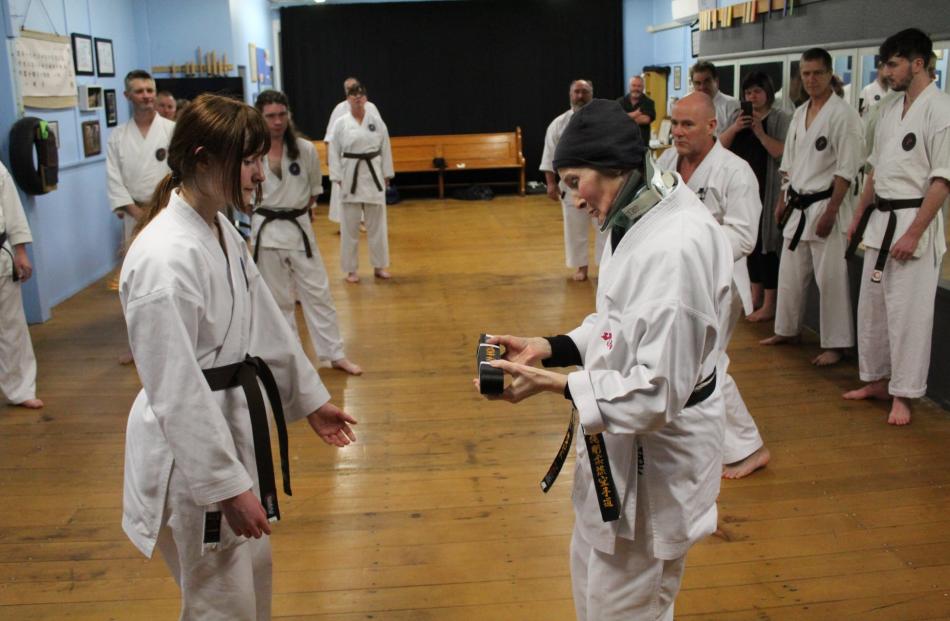 On Monday 21 September Emma Crawley (17) undertook a grading at her Goju Ryu Karate school that had special significance.
Helping Emma in her promotion test was her mother, Lynley Nesbit, who took release from the Otago Hospice so that she could attend, take part and present the new Black Belt to her daughter.
Emma has been training at Karate at Seiden Okinawa Goju Ryu in Green Island since she was 7 years old. Her mother came with her, and also became a Karate student.
Over the decade since Emma has trained regularly, showing increasing skill in the Kata (forms) of Goju Ryu, and working through the Junior class, and joining the Senior class when she was 13.
Her teacher, Sensei Brendan Murray said "Emma put on a strong performance. The entire dojo took part and was able to help Emma show her skill. A special part of the grading was her mother being able to perform some of the two person self defence drills with her. A great performance".
On the night, Lynley Nesbit was also promoted to 4th dan black belt. Lynley has been fighting metastatic breast cancer for the last 4 years, training through adversity, training on crutches, not missing classes and on the night of Emma's grading taking part with a broken neck.