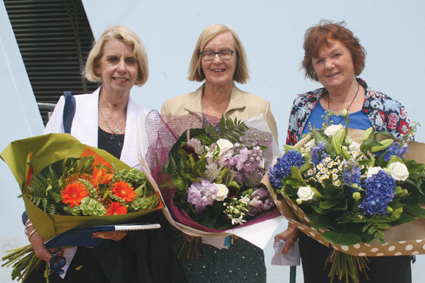 Te Anau School's long-time dedicated teachers Lynne Smith, Miriam Dudfield and Sue Fuller were farewelled at the Graduation Ceremony (15 December 2017).
Lynne has been affiliated with the school since 1982, relieving while having her family and started part-time in 1990 and full-time in 1998. In 2003 was appointed Assistant Principal and junior Syndicate Leader till her retirement.
Miriam has taught for two decades at the school, while Sue has been 8 years with some of those relieving.
Their combined teaching experience in total, both at the school and others, spans almost 100 years.
The three were farwelled with a school haka performed by the school's senior classes before leaving the Fiordland Community Events Centre, where the Graduation was held.
All three said, "They have enjoyed their time at Te Anau School and seeing the children develop and school grow".
"We are looking forward to our retirement, while pursuing new activities".
 - Julie Walls