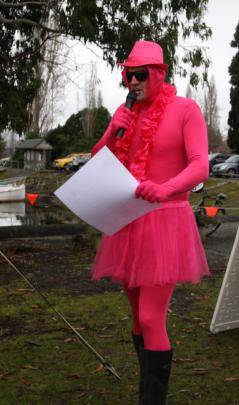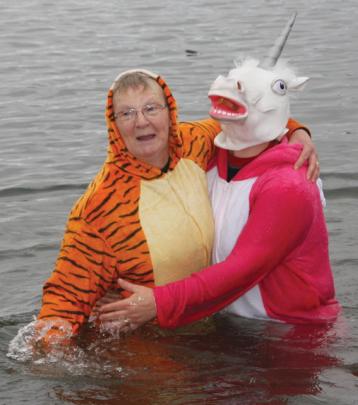 The 10th Te Anau School annual Polar Plunge was celebrated with over 300 people who gathered to watch and support over 80 plungers take to the chilly waters of Lake Te Anau at Te Anau Boat Harbour.
There were also a number of unofficial plungers including parents who braved the chilly waters in solidity.
Many plungers went to a great effort with their fancy dress making the event a very colourful affair. Fiordland Pharmacy sponsored prizes for the Best family Fancy Dress which was won by McElligot/Christie families and Best dressed Student Plunger was Hunter Ledington. Even support crew and volunteer helpers joined the theme.
Te Anau weather conditions are constantly changing and unfortunately when all the brave entrants in the plunge took to the water it was 6 degrees, misty rain and cloudy, with a water temp of 10 degrees. While some plungers even went in for a double dip, others exited the waters at a fast rate. For participants and spectators, five dollars got them a hot chocolate and a sausage.
It was all for a good cause, a fundraiser for Te Anau School Year 6 camp to Dunedin and for the week long camp with fundraising still to be counted for plungers.
A proportion of that will come from donated monies that has been counted with celebrity plungers including Dot McKay from Fresh Choice, Rosco Gaudin-Milford Sound Kayaks, Tracy Braven-Head Teacher Fiordland Kindergarten, a team from the Department of Conservation, Callum Bruce from Te Anau Four Square, and Te Anau policeman Kris Dale accumulated over $700 in pledges and donations. 38 Year six children also gathered sponsorship for their dip in the lake. RD Petroleum have also contributed $500 to assist with funding.
Fantastic support from local businesses donating prizes towards the raffle including Real Journeys Ferry tickets and around the Bays tour to Stewart Island - McCracken family trust accommodation on Stewart Island - Rosco Gaudin a trip for two kayaking in Milford Sound, and Fiordland Tours also offered a Milford Coach and Cruise Experience, trailer loads of wood, restaurant vouchers and range of other superb prizes led to fantastic uptake in sales for the raffles.
Polar Plunge committee representative Lisa Sadler said "there was a fantastic team behind the event and obviously the goal is that none of the families are faced with any form of financial burden for their child to attend the end of year camp."
"It's a great example of what a fantastic community we have here that so many individuals and businesses supported the event, and huge thanks goes to everyone who has lent a hand."