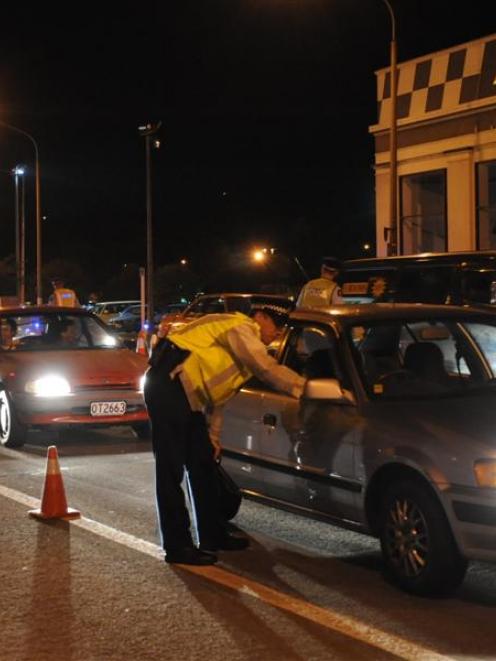 The Government needs to consider introducing legislation that puts the onus on people who "stand by" and allow repeat drink-drivers to drive, suggests Garth George.
While the nation has focused on the disaster of 29 deaths in the Pike River mine explosion, another national tragedy is still being played out: the unacceptable number of deaths on our roads each year caused by recidivist drink-drivers.
This was brought home to me afresh at the weekend while reading two reports in the local newspaper of coronial inquests in Rotorua presided over by the highly respected coroner, Dr Wallace Bain.
One was into the death of Whittney Robertson (23), who died in a head-on crash near Atiamuri in May. The other vehicle was driven by 35-year-old Royland Alexander McCann, who was jailed for four years after pleading guilty to dangerous driving causing death, dangerous driving causing injury, driving while forbidden, failing to stop and ascertain injury, possession of cannabis and cannabis oil.
McCann had been drinking and had four previous drink-driving convictions.
The other was an inquest into the deaths of four people near Rotorua's Okere Falls on April 29, 2007, when a car driven by Gordon Armstrong, an unlicensed repeat drink-driver, ploughed into and killed motorcyclists Leon Mason (33), Simon Short (37), and Antoinette (Toni) Purchase (43). Armstrong died, too.
The coroner was told that two young girls, aged 7 and 9, were so concerned about the drunken state of their grandfather, Armstrong, they didn't want to go in the car with him and later tried to wake him up twice before their car crashed into the motorcyclists. They, and Armstrong's young son, suffered injuries.
In victim impact reports to the two inquests, both the mother of Ms Robertson, Sonia Wilson, and the wife of motorcyclist Leon Mason, Jos Mason, submitted that people who don't stop others drink-driving should face consequences.
Dr Bain agreed with Mrs Wilson on the need to make others accountable and said he planned to make a recommendation to the Government as part of its alcohol reform Bill. He questioned when politicians were going to "get the message", given the significant number of people killed by repeat drink-drivers.
And he told Mrs Mason that the Government needed to consider introducing legislation that put the onus on people who "stand by" and allow repeat drink-drivers to drive. Dr Bain's recommendations, with which I heartily concur and which should be carefully considered by the Government, provide yet another means by which the road deaths caused by recidivist drink-drivers could be lowered.
But it doesn't get to the root of the problem, which is that any driver caught drink-driving way over the limit, or more than once, obviously has a serious drink problem, and any driver caught more than twice is obviously chronically addicted.
So drivers caught at more than twice the legal alcohol limit, or more than twice, should have to undergo mandatory assessments for alcohol abuse and undergo treatment as directed by the courts.
Back in July, Robert Steenhuisen, co-chairman of the National Committee for Addiction Treatment, said the Government was misguided if it thought punishing repeat drink-drivers more severely was somehow going to help - a statement with which I agree absolutely.
"It's understandable," he said, "to think drunk drivers are bad people so we need to punish them severely, but the truth is, heavy fines don't stop people drinking and prison doesn't cure alcoholism. It is the drinking that is at the heart of the problem."
He said cracking down would do little to stop repeat drink-drivers because the courts were not equipped to ensure they received the help they needed. Less than 5% of people with drink-driving convictions received any form of alcohol and drug assessment.
Mr Steenhuisen called for all courts to have alcohol and drug clinicians on hand to advise judges on appropriate interventions to address alcoholism when alcohol abuse is suspected in cases.
Great idea, but ... alcoholism is untreatable unless the addict wants to take treatment to recover; and, while it can be arrested, it is incurable. And even if the courts were to direct alcoholics to treatment, where would they go?
Back in the 1970s and '80s there were plenty of places where alcoholics were treated, most of them attached to psychiatric hospitals - Wolfe Home at Carrington Hospital in Auckland, Villas 4 and 11 at Kingseat Hospital in South Auckland; Mahu Clinic at Sunnyside Hospital in Christchurch, a unit at Tokanui Hospital in Te Awamutu, and others.
Queen Mary Hospital at Hanmer Springs was known as the finest treatment centre for alcoholism in the southern hemisphere.
They have all gone, so private treatment centres, most funded to some extent by the State, soldier on, with waiting lists weeks if not months long. And to get Government money, they have to take sufferers of all types of addictions, not just alcoholics.
Where, then, are chronically alcohol-addicted drink-drivers going to go for treatment? And just how much has the disappearance of treatment centres specifically for alcoholics contributed to our burgeoning national problem with booze?
It's long past time someone found out.