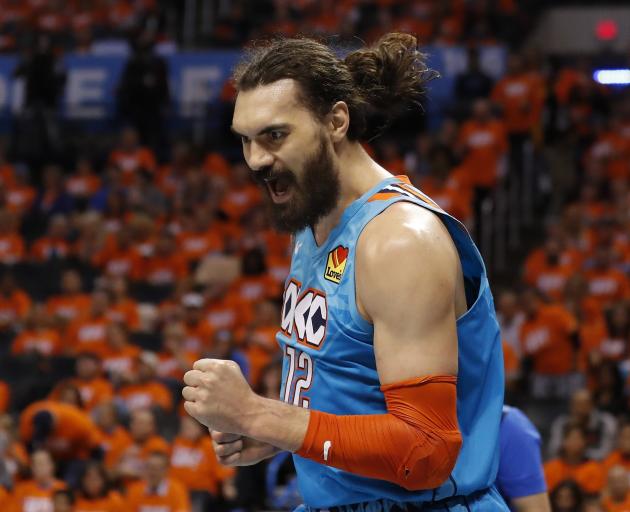 There is much to like about Steven Funaki Adams.
New Zealand basketball's brilliant behemoth has an engaging personality, a self-deprecating sense of humour, and a delightful, almost boyish sense of raw wonder at rubbing shoulders on a daily basis with some of the greatest athletes in the world.
He represents both old-school Kiwi values - with the look of a wild bushman and the voice of the bloke next door - and the modern face of professional sport and Pasifika pride.
In basketball terms, he is on another planet to anything this country has produced, though to be fair to the likes of Stan Hill, Pero Cameron and Mark Dickel, they were denied some of the opportunities Adams has enjoyed thanks to his physical development and timing.
Adams has completed six seasons as a regular player in the NBA, one of the only sports leagues with genuinely global interest and talent levels. He averaged 14 points and nearly 10 rebounds for the Oklahoma City Thunder last season.
He is, by almost any measure, one of our sporting greats - and he is still just 25.
But sportspeople create a legacy not just by what they do with the ball, or how they behave off the court or field. They only get true adulation - which they all crave, above the glory and the huge salaries, no matter what they say - if they assume the burden of representing something bigger than themselves.
To take the next step, to move into the tier occupied by the likes of Jack Lovelock and Jonah Lomu and Dame Yvette Corlett and big sister Valerie, Adams is going to have to break his self-imposed exile from international basketball.
For now, there is an asterisk beside his name, and it will remain there until he plays for the Tall Blacks, no matter what he does in the NBA.
New Zealanders value performances in a black singlet or jersey or bib above all else. While those with even minimal basketball knowledge understand the NBA is the pinnacle of the sport - and Adams deserves immense praise for performing so well at that level - it seems certain the level of adoration for the big man will seep away with every major tournament he misses.
Sports fans do not like being taken for a ride, and Adams is coming perilously close to that territory. He says all the right things about being a proud New Zealander and looking forward to finally making his Tall Blacks debut. Then, just when the moment seems at hand, he pulls away.
All this because, apparently, Adams holds a long-standing grudge against Basketball New Zealand for not financially supporting him as a youngster.
Isn't it time he made peace? Time that he forgot the slights, perceived or real, of the past and delighted an entire nation by putting the silver fern on his chest?
Adams has a secure future - he is halfway through a $NZ150million deal with the Thunder - and has nothing to lose by joining the Tall Blacks. He has lots to gain: getting a taste of a different style of basketball, developing strong bonds with international team-mates, and cementing his status as a beloved New Zealand sportsman.
He doesn't "owe" Basketball New Zealand anything, but how wonderful it would be, for his team-mates and his country and a booming sport, if he could stop looking for reasons not to be a Tall Black.