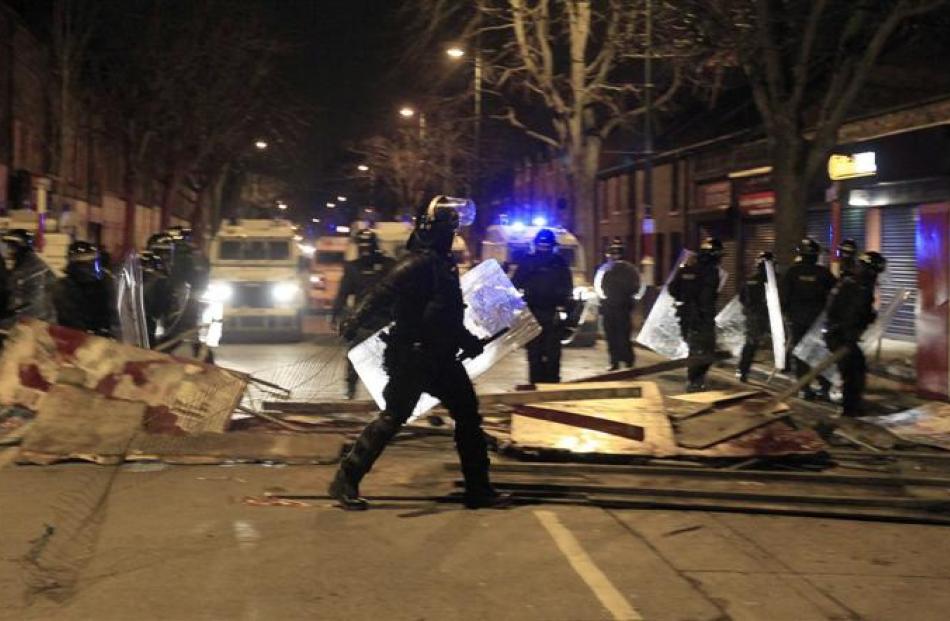 The latest round of violence in Belfast is a sad indictment on a province officially at peace for years, but one where street violence has never really ended. The spark this time was the decision to fly the Union Flag above Belfast City Hall on only 20 designated days a year instead of every day as it had been before. The move infuriated Loyalists.
That next day is today, New Zealand time, when the flag is due to be flown to mark the birthday of the Duchess of Cambridge.
The Pro-British Unionists and Irish nationalists signed the Good Friday agreement in April 1998 but it took 10 more years to disarm the militias and officially create peace. Old rivalries continue and Protestants and Catholics still clash regularly with security forces.
Marches by both sides to commemorate battles and other key historic events have kept tensions high between the communities. The main paramilitary organisations have long abandoned their campaigns but violent splinter groups still exist and a small number of Republican extremists have carried out several deadly attacks in recent years. British and Irish politicians are able to maintain a power-sharing coalition government but their efforts are often undermined by violence of the kinds witnessed in the streets of Belfast recently. The police suspect pro-British paramilitary organisations of being behind the recent riots. Belfast's Protestant community has not only lost the vote on the flag and its majority in the city hall, its population has been in decline for several years and is now almost equal with Catholics. Often unemployed, some of Northern Ireland's younger generation feel they have nothing to lose and fall back on old habits, taking to the streets to express their anger, even though most people would rather live in peace.
Earlier this week, church leaders, local politicians and community workers met for more than three hours to discuss ways to end the latest violence. The Minister for Northern Ireland has condemned those who threw a petrol bomb into a police vehicle in Belfast while an officer was still inside. Northern Ireland Secretary Theresa Villiers has described the attack and Monday night's protests as disgraceful rioting and despicable.
Police Service of Northern Ireland chief constable Matt Baggott said there was no excuse for the violence. If protests continued for a long time, day-to-day policing would be affected. Mr Baggott was concerned children as young as 10 were becoming involved in the rioting.
At a time when the police service was working desperately hard with the tourist board, investment agencies and foreign investors, to present the right picture of Northern Ireland as a place that was worth of investment, many of those young people who might benefit from that would now have convictions, he said. Mr Baggott went further by naming members of the Ulster Volunteer Force, in east Belfast, as those increasingly orchestrating some of the violence. Progressive Unionist Party leader Bill Hutchinson intended holding talks with the group. He called on people belonging to the UVF to stop from being involved in violence.
Many people worldwide, including many United States presidents, claim ties to Ireland. The Emerald Isle holds a place dearly in the hearts and minds of those people even vaguely acquainted with an Irish relative. The latest violence over the flying of a flag will deeply wound those ties.
Sadly, Ireland suffered as much as any country with the ''global financial crisis''. Just south of the border, the former ''tiger economy'' of southern Ireland - boosted by all sorts of incentives to attract development - spluttered into recession. Computer companies like Dell found it more attractive to move on to cheaper economies. Jobs have dried up both in the north and the south. Unemployment, long-held prejudices and a generation angry at being left behind have combined to explode over a debate about flying a flag. The future talked about by Mr Baggott looks too far away. Urgency is required to stop Belfast again becoming a sectarian battlefield.