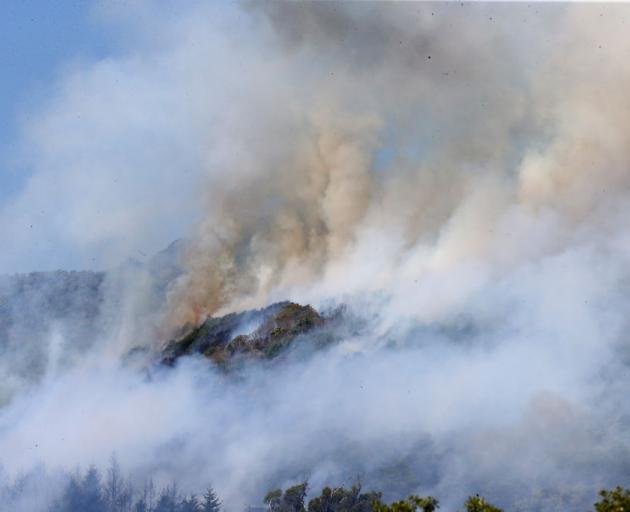 You learn a lot about the people around you during tough times.
Never is the importance of strong community links made so clear as when tragedy, disaster or difficulty turn life upside down.
We life in a world that can seem overwhelming at times. Technology is changing the way many of us live, there are social pressures coming from every angle, the threat of catastrophic climate change hangs over the globe, and the political climate is uneasy with the likes of Trump, Putin and Kim holding sway.
That's why it is still nice to be reminded that we are not alone, that there will be fellow humans there to help us up when we are down. Some recent examples highlight this pleasing reality.
It has been a grim, gritty week in the Nelson region as the ongoing fires have cast a literal and metaphorical pall over New Zealand's sunniest place.
But in the midst of the gloom and the frightening sight of a blaze threatening houses and livelihoods have been some heart-warming stories of support and care.
You can always count on the rural community to swing into action in times of need and it has been no surprise to see the farmers stepping up. From donating hay to replace vital animal feed lost in the blaze to providing welfare for various livestock, the response has been quick and effective.
In the city, the massive volunteer effort centred at the clubrooms of a Nelson football club speak volumes about the willingness of the public to help collate food and personal items to help families evacuated from the endangered areas.
One charming example of the public's eagerness to help was a table groaning with hundreds of chapsticks. The call had gone out for some help with smoke-cracked lips, and the evacuation centre was inundated with supplies.
Foreign visitors have pitched in to make sandwiches. Doctors have seen people affected by smoke and not charged them. There have been numerous stories of folk giving up their pre-booked rooms in hotels for those desperate for a temporary home.
And, of course, there are the "heroes'', the hundreds of volunteer firefighters and emergency workers working around the clock to contain the fires. They deserve our endless praise.
Closer to home, Dunedin residents have had a couple of recent reminders of the fact help will generally be available when we need it.
While the pain is fresh for the family of Hareesh Gangadharan and the Green Island cricket club, there was some consolation in the response of the community, which rallied around Mr Hareesh's widow and young daughter to quickly raise enough money to get the cricketer's body back to India for burial.
In rather different circumstances, what luck for two swimmers caught in a rip near Brighton on Sunday that a ``mystery bystander'' was nearby and able to drag them out.
We all hope to live our days free of tragedy, without economic and health - physical or mental - stresses, avoiding loneliness and despair.
Reality often gets in the way, but if we can all do our bit to create a community that cares, we can get through it.
AND ANOTHER THING
We have said this before and we will say it again: Zoi Sadowski-Synnott is something special.
The Wanaka snowboarder has followed her stunning gold medal at the Winter X Games with victory in the women's slopestyle at the world championships in the United States.
At 17, and with a world title and Winter Olympic medal already stowed in her trophy cabinet, Sadowski-Synnott has made a spectacular start to her elite sporting career.
What a thrill for her, and for her many supporters in the South.