City councillors can avoid Dunedin's own fiscal cliff in 2013 if they show discipline and seek more savings, writes Lyndon Weggery.
While it is good news the US Government has seemingly avoided its ''fiscal cliff'', can the same be said for Dunedin? In November 2012, the international credit agency Standard and Poors formally put the Dunedin City Council on a negative credit watch, warning that the council must address its debt or be downgraded. Such a move will lead to interest rate rises on new loans and, what is worse, any existing loan that needs to be refinanced will attract extra costs.
This is an added worry to ratepayers, as our interest bill is already $19 million for the current year, thereby breaching the council's self-imposed limit of no more than 8% of total revenue for the next three years. Did the council see this coming? You wouldn't think so, given its premature boasting in the Long Term Plan (released just four months before) that S and P's grading was a ''remarkable vote of confidence''.
The facts are ratepayers now provide sole guarantee for a debt mountain of $616 million as at June 2012, which includes $146 million for the stadium. While the council's stated target is to reduce its core debt of $273 million to $200 million by 2018, it is hard to believe that in 1999 it was just $32 million.
What this means now is for the next five years at least we cannot afford to spend any more on new projects, including the Logan Park redevelopment.
The good news for all suffering ratepayers is, at long last, we have in Paul Orders a DCC chief executive who is prepared to draw a line in the sand and demand a halt to profligate spending. What he has effectively done is persuade the mayor and councillors to signal in the Long Term Plan that this year's rates increase will be no more than 4% and 3% per annum in following years. This is no easy task, as already the Long Term Plan is signalling a projected increase for 2013 of 7.6%.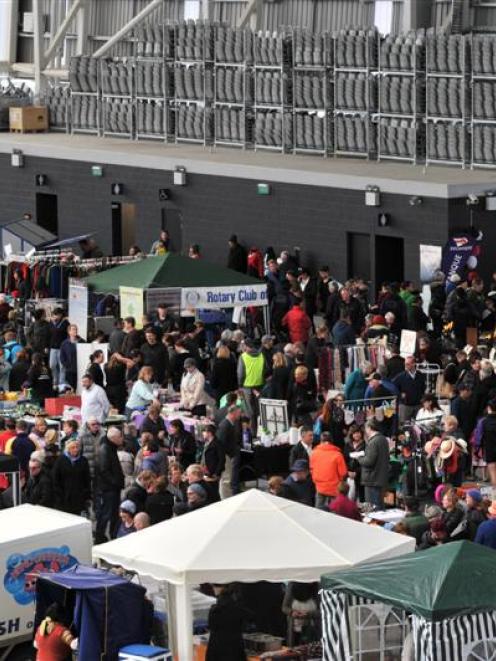 Therefore, if the council is to keep its promise, further savings of $4.2 million will need to be found. Unlike some councillors, I believe the chief executive has quickly realised, in terms of affordability, Dunedin is not that wealthy, with an ageing and relatively static population. A significant number of the 53,000 ratepayers, and just 47,000 households, are on limited incomes, and with our fair share of ''baby boomers'', this number will grow in the next five years.
It is cold comfort the Ratepayers and Householders Association has been pointing out these realities to past councils who (until now) were not prepared to listen. On the other hand, it is encouraging to note top of the list in the council's 2012 residents opinion survey was a need to reduce spending and tackle the debt. In terms of the budget cycle, the first chance councillors have to restore faith with ratepayers is the workshops at the end of this month.
A lot of the work will have been done for them by staff to reduce the $4.2 million. Ratepayers will expect councillors not to weaken and pull back these savings. But there are many activities which have the potential to use up precious funds (let alone waste them) and need to be curtailed with very tight operating budgets imposed. These include. -
• Forsyth Barr Stadium: Even though the council has resolved to subsidise community use of the stadium by $750,000 a year, the operating costs of DMVL should be tightly monitored. Given the $3.2 million loss already signalled in its first year of operation, ratepayers have the right to expect revenue to rise and costs reduce within a tight framework so that a ''break-even'' environment is achieved by the end of the 2015 year. Why 2015? Because that is when the Highlanders and the Otago ITM Cup team's tenure as anchor tenants of the stadium legally expires. Any suggestion of spending more rates money to create an events fund should be strongly resisted. That is definitely the responsibility of the local hospitality sector.
• Dunedin City Holdings Ltd: Because the council's governance of its companies has been poor, it is no surprise ratepayers have been hit with a reduction of $7.63 million in dividend income. What's more worrying is until recently DCHL has been borrowing to pay the expected dividend to council and this was unknown to councillors. Furthermore, the controversy of Delta's involvement with the Jacks Point/Luggate subdivisions raises serious questions about how far councillors have let the companies stray from their original purpose. This is a relevant question and more so now the Government has passed the Local Government Amendment Act 2012 to bring local authorities back to traditional core business.
• Otago Museum: The controversy over the salary of the out-going director has highlighted the amount Dunedin ratepayers have contributed to the museum each year with little accountability. Many were surprised to learn that this is $3.76 million, and Long Term Plan proposals to increase this by another $120,000 in both 2013 and 2014 should be firmly resisted. The Museum Trust Board Act may prevent the council from reducing its levy but at least we can still freeze it at the present level.
• Chinese Garden: Despite the 2007 hype that these gardens would earn $200,000 annually, it is now public knowledge this facility is failing badly as a business enterprise and losing council funds to the tune of $548,000 a year. It is now two years since council staff were asked to urgently address the need for savings and look at ways and means of effectively incorporating the gardens into the adjoining Toitu Otago Settlers Museum. Recently, councillors admitted to the association it was a major oversight the gardens were excluded in the redevelopment of Toitu. Now we have the crazy situation where two council facilities stand side by side (but not physically linked), one free and the other charging admission.
• Toitu Otago Settlers Museum: Now it has reopened to record numbers (with free admission), councillors should note the Long Term Plan shows a planned operating budget for 2013 of $7 million. This is a $2.4 million increase on 2012 and should be the subject of a careful activity review first, as was done with the library. Although more modest increases to the budget are signalled in the Long Term Plan for future years, there is a worry costs will increase beyond the annual rate of inflation. If the hard lessons of the Chinese Garden are to be learned, it is that facilities like these have very limited opportunities to earn additional revenue and will always take the easy option to ask council for more money.
• Municipal Chambers/Dunedin Centre: If the councillors see sense and defer Logan Park redevelopment, then upgrading the Town Hall complex will be the last of the big projects. However transferring this facility to the control of DVML is risky and raises the possibility of competing use. In choosing a suitable conference venue, will the Town Hall suffer at the expense of the stadium?
So as long as councillors keep in mind the Long Term Plan commitment to 4% rates increase and work back from there, we can step back from our own fiscal cliff. It's that simple.
- Lyndon Weggery is chairman of the Dunedin Householders and Ratepayers Association.