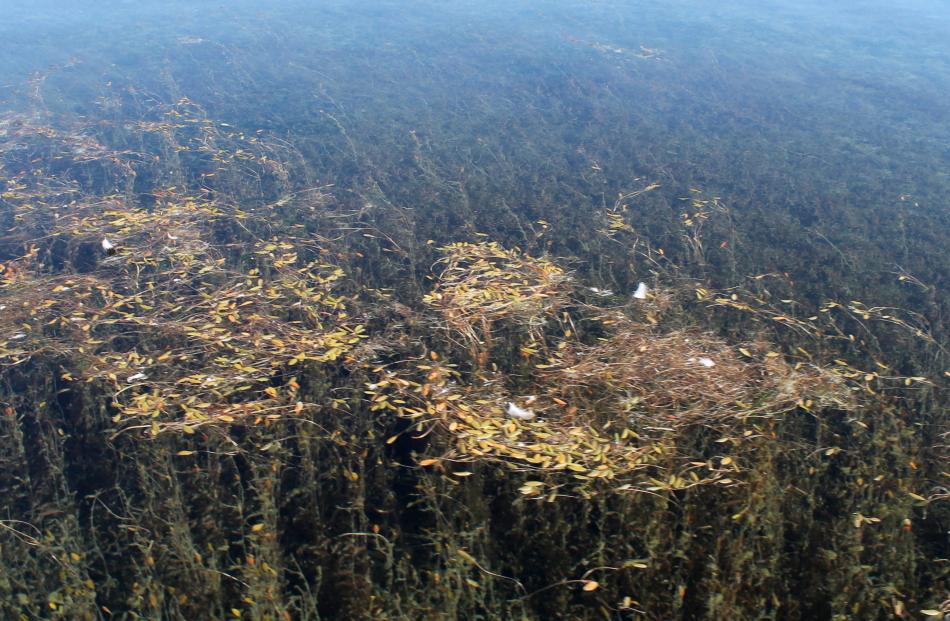 Lake Wanaka's lagarosiphon control programme is  all good news, writes Laurel Teirney.
Withf the focus recently going on ''loathsome'' lagarosiphon in Lakes Dunstan and Wakatipu now threatened from the Kawarau River, it seems timely to give those who are responsible for its control and management a big pat on the back for what they've achieved in Lake Wanaka since 2005.
As a Lake Wanaka Guardian (2002-2005) I was involved in organising the first lagarosiphon workshop, advocated for a Guardians-agency lagarosiphon management team and, together with John Clayton, compiled the 10-year lagarosiphon management plan for Lake Wanaka 2005-2015.
Without John, our foremost aquatic plant scientist (Niwa), we would not have seen an effective control programme implemented, monitored every year, and in 2015 rolled over for a further 10 years. John's expertise and advice, and more recently that of Mary de Winton to David Mole (Linz), their biosecurity partner Marcus Girven (Boffa Miskell), who is responsible for carrying out the control programme, and ORC, is the reason I can now report on what I recently observed during a day re-visiting some of the very worst affected locations in Lake Wanaka.
Imagine my pleasure at finding a clean sandy beach instead of piles of dried lagarosiphon washed up along the Parkins Bay shoreline. Indeed, I waded into the clear water enjoying the sensation of sand rather than mud beneath my feet.
And there, in calf-deep water were fields of native plants - elegant potamogeton, and further out fluffy myriophylum mixed with grass-like isoetes. Lagarosiphon didn't appear until right at the drop off where it was limited to a narrow band.
Now, if I was a terrestrial ecologist it would be like looking at regenerating flax, cabbage trees, manuka and pittosporum fostered by plantings along the side of the lake where gorse and broom once predominated!
And it didn't stop there. In shallow Paddock Bay regeneration was also well advanced. Lagarosiphon that used to form dense, emergent mats on the surface was confined to the deeper water, safe from the propellers and intakes of jet-boats towing skiers and biscuit-lovers that would have formerly spread the intruder further around the lake.
Checking out the calmer waters of Stevenson's Arm, one of the most heavily infested areas of the lake, revealed the same happy story.
It is particularly gratifying to witness the reduction of lagarosiphon in the southern part of the lake. At the outset of the programme the priority was reducing the northern most lagarosiphon beds and clearing lagarosiphon from boat launching locations. The prospect of ever achieving the current success in the southern part of the lake was only a fantasy.
I'm delighted at the current situation and also really pleased to learn about a new method of laying biodegradable lining over the lagarosiphon beds to hasten their demise.
So, my advice to the Guardians of Lake Dunstan and those who are fighting to keep the loathsome weed out of Lake Wakatipu is support the team of aquatic plant scientists and agencies (Linz, ORC and Fish and Game) who are working with you and doing their best to rid our lovely lakes of this scourge.
What other choice do you have?
-Wanaka resident Laurel Teirney is an aquatic scientist, facilitator and writer and a former Guardian of Lake Wanaka.