Hope you all had a good long weekend and spared a thought or two for the employees around the country rostered to work on Labour Day.
I've been sitting here trying to think of how to break this gently, but there is no easy way.
Unfortunately, this is the last week of What's With That? after a fun-filled 12 months. The problem is not with the column, nor with you, but with me. I am heading back to Christchurch to live and work, and finish at the ODT on Friday.
I've thoroughly enjoyed talking and interacting with you all during the past year. I can tell you there are plans afoot to continue with a reader engagement column, but I can't give you any specifics just yet.
So let's have a fun last week and let our collective hairs down. Whoopee!
Dunedin's heights
You'll remember last week I asked if anyone knew Dunedin's highest suburb, its highest residential street and perhaps even the number of the most-elevated house in that street?
I had a nice email from David Barnes of Lower Hutt with his thoughts.
"Assuming you're ignoring semi-rural/lifestyle places, I reckon the highest street is Stephen St, Halfway Bush.
"Dunedin is actually New Zealand's highest city and was, until the Auckland 'super city' merger, the largest.
"The boundary goes close to Summit Rock, at 1450 metres on the Rock and Pillar Range, above Middlemarch.
"Nearby Big Hut, built by the Otago Ski Club in the 1940s, is the highest building in a New Zealand city, at nearly 1300m.  In an article in Wilderness magazine about an Otago Tramping and Mountaineering Club trip there,  I said: 'If this is big city living, give me more of it'."
Thanks David. That certainly sounds like the highest place you can sleep in greater Dunedin. But in terms of the metropolitan/suburban area, Stephen St is not right.
Any other thoughts?
Shield memories
Ngaire Muir of Waitati recalls her late mother saying that, as a child, she thought the Ranfurly Shield was only contested between Otago and Southland.
"That would have been in the 1940s and because, as she was living in Caversham at the time, she used to see the fans travelling to and from the games at Carisbrook.
"Her thoughts were soon changed, however, when Canterbury won it."
According to Wikipedia that was in August 1950, when Canterbury won 8-0.
Feline friends
I've been enjoying all the furry moggy photos you have sent in over the past week or two.
Peter and Elly Kennedy emailed the picture of Chewie, shown here, who is into dress-making, aspires to supermodel-hood and is eyeing up the cat walk.
"He loves reading the ODT on the table and always sits on top of any interesting articles. He also has a passion for gardening and becomes very protective of his catnip plant, which can make his personality become a little aggressive.
"His busy day is spent resting, checking humans, checking his food bowl and rolling round on warm concrete paths."
What a great way to spend a life.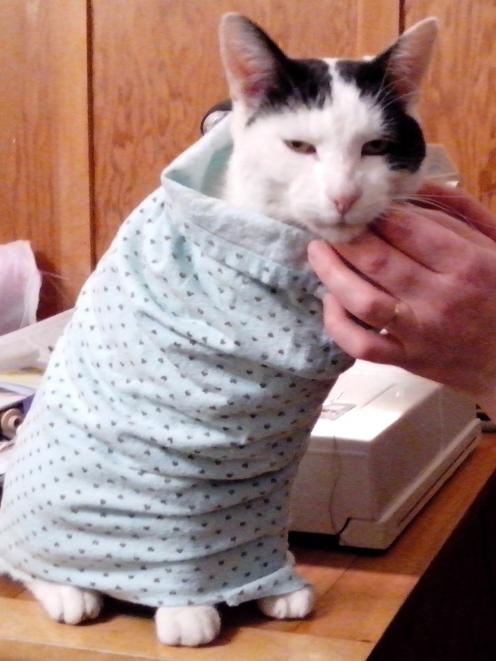 I've also included an old, 1982, photo of our family black-and-white cat Smudge. He appeared one day in the mid-1970s, sitting on our fence with his left leg hanging down. Smudge, as we named him because of the white smear on his face, had obviously had that leg broken at some stage and never lost the limp.
Smudge was with us for about 13 years, until 1988, and was the soppiest, friendliest cat I've ever known. He never once took a swipe at anyone and I never heard him fighting outside either. He would sit quietly in my bedroom keeping me company while I studied for exams and would often watch me, apparently fascinated, while I was having a shave.
We always gave him a tin of something flasher than Jellimeat at Christmas, wrapped appropriately, and one year my brother got very upset that we forgot to take the price tag off before giving it to him.
He was a lovely cat.
More black and white
Here's a nice segue from monochrome cats to monochrome photos.
Ken Paterson reminisces about a family connection to the black and white photographs by N.S. (Neville) Seaward of Broad Bay that were turned into postcards.
"You brought back many happy childhood memories of growing up in the 1950s.
"To augment the family income my mother, Jean Paterson, had a part-time job hand-colouring postcards for Neville. The black and whites would be delivered, along with a colour master, to our home at 7 King George St, Broad Bay (now 11 King George St, 'Kowhai Cottage') by the shoebox full.
"Many a long night was spent with sister and brother, and mum in charge, hand-colouring with colour pencils, after which a light brushing with a cloth and a small amount of linseed oil would make the colours fast. With no TV it was a good way to fill in those winter evenings."