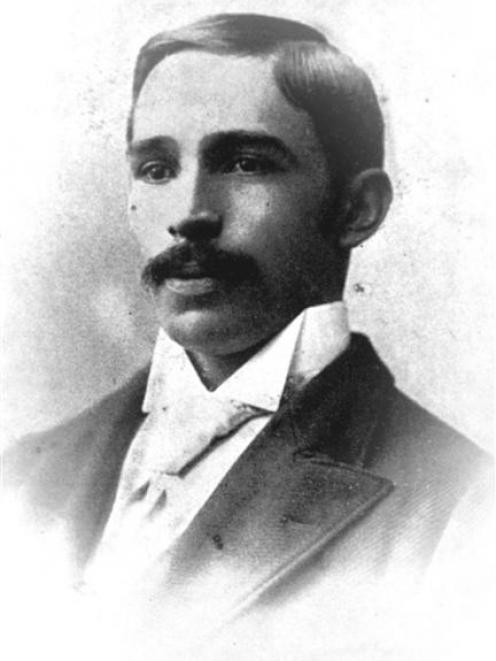 One of the great early thinkers on rugby was former Otago man Thomas Ellison. His 1902 classic, The Art of Rugby Football, provided the first template of how to play the game. Sports editor Hayden Meikle looks inside for lessons to apply to teams chasing the Rugby World Cup.
He was Jimmy Duncan and Vic Cavanagh and Laurie Mains and Graham Henry rolled into one.
Thomas Ellison played rugby to the highest level but, more importantly, he thought about the game and how to play it well.
His story has been well told - and, er, might be told again soon in our 150 Greatest Moments in Otago Sport series. Born in Otakou, educated at Te Aute, toured with the remarkable 1888 Natives team, captained the first New Zealand team, and suggested our national side wear a black jersey with a silver fern.
But less well known is his book, The Art of Rugby Football. Which is a great shame.
Ron Palenski, the chief executive of the New Zealand Sports Hall of Fame, has lent us a copy. So let's dig out some of Ellison's gems, remembering rugby was a vastly different game 100 years ago, and then find World Cup players to fit his ideal team.
RUGBY TIPS
1)Good physique goes a long way, especially among forwards. But physique alone will not of itself make a good player. He must also have strength, pace, activity and "head".
2)Never play the defensive game unless you are compelled.
3)Kick to gain ground, and run to score.
4)In or near the goal, kick the ball dead, rather than make it dead by falling on it.
5)Wear gloves in wet weather.
6)Forwards, always wear shin guards! They need not be shown - they look a bit ferocious.
7)Wear a dry sweater to and from the ground.
ELLISON'S TEAM
(Note: In 1902, New Zealand rugby teams featured six backs, seven forwards and two "wing forwards".)
Fullback
Good advice: Should be a sound tackler, a clean taker of the ball, a smart and powerful kick with either foot, and a fearless rush stopper.
Good advice?: His duties are almost purely defensive . . . a fullback should never follow up his kick.
A bit like: James Hook (Wales).
Left wing
Good advice: A fleet man, who can take a ball fairly well, may be played here with success.
Good advice?: Should have good knowledge of fending, bumping or dodging.
A bit like: Digby Ioane (Australia).
Centre
Good advice: His principal duties in attack are to make openings for his wings, and to enable them to score tries.
Good advice?: Should be a clever potter.
A bit like: Jaque Fourie (South Africa).
Right wing
Good advice: He must have all the other qualifications of sound backs.
Good advice?: He must be a demon tackler . . . must be a sound left-foot kick, so as to find his touch line with greater certainty.
A bit like: Richard Kahui (New Zealand).
Five-eighths
Good advice: Is always busy at attacking or defending. Should be a fast, strong and active man; quick at punting; should have a thorough understanding with his halfback.
Good advice?: Should be fond of tackling.
A bit like: Dan Carter (New Zealand).
Halfback
Good advice: Should be strong, active and full of pluck.
Good advice?: He should never run unless to draw opponents off his five-eighth.
A bit like: Kahn Fotuali'i (Samoa).
Wing forwards
Good advice: Should be big, fast, active and strong men.
Good advice?: They should be good dribblers. It generally is the duty of wings to throw the ball in from the touch line, and in this they should learn to throw half the width of the field. They should throw to one of their own men, not merely throw out in a straight line.
A bit like: Richie McCaw (New Zealand) and David Pocock (Australia).
Front-rankers
Good advice: They should be short rather than tall men.
Good advice?: These are most difficult positions to fill with able men.
A bit like: Rodrigo Roncero (Argentina) and Mihaita Lazar (Romania).
Pivot
Good advice: In order to watch the movements of the ball, he should form in with head very low. This plan will save his ears from being bruised.
Good advice?: The biggest forward should occupy this position.
A bit like: Rory Best (Ireland).
Pivot supports
Good advice: The direction of their push should be inward, forward and downward.
Good advice?: The fast forwards of the team should occupy these places.
A bit like: Paul O'Connell (Ireland) and Patricio Albacete (Argentina).
Back-rankers
Good advice: They are expected to break away from the scrum to help their backs.
Good advice?: This should be occupied by two strong scrummers who, if the emergency arises, should be able to take the front-rankers' position.
A bit like: Pierre Spies (South Africa) and Sergio Parisse (Italy).