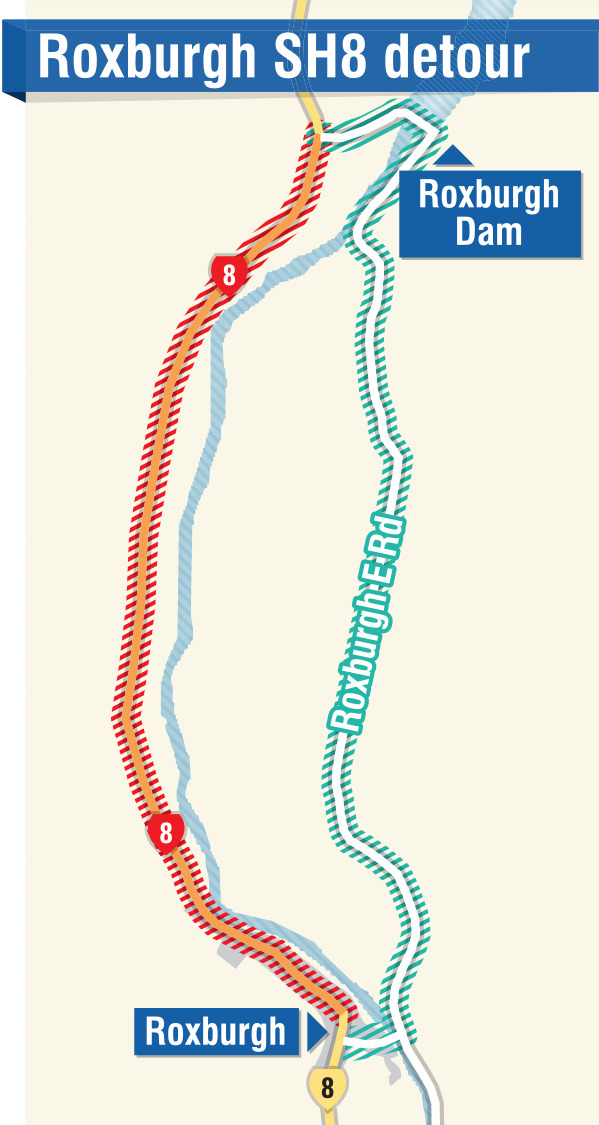 A full road closure through Roxburgh will begin on Sunday as work on a new culvert for Pumphouse Creek continues.
NZ Transport Agency maintenance contract manager Mark Stewart said the closure from 8am on Sunday to 8am on Monday, April 26 was required to remove the old 1m x 1m culvert and replace it with the new 4m × 2m culvert.
A detour route on the eastern side of the Clutha River would take northbound traffic in Roxburgh into Jedburgh St across the river, into Roxburgh East Rd up to the Roxburgh Dam and back on to State Highway 8.
Tree felling and other site clearance work on the highway shoulder started in March leading up to the closure this month.
Before the full road closure, people should expect short periods of delay with stop-go traffic management and a reduced speed limit in place, Mr Stewart said.
There had been a series of floods in recent years in the Roxburgh area and Pumphouse Creek had an ongoing risk of flooding.
The larger culvert would help channel floodwater and gravel under the road and below the pumphouse to the Clutha River once it was operational.
Road users might need an extra 10 to 15 minutes when travelling around the area, however, vehicles travelling straight through Roxburgh via State Highway 8 would have less than five minutes added to their total journey, he said.
Pedestrians and cyclists would be helped through the work site during daytime hours of operation, from 8am to 5pm, even while the eight-day detour and traffic closure was in place.
Residents were asked to keep pets and children away from the site as much as possible over the next few weeks, given heavy machinery was being used.
The detour route, on the eastern side of the Clutha River, was not suitable for all freight traffic and over-dimension vehicles.