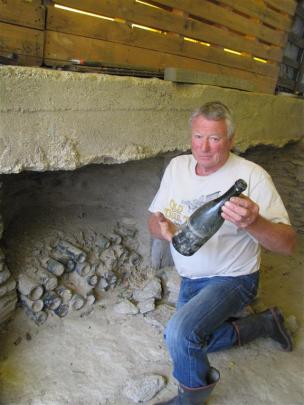 Thomas Oliver was a major figure of gold-mining history in the late 1800s and possibly one of the first winemakers in Central Otago, but little is known about him and his family. Central Otago reporter Jono Edwards reports on attempts to uncover the story of one of the area's forgotten families.
In 1983, John Chapman's tractor came crashing down into a piece of New Zealand history.
A year earlier he and his wife Pam had moved to a property in Earnscleugh, near Alexandra, originally farming deer and orcharding before branching into viniculture.
They decided to excavate and found relics of its late 19th-century owners, the Oliver family, in the form of old pieces of clothing and tools - and a buried wine cellar.
''We had been scraping away at the surface and one day the weight of the tractor broke through the roof,'' Mr Chapman said.
Thirty years later, the vineyard owners are calling on the public for any information on the family's history.
The idea for the project was begun by the publication of Early Days on the Dunstan, by Central Otago historian John McCraw, in 2006.
This history of gold-mining times provided a brief background of Mr Oliver's life.
Over the past three years, the pair searched through many documents with help of the Otago Museum in Dunedin.
After his research, Mr Chapman developed theories about the life of the Olivers but called on anyone who knew more to contact him to cement the story - particularly if there were descendants of the Olivers in the area.
Mr Oliver was a crucial figure in Central Otago gold-mining but little was known about him, and less about his wife and children, Mr Chapman said.
''I think it's important to know this history. We don't know anything about the man himself.''
Mr and Mrs Chapman dug up many old items on their property over the years, including meat mincers, old taps and leather shoes that they believed belonged to Mr Oliver's wife Mattie.
A long time after the discovery of the cellar the Chapmans decided to look further.
''We didn't think much of it at first. We were even using it for dumping,'' Mr Chapman said.
It was not until last Christmas he excavated the scene further with a small digger and discovered dozens of empty wine bottles hidden among the dirt.
He believed Mr Oliver had a vineyard, which would make him one of the first winemakers in the region.
''All those bottles can't just be for a drinking habit, they must have been making wine here.''
Documents show Mr Oliver imported grapevine cuttings from France and planted them on his property. Mr Chapman believed they were used to make wine by Luigi Valli, a fourth generation winemaker from Como, Italy, who was buried in Clyde Cemetery .
Mr Valli's origin would explain why the property was named Como Villa, he said.
Mr and Mrs Chapman made a tribute wine in 2012 from a blend of grapes likely to have been used at the time such as cabernet sauvignon, merlot and malbec.
They were now restoring the old cellar for the public to view, digging it out and creating a staircase.
The Olivers' old stone house still lay on the Como Villa Estate property.
It had been heavily modified over the years but still had a 150-year-old window frame.
The Chapmans have transformed the building into a museum and decorated it with mining tools, old guns and other antiques, some of which were discovered on the site.
It is open to the public and is used for wine tastings and other events.
The couple were considering putting the building into a trust to protect its history, Mr Chapman said.
 -by Jono Edwards