The Milford Road has closed due to snow and more is also likely for the Crown Range Road as the South shivered in the coldest snap of the year so far.
The Milford Road (State Highway 94) between Hollyford Junction and the Chasm shut on Wednesday afternoon ahead of a significant dump of snow.
Around the Homer Tunnel, between 40cm to 60cm of heavy snow was likely overnight and during the day on Thursday, down to 400 metres. The road would probably remain closed on Thursday. Snow was also likely on Friday, the Milford Road Alliance advised.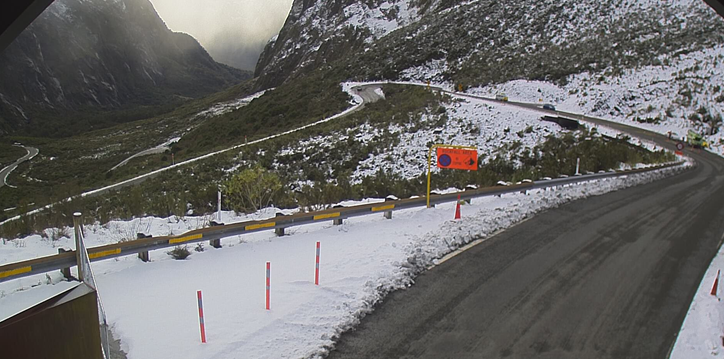 The Crown Range Rd reopened this afternoon, but more snow showers were expected to continue until this evening. On Thursday, between 4am and 11pm, 2cm to 5cm of  snow could accumulate near the summit, with lesser amounts down to 700 metres. 
All alpine roads in the South Island could expect snow on Thursday, the New Zealand Transport Agency advised. 
A very cold and wet westerly flow was expected to move on to the South Island early on Thursday morning, bringing heavy snow above 400 metres in Fiordland, Westland (south of Haast), Southland (north of the Mavora Lakes), and the western ranges of Otago (south of Mt Aspiring).
A MetService spokeswoman said 20cm to 40cm of snow may fall above 400 metres, and greater amounts were likely above 600 metres.
The heavy snow may disrupt travel in affected areas and could damage trees and power lines. The conditions may also cause stress for livestock, she said.
People were advised to keep up-to-date with the latest forecasts and road warnings in case other areas are added.
The Crown Range Road linking Queenstown and Wanaka reopened on Wednesday afternoon but the Queenstown Lakes District Council (QLDC) said all motorists should use the alternate route, via the Kawarau Gorge on State Highway 6.
It was also snowing heavily around Kingston and the Devil's Staircase, on State Highway 6 between Queenstown and Kingston. The road was open, but extreme caution was advised.
Black ice had been reported in the Cardrona Valley and over the Lindis Pass.
Alpine roads
The NZTA advised heavy snow was expected for Arthur's Pass (SH74) on Thursday above 600 metres. Between 3am and midnight, 10cm to 15cm of snow may accumulate near the summit, with lesser amounts down to 600 metres. 
On the Lewis Pass (SH7), snow was above 700 metres late on Thursday morning. Between 11am on Thursday and 3am on Friday, 2cm to 5cm could settle near the summit, with lesser amounts down to 700 metres.
On the Lindis Pass (SH8), between 6am and 10pm, 4cm to 6cm of snow could accumulate near the summit, with lesser amounts down to 600 metres. 
Snow was expected on Thursday morning on the Haast Pass (SH6) above 400 metres. Between 2am to 10am, 1cm to 3cm could accumulate near the summit.
On Porters Pass (SH73) , periods of snow were possible on Thursday. Between 5am and midnight, 1cm to 2cm of snow may accumulate above 700 metres.
On Wednesday morning trucks had been gritting roads from Arrowtown through to Queenstown, up Fernhill and on Glenorchy Rd. Ice was also likely from Frankton out to Kelvin Heights.
The New Zealand Transport Agency issued a caution notice for black ice on SH8 between Tarras and Omarama.
A Central Otago District Council update said rain snow showers overnight meant wet roads across the network and temperatures were sitting between -1degC and -4degC in the district as of 6.30am today.
There was a high risk of ice across the district, particularly in the Maniototo region.
"This risk will increase around day break as temperatures drop further. Caution is advised particularly on damp areas, bridge decks, hill sections and shaded areas."
MetService said yesterday the coldest snap of the year to date was due to hit the South overnight. Meteorologist Peter Little said this morning temperatures in the far south had plummeted, and more snow had fallen on the alpine passes.
Alexandra was sitting at a crisp -2.4degC at 5.30am under clear skies this morning, and Gore and Invercargill were at 4degC with heavy showers and brutal southwesterlies.
Invercargill and Dunedin were in for a day of sleety showers and highs of 7degC and 8degC, respectively. Most of the South Island would spend the day in the low teens.
"The far south can expect more snow today to 300m in Southland, so a pretty cold day," Mr Little said. "A taste of winter."
The temperature was forecast to drop to -3degC in Central Otago. Snow had fallen to 300m above sea level. Queenstown sits at 310 metres above sea level; Wanaka at 281 metres.
MetService meteorologist April Clark said the snow showers would ease and the the weather was expected to clear this afternoon but bringing high cloud and strong, cold winds.
''Wind chill will be a factor. It's going to feel pretty blustery and cold. This is the first cold outbreak of the season. It's going to bring the lowest snow that we've seen so far. It's time to bring out your winter clothes.''
The wintry blast came as part of an active front which moved over the South Island on Tuesday, bringing heavy rain, hail, thunderstorms and strong northwesterlies to parts of the region.
It snowed heavily on the Crown Range, and State Highway 8 from Omarama to Cromwell (Lindis Pass), and State Highway 6 from Cromwell to Makarora were both under caution due to surface flooding at various locations. There was also surface flooding in parts of Wanaka.
Ms Clark said tomorrow was expected to bring periods of rain, heavy at times, and possibly more snow down to 500m, especially about coastal Southland. The weather was forecast to be drier for Otago on Thursday.
- additional reporting NZME