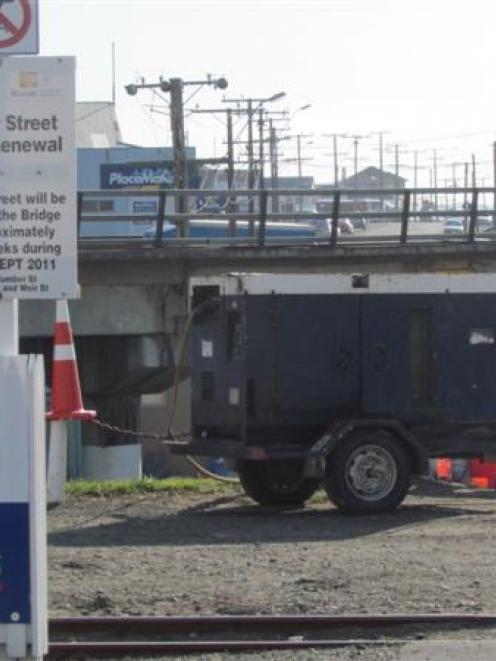 Oamaru businesses on either side of the troublesome Humber St bridge are split as to what effect a road closure is having on their custom.
The bridge, used for access to and from South Hill, was closed in mid-July to be replaced.
The work was to conclude either this or next month, but struck trouble when soil was too solid to drive piles through.
Itchen Street Dairy owner Kerry Tong described the effect on his business as "terrible", and said no rates respite had been offered by the council.
He said his takings, which are more reliant on throughfare than many businesses in the historic precinct, were down more than 30% over three months.
"The council don't do anything for us," he said.
Placemakers Oamaru owner Geoff Brown acknowledged a slight dip in the number of casual customers but said the main component of his business was unaffected.
The store was "trade orientated" and catered for "specific needs for projects".
Star and Garter restaurant owner Lisa Pope said she had not noticed any difference and was for "whatever makes the town better".
Co-owner of Oamaru Harbourside Gifts and Souvenirs Carol Scott agreed.
"Most of our clients are visitors and are not here," she said.
Humber St had been more heavily used since traffic lights were placed on Thames St.
Earlier this year, business owners on lower Thames St complained about turnover being affected when major road reconstruction ran well over the deadline for completion.
Waitaki District Council roading assets manager Geoff Young yesterday said he was not aware of any requests for financial assistance.
The council now aimed to have the road reopened by December 15, and the "best estimate at this stage" for the additional cost of building a "tieback" structure beneath the road on the north side of the bridge was $65,000.
The council had not foreseen the problem with the foundations, he said.
"We had no indication that the ground conditions on the north side of the creek were substantially different from those at the south side where we had previously replaced the bridge abutment," Mr Young said.