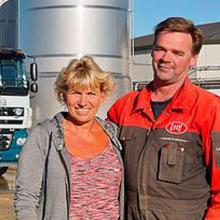 Sixteen properties belonging to the Van Leeuwen Dairy Group in South Canterbury have had Restricted Place Notices imposed on them by the Ministry for Primary Industries (MPI) after the outbreak of the bacterial cattle disease mycoplasma bovis.
The effect of the notices is to control the movement of stock.
Two dozen cows on one of the group's farms have tested positive for the  disease and are the first  in New Zealand to have the disease. A further 150 cows on the property have signs of infection.
MPI veterinarians are  working with local vets to assess stock on the affected farm, which has  a milking herd of about 1000 cows.
MPI regional controller Dr Chris Rodwell said the situation was well under control,  praising Glenavy farmer Aad van Leeuwen for the way he had handled the outbreak.
"I cannot speak highly enough of the affected farmer and his staff. They're working closely with us during what is a difficult and stressful time for them and I applaud their level of  professionalism."
Dr Rodwell said MPI knew other farmers in the area had concerns,  which was "entirely understandable".
Mr van Leeuwen, in an interview with the ODT after a public meeting in the Glenavy Hall yesterday, called by the MPI and attended by about 200 people, said: "We just have to get through it. Measures have been taken; things are in place."
He said the situation was  a "shock" initially. He first noticed cow health problems in March.
"We had vets here from day one."
However, the vets were not able to identify anything from samples they took.
"They went to MPI for a helping hand."
The disease was identified last Saturday night, and the ministry's first representative arrived at the farm the next day.
Since then, Mr van Leeuwen  has had "a wee bit" of sleep. He and his family had "plenty of support".
There was a delay in having sick cattle slaughtered because of a meat industry embargo while it investigated health issues.
"That's all done now. There's no risk," he said.
Mr van Leeuwen had no idea how the disease had  entered his herd.
"We've been through so many scenarios. It's up to MPI to find out how."
Mr van Leeuwen told Fairfax he had wanted to kill the animals as soon as they were diagnosed, but had been advised not to, as it was in the interests of the industry to contain the disease.
"It's devastating, especially for the people working on the farm. It just hits you and you don't know what to think, you don't know where it comes from," he said.
MPI confirmed fewer  than 10 cows had  been put down so far.
Dr Rodwell told the  hall meeting the ministry did not know how the disease got to New Zealand, but in Australia recently its behaviour showed signs of changing. However, it was still considered slow-moving.
"We're not talking about a foot and mouth scenario here. It's not a highly infectious organism."
Essentially, it was spread through direct contact from cow to cow — "stuff around the nose and the mouth".
Dr Rodwell said slaughtering the whole  herd  would be too rash.
"You don't want to act too quickly ...  when you start talking about culling animals there's significant ramifications for that. You don't act before you have enough information to be really confident in the way you're acting.
"The idea at the moment is you contain them. That's the general principle for most infectious disease control ...  We're not talking highly infectious disease. He said the investigation would probably take "months than weeks" to complete.
"We're just starting to ramp up our surveillance of farms around the Van Leeuwen Group."
— Reporting by NZN, Sally Brooker and Shannon Gillies.