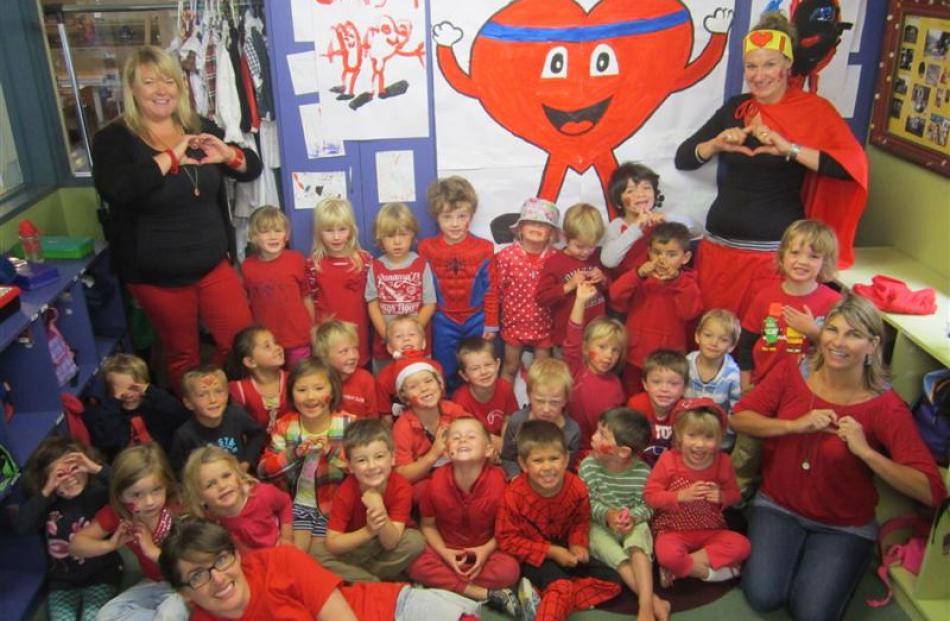 Arrowtown Pre-School children on Thursday held a ''Wear Red for Healthy Hearts''-themed day, as their contribution to promoting wellbeing and understanding around keeping hearts healthy.
During the week children and staff discussed how hearts work, which foods keep people healthy and engaged in plenty of active movement.
The 4-year-old pre-schoolers and teachers are (from back left) Kylie Burrell, Shyia O'Connell, Frankie Deaker, Otis Rees-Dalley, Liam Feeley, Sophie Campbell, Patrick Edwards, Tamatea Kopa, Dominyk Hinze and Sara Youngman; (from middle left) Jimi Poole, Harry Monk, Nina Matulino, Finn Wallace, Hayden Hodge, Conor Clarke, Sam Wilton, Bram Hamilton, Jessica Buchanan, Ronan Piper, Cooper McLister and Fehn Cox; (from front left) Bella Noton, Chloe Ireland, Tahlia Wheeler, Sachi Ishii-Palmer, Adam Russell, Oscar Stevenson, Tai Te Paa, Alex Mitchell, Charlotte Greer and Maree Wheeler, and (front) Courtney Shaw.