Millbrook Resort has become the first golf club in New Zealand to install an interactive multilingual GPS system in its golf carts.
The cloud-based Golf Pilot system, created by GPS Systems International, uses Samsung tab devices and employs modern technology to enhance players' golf games, while also providing ''nifty'' safety features for management.
Millbrook Resort head of golf Brian Spicer said the system was an ''exciting development'' that took Millbrook to ''another level technology-wise''.
Each of the carts was fitted with a unit, mounted to the front windscreen, that linked to the main computer dashboard in the resort's Pro Shop.
Once golfers set off for their round, the Golf Pilot system kicked in and tracked the cart's location through the resort.
The interactive and real-time map showed management where each of the carts was at any time, enabling them to ''move slow players on'' and call players back if they were unlikely to finish before dark.
Head golf professional Allan McKay said from a manager's perspective, knowing the location of every cart in the fleet was ''crucial and extremely important'' on a 202ha resort.
''We can clearly see how far the last player is from finishing and if someone has taken a cart back to their room and forgotten to return it.''
For the golfers, the system enabled the players to see where they were on the course, highlighted ''no go'' areas and provided pro tips on how best to play the hole.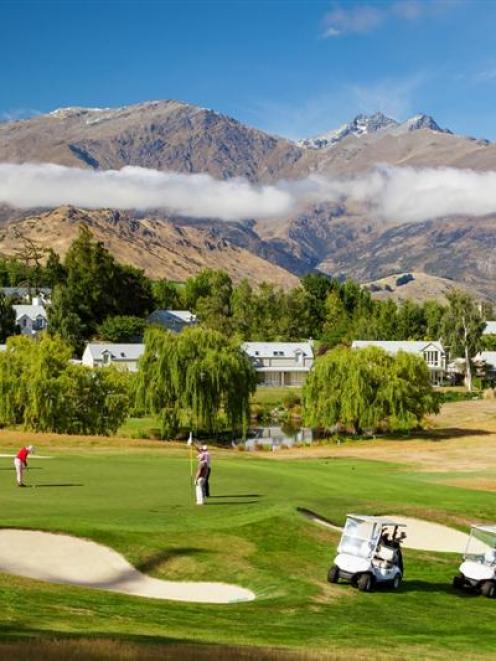 They could also measure the distance to any point, including bunkers and the pin on the green.
Mr McKay said his favourite feature of the system was the interactive ''cross hair'' target.
''This is so accurate. It's interactive so you can drag it to your golf ball and see what the lay-up distance is to any target you choose and what the distance is from there to the green.
''It's gold.''
Golf Pilot could operate in up to 60 languages, including Japanese, Mandarin, Cantonese, German, Dutch, Spanish and French, enabling players to get guidance in their own language.
Mr Spicer said other features included live local weather and radar maps and two-way communication and messaging between the cart and pro shop, which could be used to provide information, assistance and severe-weather updates, answer questions and respond to an on-course emergency.
He said staff were amazed with the scope of the system, which would enhance the experience for golfers.
''There's been a significant increase in the availability of GPS devices for golf courses over the past five years.
''We're always looking at creative ways of being innovative and Golf Pilot is a great system ... It really adds another unique element to your game.''
In time, players would be able to use the system to order food and beverage on course, which could be delivered to the cart or be ready for when they had finished the round, and to upload pictures and score cards direct to social media.
Mr Spicer said the system's in-built scorecard would be available for printing over WiFi, rather than ''old-fashioned 'pen and paper' cards''.