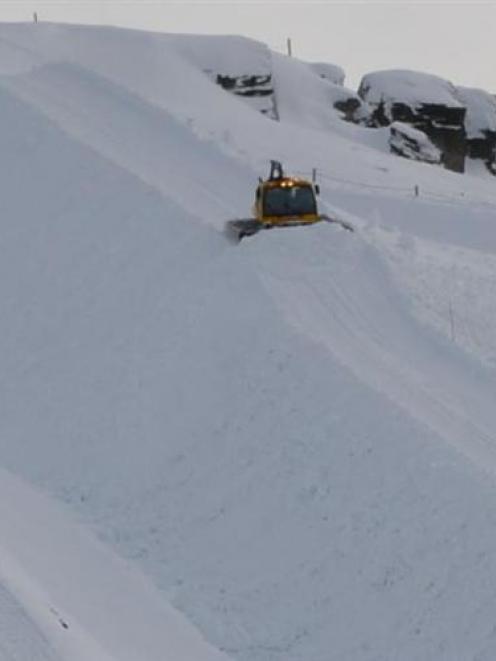 The international spotlight is focused on Cardrona Alpine Resort this winter in the build-up to the 2014 Winter Olympics, now the resort has the only Olympic-sized halfpipe in the southern hemisphere.
Cardrona is expecting higher numbers of athletes training in the halfpipe this season in preparation for the Winter Olympics in Sochi, Russia, in February, following the closure of Snow Park NZ, which had southern hemisphere's only other Olympic-sized halfpipe.
New Zealand professional skier Byron Wells said he believed most, if not all, national [halfpipe] teams would be at Cardrona this winter to train for the Olympics.
''It's really the last training period before the Games, so everyone will be taking advantage of the facilities,'' he said.
However, Cardrona sales and marketing manager Nadia Ellis said the halfpipe would not be available exclusively to specific groups.
''The pipe will only be closed to public on event days, which are very few,''she said.
Cardrona would now host the Burton ''Hi Fives'' event previously held at Snow Park, but would close the pipe for only one additional day. The New Zealand freeski open was not confirmed yet.
Cardrona was committed to keeping the halfpipe open to the public, Ms Ellis said.
Snow Sports New Zealand (SSNZ) high performance director Ashley Light said the number of events at Cardrona this year might restrict training time, but Cardrona had always catered for New Zealand athletes and SSNZ.
Having so many professional athletes and role models training in the same place would be a great experience for New Zealand's Olympic hopefuls, he said.
''This is positive for SSNZ. We don't expect any detrimental impacts.''
Wells thought a busier pipe would have a positive impact on athletes' training, as they would motivate each other to try to learn new tricks.
The Cardrona halfpipe was his favourite to train in, due to quick laps provided by the Wells Pipe Platter surface lift - named after the Wells family - running alongside it.
Ms Ellis said the amount of early-season snow meant Cardrona could start forming the halfpipe with snow groomers. The cost of maintaining the halfpipe this year would likely be the same as previous years, and the mountain management would take steps to protect it during heavy use and warm weather by closing it in the afternoons, she said.
Tom Elworthy, managing director of Snow Park's new owner, Southern Hemisphere Proving Grounds, said building a halfpipe at the park for private training groups was ''very unlikely''.
- Leith Huffadine